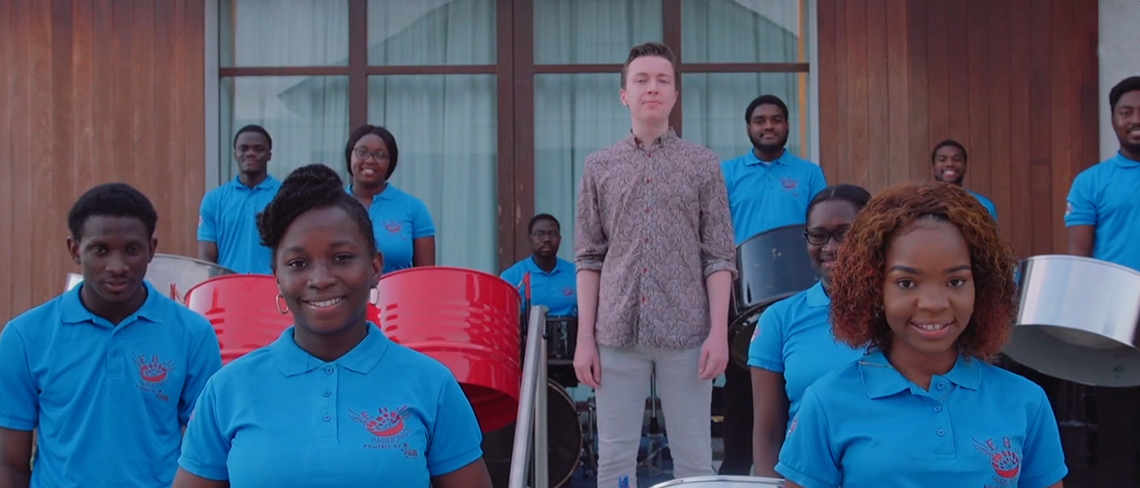 "The St. Kitts Shout Out competition was a really fun and energetic way to engage and get to know travel agents. The lively promotional video and musical entry mechanism really brought the island's culture to life and the Rooster team was a pleasure to work with – it was a success all round."
Madeleine Barber
Special Projects Editor
ttg
Following the success of the St. Kitts Shout Out consumer campaign, where we used the island's official Facebook page to drive awareness of the destination, we launched phase two – this time focusing on UK based travel agents.
With music being such a big part of St. Kitts' culture, Rooster PR wanted to bring the sights and sounds of St. Kitts to UK travel agents through the power of music. The crux of the idea remained simple – asking people to enter our competition to have their favourite song performed by the wonderful EBJ Harmonics Steel Pan Band in St. Kitts.
The St. Kitts Tourism Authority works closely with travel agents to promote the destination, so it was a natural step to launch an agent-specific phase to this engaging campaign.
We formed a strategic partnership with TTG Media to help bring the campaign to life, and to enhance agent engagement. We sent TTG's features reporter, Andrew Doherty, to St. Kitts to film a campaign video with EBJ Harmonics, to help encourage agents to enter the competition. We also created banner ads, newsletters, and did some digital promotion of the competition on TTG's website, to attract further attention.
The campaign was live for four weeks, and over that time, hundreds of agents engaged with the campaign via TTG's website, and 67 entries were made into the competition. Five winning agents were then selected, with their songs played and filmed by EBJ Harmonics in St. Kitts, with the stunning scenery of the island as the backdrop.
This unique campaign aimed to raise the profile of St. Kitts among UK travel agents, and help to inspire them to share St. Kitts' story with their customers. The two-part Shout Out Campaign (consumer and trade), went on to be nominated for awards at the International Travel & Tourism Awards (Best National Tourist Board Campaign) and the Travel Marketing Awards (Social Media Campaign), and has had a long-lasting effect on increased brand awareness levels among UK travel agents.