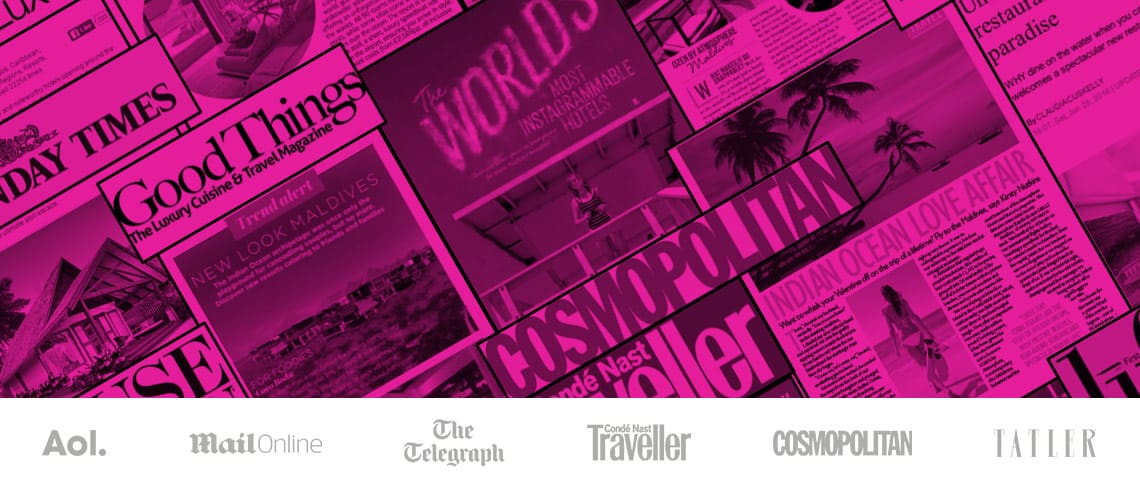 Redefining Luxury for the Launch of OZEN by Atmosphere
Fast growing hospitality chain Atmosphere Hotels & Resorts has been making waves in the densely populated Maldivian market since opening its first resort in 2013. Not showing any sign of slowing momentum a new 5* addition OZEN by Atmosphere opened in July 2016, complete with a distinctive all-inclusive 'Indulgence Plan', underwater restaurant and even a submarine!
Having managed PR for the brand from the outset and coordinated the launch of two successive properties, Rooster was tasked with launching OZEN by Atmosphere in the UK, to make the property shine through targeted, high-profile media exposure within the national consumer and luxury sectors.
Generating buzz prior to the opening, we utilised our travel contacts amongst both consumer and trade press, hitting the ground running by securing inclusions in numerous roundups of the world's top new hotel openings, including The Sunday Times, who described OZEN as 'raising the bar to another level of indulgence', AOL, Metro, Luxury Travel Blog, Good Things Magazine and TTG Luxury.
Our individual press visit programme saw 10 journalists from top tier titles visit, resulting in dedicated reviews in Conde Nast Traveller, Tatler, Telegraph, Cosmopolitan, Entrepreneur & Investor Magazine, Daily Express, Mail Online and House & Garden.
Further to this we crafted stories on the resort's most striking USP's, the presidential 'Water Suite' and underwater restaurant M6m, which featured in BA First Life, Sunday Times Travel Magazine, Lonely Planet, Mail Online, Express.co.uk, Elite Traveller, Canary Wharf Magazine and Luxurious Magazine (to name just a few!)
Awed by images of the resort's vibrant aesthetics and recognising an opportunity to showcase this, the Rooster team flew out to the Maldives on the week of its opening to see the design first hand and meet with the award-winning designer Isabelle Miaja on site to hear how her vision became a reality. Activity focused on packaging up the insights gained, along with Isabelle's experience, for placement in key hotel design titles such as Hotelier & Hospitality Design. 
The results speak for themselves, with 85+ pieces of standout coverage to date, going above and beyond client expectations and affirming OZEN by Atmosphere's position as the leading new contemporary hotel in the Maldives. The resort experienced an unprecedented occupancy rate for a new opening with a record-breaking 3,773 room nights booked for 2017, a number only set to rise!
"Rooster PR is a very strong PR partner in our most important source market – the UK. Rooster has helped us position & profile each of our properties within the right media segment consistently and credibly. Fantastic results, clearly due to the great PR positioning upfront. Four years into our relationship and it cannot be better, from a PR partnership perspective."
Dinesh Bhaskar, Group Director – Sales & Marketing, Atmosphere Hotels & Resorts