Why a Winter Break is Good for the Soul
Yonder's guide to making the most of nature this winter…
With winter well and truly upon us, you might be forgiven for using the cold weather as an excuse to bed down and hibernate until the spring. But with so many beautiful places to visit across the UK, even (or especially) in the winter, there has never been a better time to get outdoors and enjoy the Great British countryside. And while the weather may feel like it's doing its absolute best to put you off spending time outside, remember the old adage that there really is no such thing as bad weather; just wrong clothing!
With the right kit and attitude, anyone can enjoy time outdoors this winter. A winter getaway can be just as fulfilling and nourishing as a summer holiday whilst also being good for your health… You might be surprised to hear that a walk in the cold can burn more calories than if you complete the same walk in warmer weather. Our basic metabolic rate – which is the number of calories we burn just by living and sitting still – increases in the cold because our bodies use up more energy trying to keep warm. Even better; time spent out in the fresh air is linked to better quality sleep, helps us fight infections, and boosts brain power.
If that wasn't enough to help entice you into the great outdoors this winter, experts at Yonder – a new travel brand offering responsible, authentic, nature-rich stays and experiences – have put together a roundup of some of the most breathtaking natural winter wonderlands in the UK to be enjoyed over the next few months – whatever the weather. And armed with Yonder's winter kit checklist, there really is no excuse to stay indoors this winter season!
Fairypools, Scotland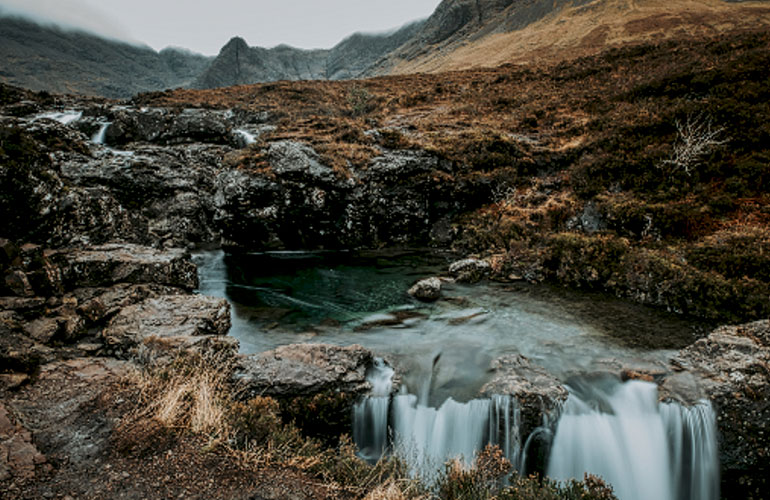 When it comes to magical experiences in nature, none get much better than a visit to the Fairypools on the Isle of Skye. The iconic natural formations, which sit at the foot of the Black Cuillins mountains, are crystal-clear blue pools on the River Brittle that make for the perfect stop on a hike through the beautiful Scottish landscape.
While there may not be any mythical backstory to these legendary pools, you'll still feel as though you've entered into a world of fantasy as you approach the falls. If you're visiting in winter, you may even be lucky enough to see this enchanting landscape encased in snow – making it seem even more magical.
Corfe Castle, Dorset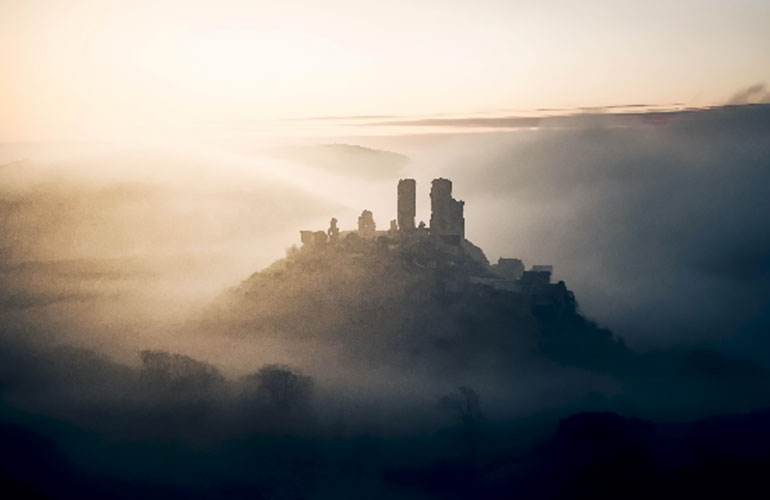 The walk across Corfe Castle is pretty special no matter the time of year, but at winter – and particularly as the sun comes up – a stroll around the ruins is not to be missed. Catch a glimpse of the morning mist hanging over the castle walls and you'll soon understand why this is one of the UK's most photographed sites.
If you'd like a lengthy jaunt, walk from Corfe Castle Square all the way to Kimmeridge Bay on the South West Coast Path – on a crisp winter's day it really will take your breath away.
Bourton-on-the-Water, The Cotswolds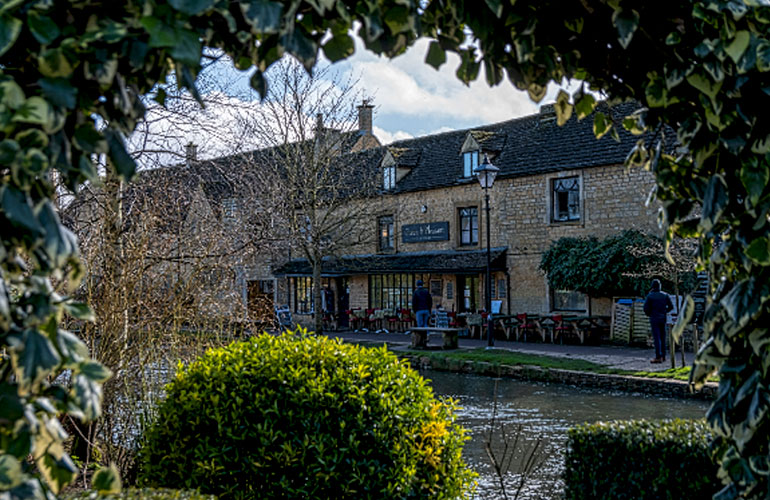 If it's picturesque villages you're after, Bourton-on-the-Water is as quintessentially British as it gets. With its traditional Cotswold stone houses and low bridges across the River Windrush that runs through the village, Bourton-on-the-Water couldn't be any more picture perfect.
Get some winter air as you stroll around the idyllic village, before heading into one of the many pubs for a bite to eat and to warm up next to a roaring fire. Even better, heading to Bourton-on-the-Water in the winter will mean you miss out on the hordes of tourists who flock to the village every summer.
Dartmoor National Park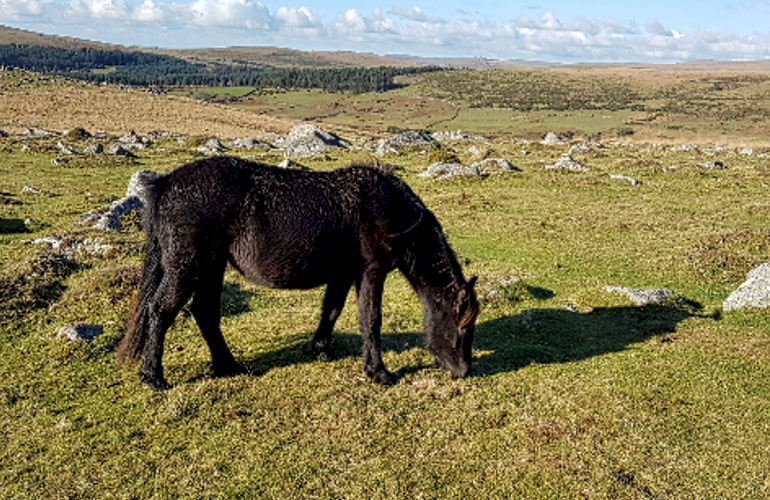 If you want to totally switch off this winter, a hiking holiday around Dartmoor National Park will make for the perfect escape. These legendary (and often spooky) wild moorlands are as isolated as it gets and offer some of the most vast and breath-taking landscapes this country has to offer.
And when you're wrapped up and wearing the proper hiking gear, you'll barely remember the cold as you take in the scenery. From otters to the famed Dartmoor Pony, keep your eyes and ears open for some truly spectacular encounters with wildlife.
Bamburgh Castle, Northumberland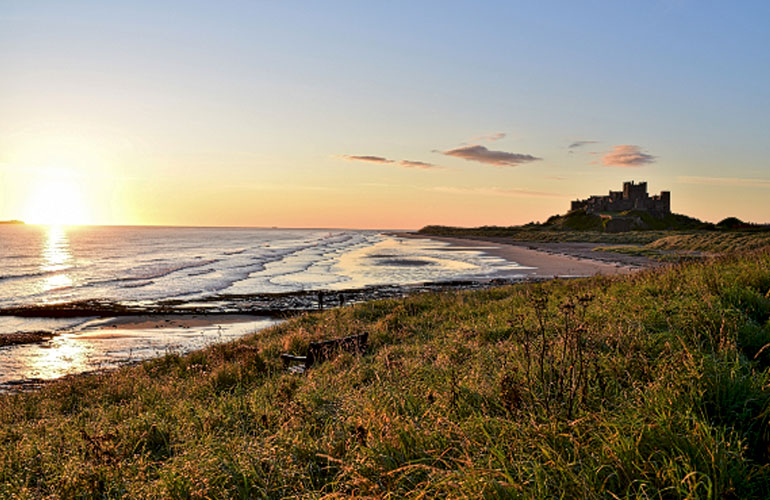 To blow away the cobwebs – and the winter blues – a walk along Bamburgh beach is sure to do the trick. With the majestic castle in the background, winter walks simply don't get better than this.
And with that north-easternly breeze permeating the air, you'll want to ensure you're wrapped up and ready for all that the elements have to throw at you – you'll feel great for it afterwards!
Yonder's winter essentials kit list:
A warm, hooded, waterproof winter coat. It goes without saying that a thick, waterproof winter coat is an essential for any UK break (often even in the summer!). Choose a long coat, that keeps the majority of your body warm too.
Thermals. Good quality thermals are a great investment if you're planning on spending lots of time outdoors this winter. Even better, they'll mean you won't have to wear so many bulky layers.
Wetsuit and swimming robe. If you're one of the brave (or crazy) folk who enjoy a dip in British waters during the winter, then a full length wetsuit and fleecy post-swim robe to warm you up after your dip is an absolute must-have.
Winter footwear. While your favourite trainers or boots may look nice, they often aren't suitable for wintery conditions. Invest in a pair of hardy waterproof shoes that will see you through all that the season has to throw at us – whether that be rain, wind, sleet or even snow.
Winter socks and gloves. Our hands and feet are often the place we feel the cold first. Choose some thick cosy socks and gloves to keep yourself nice and toasty as the cold weather sets in.
-Ends-
For further press information, please contact:
Julie Aguilera | Elsa Findlay | Rosie Crass
Rooster PR
T: +44 (0) 20 3440 8930
E: [email protected]
About Yonder
Yonder is a global platform that brings travel, nature, and wellbeing together to provide fulfilling escapes and experiences.
Yonder believes that reconnecting people with nature will help heal the planet and humankind – and the stays and activities it offers support this connection.
Yonder Stewards range from owners of rural properties to those who are actively regenerating local ecosystems and communities.
Established in Montana in 2018 by Tim Southwell and expanding across Europe, Yonder is a member of 1% for the Planet and the Global Sustainable Tourism Council, and a Public Benefit Corporation in the US. Yonder is also in the process of achieving Certified B Corporation Status. The company has secured $4 million in funding from US-based investors.
For more information, visit: www.yonder.com.