Women and Leadership in the Music Industry: Panel Discussions on How to Take Ownership of Your Work
Groovy Gecko Delivers Global Live Stream for War Child UK's Day Of The Girl Industry Day from Abbey Road Studios – available to watch now.
War Child UK, together with live-streaming experts Groovy Gecko and YouTube Music, hosted a music industry panel day at Abbey Road Studios on 11 October, as part of their new event series supporting the United Nations International Day Of The Girl, highlighting the challenges girls and young women in the music industry face around the world.
London-based agency Groovy Gecko delivered the event via a global live stream on YouTube, which is now available for all to watch from anywhere in the world, extending the reach of the charity's important message. With live streaming just a button click away, it opens up events to everyone, allowing accessibility and inclusion to be at the heart.
Watch the full Day of the Girl Industry Day live stream here.
With females making up less than 5% of producers in the music industry, the event panellists highlighted that more of an effort is needed to encourage women to enter the industry. Keynote speaker, British singer and BRIT Award Rising Star winner Griff, spoke of her personal experience and encouraged women to keep working towards their goals, saying: "Unfortunately, I think [women] have to work ten times harder than a lot of [men] in our industry, to prove ourselves and show our credibility". She encouraged women in music and entertainment to champion and inspire each other and have away with the idea that you need to bring others down to get on top.
The panel with members from shesaid.so, who are a global community of women and gender minorities in the music industry, discussed self-empowerment, and the importance of taking ownership of your music and creative journey. With independent artists having more options than ever with direct-to-streaming platforms readily available, it is important to support and nurture minority talent to allow them to grow into the industry without having to compromise on their creativity.
The second panel featuring the MMF (Music Managers Forum) covered key themes including music management as a career, the role of the music manager, celebrating success stories and building sustainability.
To close, Abbey Road Studios Managing Director, Isabel Garvey, led a group discussion focused on the theme of Music Stories for Rebel Girls: "What I Would Tell My Teenage Self".
Jake Ward, Business Development Manager at Groovy Gecko, says: "To connect War Child UK's Day Of The Girl Industry Day to an online audience means that more people from around the world can continue to hear from the talented panel of speakers and learn more about what can be done to support women in the music industry. The live stream is still available to watch on Abbey Road Studios' YouTube channel and we encourage anyone in the industry – of all genders – to watch and engage."
[Quote from War Child about funds raised]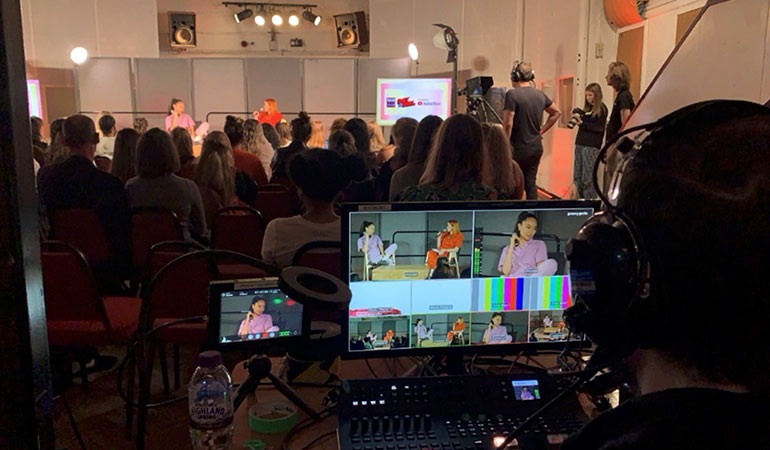 All proceeds from the ticket sales have gone directly to War Child UK's efforts to combat child conflict. For further event details visit www.dayofthegirl.warchild.org.uk and to learn more about Groovy Gecko's live streaming capabilities, visit www.groovygecko.co.uk.
-Ends-
For further press information, please contact:
Yasmine Triana | Charlotte Wright | Anna Nyman
Rooster PR
E: [email protected]
T: +44 (0)203 440 8930
About Groovy Gecko
Founded in 1999, Groovy Gecko is an award-winning Live Streaming agency.
With over 20 years of expertise in live streaming technology and production, working on projects ranging from international film premieres to interactive company presentations and global gaming conferences, Groovy Gecko is continuously pushing the boundaries of what's possible in live streaming.
Founded on innovation, Groovy Gecko not only helps clients engage with audiences in exciting ways but adds value to live streams with their risk management approach and smooth delivery.
For more information on Groovy Gecko, visit https://www.groovygecko.com/
Twitter: groovygecko
Instagram: groovy.gecko