Nevis Tourism Authority Launches New Destination Website to Entice UK Travellers
To launch the site, agents can take part in the Nevis Mango Mania competition & win a stay on the island.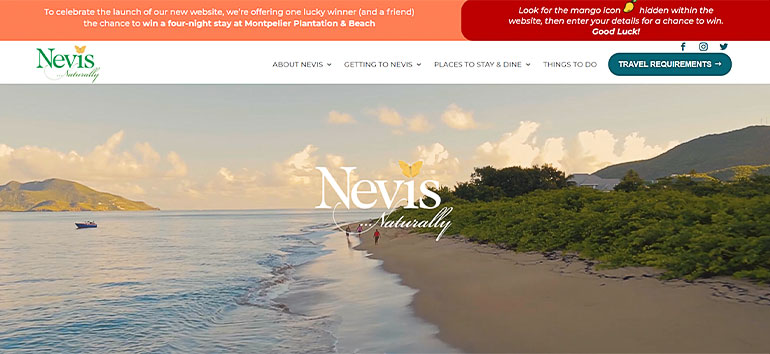 The new Nevis Tourism website
Inspired by the island's untouched sandy beaches and luscious green mountainous backdrop, the brand-new Nevis Tourism website – nevisisland.com – combines stunning destination imagery with easy-to-read information about what the luxurious Caribbean island has to offer.
"Our website is like our shop front – an opportunity to communicate, inspire and engage with potential visitors to Nevis. The new layout combines a sleek design with rich content and updated photography, giving those who visit our website a true reflection of our destination and easily understandable details about our unique tourism offering," says Jadine Yarde, CEO of the Nevis Tourism Authority.
"Visitors to the new website will experience optimized travel information about Nevis, including accommodations, attractions, restaurants & bars, island events, and history & culture. The streamlined navigation will allow visitors to easily explore, search, and plan their next trip to Nevis, based on their individual interests and desires."
During the pandemic, whilst keeping the people of the island safe has been the priority, the Nevis Tourism Authority has taken time to develop and improve the island's tourism products and introduce some exciting new activities for the return of international travellers from October.
"After spending a lot of time and effort developing our offering over the past 18 months, communicating the updates to agents via our website and social media channels is paramount to the return of tourism to the island."
To encourage travel agents to explore the new website, the Nevis Tourism Authority is hosting a Mango Mania competition, and giving away a stay in Nevis for two people. All agents need to do is visit the Nevis Tourism website, locate the Nevis mango icon on one of the website pages, click on the icon, and complete their entry details on the competition page to go in the draw.
The competition prize includes four nights' accommodation at Montpelier Plantation & Beach for two. Competition closes on 5 November 2021 and T&Cs apply. The mango icon was selected given the island is home to over 40 varieties of the tropical fruit.
For more information: www.nevisisland.com or @nevisnaturally across Facebook, Instagram and Twitter.
-Ends-
Notes to Editors:
Only fully-vaccinated travellers are able to enter Nevis, and a negative COVID-19 RT-PCR test result is also required, taken no more than 72 hours ahead of travel. Airport health screening is still in place, and all travellers are asked to 'Vacation in Place' for four days at one of the island's four 'Travel-Approved' hotels: Four Seasons Resort, Golden Rock Inn, Montpelier Plantation & Beach, and Paradise Beach.
This press release relates solely to the Caribbean island of Nevis, which is separate to the island of St Kitts.
Please only use approved imagery to accompany this release, which can be provided by the press office above.
For further press information or images, please contact:
Talia McKenzie | Charlotte Wright | Rosie Crass
Rooster. We are pr.®
T: +44 (0)203 440 8930
E: [email protected]
About Nevis
Located in the Leeward Islands, Nevis is one of the most pristine and relaxing islands in the Caribbean. Vividly green with blue skies and fresh air, Nevis has a pace of life that encourages you to stop and appreciate all the natural beauty around you.
The island's tourism attractions include hiking the 3,232ft Nevis Peak, historical landmarks, thermal hot springs, craft houses, beach bars and miles of untouched white-sand beaches. The charming capital city of Charlestown is one of the best remaining examples of the traditional era in the Caribbean.
British Airways offers twice-weekly flights from London Gatwick to Robert L. Bradshaw International Airport in St. Kitts, where guests are transported by a short water taxi ride to the tranquil and serene Nevis that awaits.