Enjoy the Limin' Life: Why Nevis Should Be Your Next Holiday Destination
Quiet sandy beaches, tropical adventures and Caribbean culture makes Nevis a charming choice for a holiday, with the island now open to UK visitors.
Herberts Beach, Nevis
With its untouched sandy beaches and luscious green mountainous backdrop thanks to the 3,232ft Nevis Peak rising from its heart, combined with fascinating history, unique wellness experiences and luxurious hotels, Nevis provides all the staples you need for an unforgettable holiday in the Caribbean.
"Exploring the delights of our 36 square mile island is simple – whether you choose to kick back on a catamaran cruise, snorkel in brilliantly clear waters, or hike up the volcano. Dining and entertainment are in true Caribbean style – bright colours, fresh food locally caught or picked, and enjoyed to the sounds of the lapping sea and traditional calypso music. It's easy to understand why this island is loved by locals and celebrities alike," says Jadine Yarde, CEO of the Nevis Tourism Authority.
With travel restrictions easing and Nevis welcoming UK travellers once again from 1 September 2021, Jadine Yarde shares the many reasons to add this small but mighty island to your travel list:
An Adventure Seeker's Delight
"Thrill-seekers will be pleased to know that Nevis ticks the boxes for those wanting an adventurous holiday experience," says Jadine.
Visitors are encouraged to see the island from way up high by challenging themselves to a hike up Nevis Peak (the dormant volcano), or if that's too ambitious, booking or renting an ATV bike as a way of exploring the rainforest, gliding along the beach or touring through historical ruins.
Ocean lovers can head out to the warm waters to snorkel, scuba dive or swim, while animal lovers might choose a horseback ride along the miles of untouched shoreline.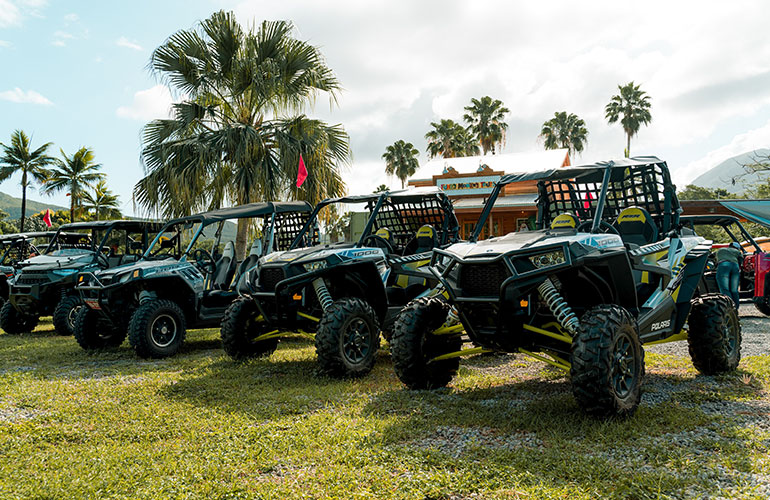 ATV Tours in Nevis
A Wellness Haven
"If adventure seeking isn't necessarily your thing, Nevis makes relaxing easy. The island's laid-back nature and extensive wellness offering means that it's not hard to truly 'switch off'," says Jadine.
Visitors are encouraged to start the day with morning yoga and to eat fresh, healthy meals during their stay, which includes plenty of fresh mango – of which the island is home to more than 44 varieties during the season of June to September! To celebrate this uniqueness the island hosts an annual three-day Mango Festival.
Getting the recommended daily dose of Vitamin D from long walks along the tranquil beaches is not a problem in Nevis. Bathing in the therapeutic geothermal hot springs is sure to rest even the busiest of minds and ending the day with a relaxing massage at one of the spas on the island, is sure to make for the perfect night's sleep.
Boutique, Island-Style Hotels
Nevis' accommodation offering suits even the most discerning traveller – visitors seeking a luxurious, private retreat will adore Paradise Beach Nevis, resort-lovers will love the expansive, newly-renovated Four Seasons Resort, and families and couples wanting an authentic island vibe will enjoy Golden Rock Inn or the award-winning, historic Montpelier Plantation & Beach.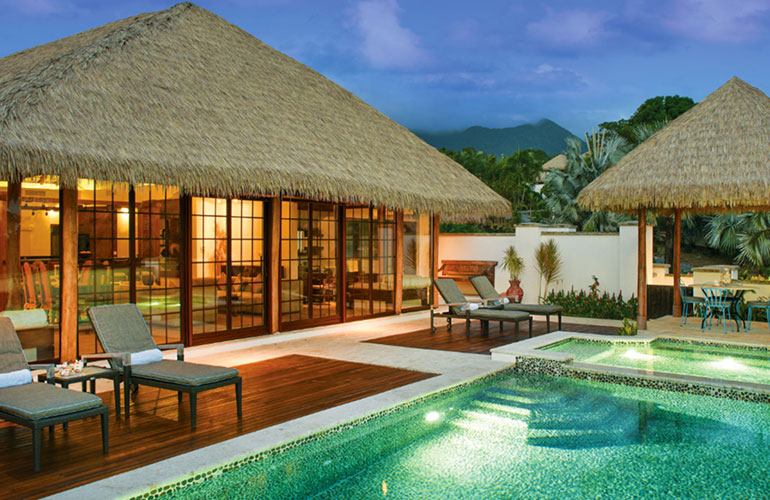 Paradise Beach, Nevis
Around the Garden Tour
The Around the Garden tour, at the Cades Bay Fruit Orchard, takes place every Tuesday and Friday, with guests spending 40 minutes visiting the island's commercial and traditional farming operations and discovering the amazing fruit and vegetable productions that take place on the farms of Nevis.
Fruit, smoothie, juice and tea sampling can be enjoyed during the tour of in-season varieties. At the end of the tour, guests will receive special souvenir bags as a keepsake, complete with Nevis Agro items.
Exquisite Culinary Experiences
Nevis offers some of the freshest, brightest, most delicious cuisines in the world. The national dish, stewed salted codfish with spicy plantains and coconut dumplings, is an absolute must-try.
"I'd recommend checking out the Yachtsman Grill for fresh lobster and pasta in a beachfront setting, The Rocks at Golden Rock Inn for authentic curries and soups, or Lime Beach Bar on Pinney's Beach for fresh seafood and grilled vegetables," says Jadine.
"The local specialty cocktail from Sunshine's Bar is not for the faint-hearted – it's called the 'Killer Bee' and features the island's very own spiced rum, fresh passion fruit, soda, black pepper, lemon, honey, a dash of bitters and one very special secret ingredient."
Fitness & Sporting Events
Fitness enthusiasts need look no further than Nevis for a fix of fitness – the island hosts an annual marathon, triathlon, and swimming competition which all draw international entrants.
After being postponed in 2021, the next Nevis Marathon and Nevis Triathlon are set to take place in 2022. The unique and picturesque terrain at these events make for a truly special experience that visitors will remember for years to come.
The Nevis Cross Channel Swim welcomes visitors from near and far and is a firm favourite of athletes from all over the world. The swim distance is 2.5 miles (4.1 km) and starts from Oualie Beach in Nevis and goes across the 'Narrows' to finish at Cockleshell Beach on St. Kitts, presenting both a race and a challenge to open water swim enthusiasts and adventurers alike.
The Perfect Filming Location
The island of Nevis continues to develop a world-class film industry, with its unique topography, warm hospitality and status making it a lucrative destination for filmmakers and producers.
Nevis is the Caribbean's sought-after destination for film and productions. Sports Illustrated, Vogue France, Lands' End and MSR Media are just some of the productions that have taken place in Nevis.
Nevis is agile and responsive, and actively encourages filmmakers to consider the island as their next filming location. During your next holiday you may be lucky enough to stumble across (or even appear in) the next big blockbuster in the making!
British Airways has announced the resumption of service from Gatwick to the Federation of St. Kitts & Nevis from 3 October 2021. The route will operate two consecutive services departing from Gatwick on Sunday 3 October and Sunday 10 October, then move to twice-weekly services departing from Gatwick on Wednesdays and Saturdays, commencing 16 October 2021. Return flights start from just £434 per person for dates from October 2021 onwards.
For more information: www.nevisisland.com or @nevisnaturally across Facebook, Instagram and Twitter.
-Ends-
Notes to Editors:
Only fully-vaccinated travellers are able to enter Nevis, and a negative COVID-19 RT-PCR test result is also required, taken no more than 72 hours ahead of travel. Airport health screening is still in place, and all travellers are asked to 'Vacation in Place' for four days at one of the island's four 'Travel-Approved' hotels: Four Seasons Resort, Golden Rock Inn, Montpelier Plantation & Beach, and Paradise Beach.
This press release relates solely to the Caribbean island of Nevis, which is separate to the island of St Kitts.
Please only use approved imagery to accompany this release, which can be provided by the press office below.
For further press information or images, please contact:
Talia McKenzie | Charlotte Wright | Rosie Crass
Rooster. We are pr.®
T: +44 (0)203 440 8930
E: [email protected]
About Nevis
Located in the Leeward Islands, Nevis is one of the most pristine and relaxing islands in the Caribbean. Vividly green with blue skies and fresh air, Nevis has a pace of life that encourages you to stop and appreciate all the natural beauty around you.
The island's tourism attractions include hiking the 3,232ft Nevis Peak, historical landmarks, thermal hot springs, craft houses, beach bars and miles of untouched white-sand beaches. The charming capital city of Charlestown is one of the best remaining examples of the traditional era in the Caribbean.
British Airways offers twice-weekly flights from London Gatwick to Robert L. Bradshaw International Airport in St. Kitts, where guests are transported by a short water taxi ride to the tranquil and serene Nevis that awaits.