StudentUniverse Is On The Hunt For Young Creatives To Raise Awareness Of Australia's Northern Territory
The countdown has begun for students to enter an empowering competition to work with Australia's Northern Territory to drive awareness of the region
● This challenge gives students the chance to drive tourism to this exciting part of Australia
● Successful entrants will implement the winning campaign with Tourism NT and win £300 worth of StudentUniverse flight vouchers
● Competition closes 12th April 2020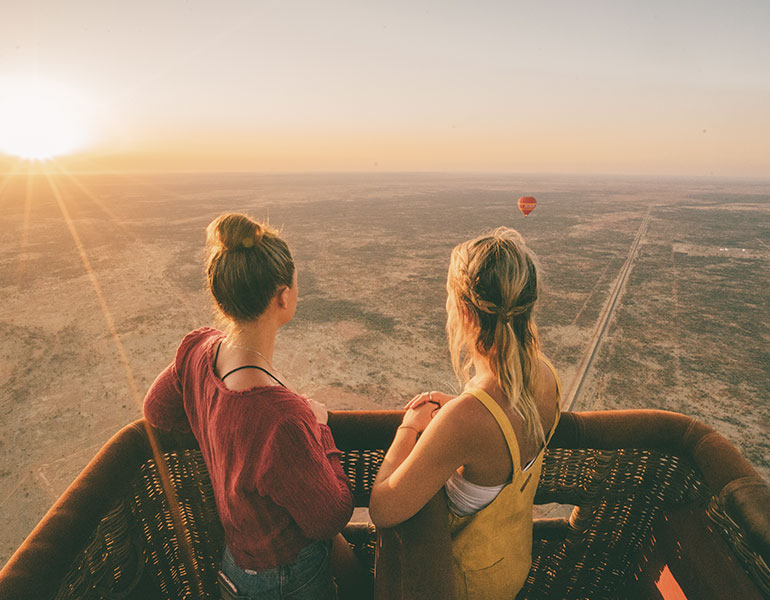 StudentUniverse is seeking creative students minds across the UK to take part in its joint marketing challenge with DMA Talent and Tourism NT, Australia's Northern Territory tourism board.
Students have just seven weeks left to devise a campaign that'll play a vital role in raising awareness and boosting visitors to the Northern Territory and to an international audience of 18-30-year olds in 2020.
Sam Willan, general manager of StudentUniverse UK, commented: "With the recent bushfires in parts of Australia, the country needs tourism more than ever, and we believe youth travellers can truly make an impact on its road to recovery.
Our partnership with DMA Talent and Tourism NT allows students to position and promote the destination to its key audience and allows them to play a role in encouraging visitors to the destination after what's been a tough start to 2020."
Fleur Sainsbury, regional manager – UK, Ireland, Netherlands & Nordic, Tourism NT added: "Young travellers are an extremely important demographic for the Northern Territory, and Australia as a whole, now more than ever. By seeking out young creative minds to inspire their peers to consider visiting the NT, we hope to grow peer to peer endorsement and, of course, travel to our amazing part of Australia."
As well as being invited to StudentUniverse's offices in London to work in partnership with Tourism NT, to execute the project and bring their marketing campaign to life across multiple marketing channels, the winning team will each be awarded £300 of StudentUniverse travel vouchers, to use in a number of worldwide destinations.
A statement from Tourism NT has advised students not to let the bushfires influence their submission. "It's been an incredibly difficult time for parts of Australia, but The Northern Territory has been very fortunate to have remained largely unaffected by the bushfires and we're thankful that our tourism products and experiences right across the Territory are open for business and operating as normal. Therefore, the bushfires should not influence entrants marketing plans in any way."
Winners of the 2019 challenge, GEMM Agency from the University of Greenwich, said it had created a multitude of opportunities for them: "Since winning the challenge (last year), we've had an extreme amount of acknowledgement and praise, it really skyrocketed our names throughout the industry in which we are so grateful for. The event evening following the challenge allowed us to network (and swap contact details) with senior marketing professionals from renowned brands and agencies."
The competition brief will be used by lecturers at universities across the country as a valuable teaching aid on marketing and business courses. Entrants must demonstrate a multitude of skills throughout the process, including the ability to devise and plan a six-month strategy to encourage pick up, to communicate their thoughts to an expert judging panel, and, most importantly, work as a team to provide innovative solutions to one of the company's most interesting business challenges.
As official partners, StudentUniverse and Tourism NT will feature on the judging panel that will decide the winners, alongside some of the industry's leading figures, including members of the DMA and IDM's (Institute of Data & Marketing) senior management team on 7th May 2020.
For more information on the campaign and how to enter, please visit: https://dma.org.uk/talent/dma-talent-marketing-challenge
For more information on StudentUniverse, please visit: https://www.studentuniverse.co.uk/
[Ends]
For further press information, please contact:
Baillie Horwood | Arabella Halfhide
Rooster. We are pr.
+44 (0) 7833 490003
[email protected]
www.rooster.co.uk
@RoosterPR
About StudentUniverse:
StudentUniverse is the world's leading travel booking site for students and youth. Through negotiations with a network of global partners, StudentUniverse offers discounted pricing and terms on flights.
StudentUniverse launched in the UK in 2013 and was acquired by Flight Centre Travel Group in 2015. StudentUniverse is headquartered in Boston with offices in London, Toronto, New York, Brisbane and the Philippines.
StudentUniverse believes that travel is essential to a modern education. Millions of students use the service every year.
For more information go to www.studentuniverse.co.uk