ITV and Ecoffee Cup Join Forces in a Bid to Turn Love Island Single-Use Free

Series Six of ITV2's hit show Love Island marks the beginning of an exciting new partnership between UK-based reusables brand, Ecoffee Cup, and the broadcaster.
With the aim of helping Islanders ditch single-use cups during their stay at the Cape Town based villa, an all-new brand and product has been unveiled…
Re– to-go Cups have been especially designed by Ecoffee Cup for the current season – and the first winter edition – of the popular ITV reality show, encouraging Islanders to reduce their single-use footprint, whilst also sending a strong and inspiring message to viewers; that it has never been easier for everyone to do their bit in cutting down on single-use waste.
Director of Games, Live & Merchandise for ITV, William van Rest, says that the partnership with Ecoffee Cup signals a significant shift amongst ITV's audience when it comes to awareness of environmental issues: "The great thing about the Re- to-go Cup is that it provides a practical, stylish and affordable way to choose to re-use every day. Small changes can have a very big impact."
Available in seven different villa-inspired colours, the Re- to-go Cup is the ideal solution for enjoying both hot and cold drinks on the go. Made from natural materials and both microwave and dishwasher safe, the cup is re-usable for years if looked after.
Ecoffee Cup Founder and Brand Director, David McLagan is hugely enthusiastic about the new partnership with ITV. "Since we started in 2014, we have been at the forefront of the re-use movement, so it's great that a programme such as Love Island, with its massive following, is coming on-board to help spread the message."
All seven Re- to-go Cup designs are available now to buy from the new choose.re website.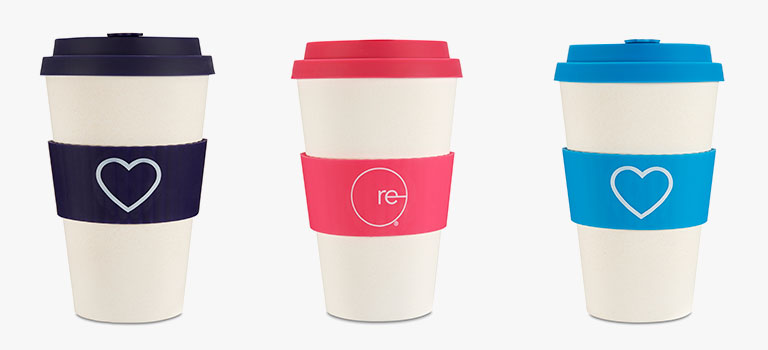 ENDS
For further press information, please contact:
Elsa Findlay | Jo Kendall | Julie Aguilera
Rooster PR
T: +44 (0)20 3440 8930
E: [email protected]
About Re-
Re- is a new reusables brand born from a joint venture between Ecoffee Cup and ITV, providing specially designed cups for the current season of hit reality show, Love Island.
Available in seven different villa-inspired colours, aptly brandishing a love heart on the sleeve, and with all the same features as the iconic Ecoffee Cup, the Re- to-go Cup is helping Islanders go single-use plastic free.
Priced at £10.95, the 14oz (400 ml) Re- to-go Cups are available to purchase for anyone who wants to get their hands on the product modelled by their favourite Love Island stars.
For more information or to buy your Re- to-go Cup, visit choose.re
About Ecoffee Cup
Since 2014, Ecoffee Cup has been at the forefront of the re-use movement in the UK, with a bastion of dedicated users preventing hundreds of millions of single-use cups from entering landfill; everyone from Hugh Fearnley-Whittingstall to Michael Gove has been seen sporting an Ecoffee Cup.
In 2017 Ecoffee Cup partnered with Bristol-based Boston Tea Party to create the world's first 100% single-use-free coffee chain.
In 2019 Founder David McLagan was a finalist in the British Entrepreneur of the Year and in December the brand was chosen as one Oprah's Favourite Things in the US.
Available in five sizes and over 100 different designs, Ecoffee Cup is simply the most stylish, most practical way for every one of us to choose to re-use every single day.