Make 2019 a Greener Summer
Ecoffee Cup reveals the UK festivals leading the re-use revolution.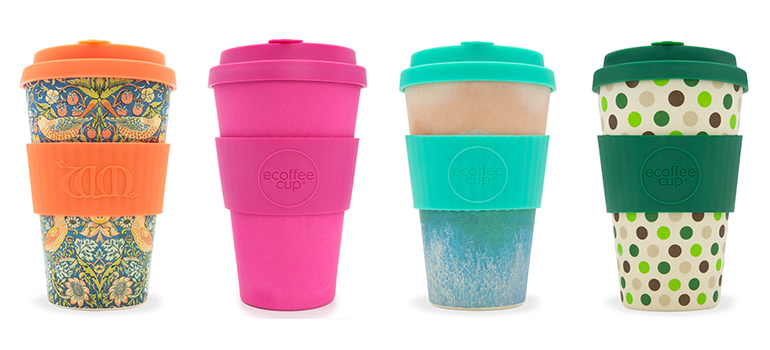 It's easy to get swept up in the excitement of festival season, but what's not so easy to sweep up is the inevitable waste left behind.
We've all seen the pictures of discarded tents and mountains of single-use plastic waiting to be cleaned up once revelries come to a close, however there are a number of festivals now paving the way for change.
"There has been a real shift in consumer attitudes towards single-use in recent years," says David McLagan, founder and CEO of Ecoffee Cup, "but this becomes notoriously difficult during summer festival season. Festival-goers rely on on-site bars and cafes for water, soft drinks, hot drinks, alcohol and food, which, more often than not, are all served in single-use bottles, glasses, cups and containers.
"When you consider that the average lifespan of a single-use cup is just 10 minutes, yet they take 30 years to decompose (less than 1% will actually be recycled due to the difficulty of separating the waterproof plastic lining) this becomes all the more shocking.
"This year, it's encouraging to see that more and more festivals are taking steps to reduce or, in some cases, completely eradicate single-use cups. Now we just need more event organisers to sit up and take notice for 2020 and beyond."
Ecoffee Cup has compiled the following list of UK festivals that are leading the re-use revolution. And in support of the cause, is offering 20% off selected Ecoffee Cup styles for anyone attending these festivals. Just send a copy of your ticket to: [email protected] to receive your discount code.*
26-30 June, Worthy Farm, Pilton
Glastonbury has become something of an institution in the world of music festivals and this year's line-up, including Stormzy, The Killers and The Cure, looks set to deliver another spectacular event.
This year, all attendees are required to sign the 'Love Worthy Farm – Leave No Trace' pledge, which includes taking all belongings home, using bins available or recycling where possible, using reusable water bottles and cups, and avoiding single-use plastic. For this reason, plastic drinks bottles won't be available on-site. Instead, revellers are advised to take reusable water bottles or cups for use at various water re-fill points.
Pack the colourful Thief Ecoffee Cup, part of the William Morris collection, which will not only up your eco-credentials but is an undeniably stylish accessory to complete your festival look.
18-21 July, Southwold, Suffolk
Latitude offers a fantastic mix of art, music, comedy, cabaret, theatre and literature on the beautiful Suffolk coast. This year's musical headliners include Snow Patrol, George Ezra and Lana Del Rey, whilst comedians include Jason Manford, Frank Skinner and Russell Kane.
Since 2007, the festival organisers have invested in a number of initiatives to reduce their environmental impact. Initiatives include a three-bin system, which includes compost and recycling bins, as well as general waste bins. Attendees are discouraged from bringing single-use plastic to the festival to keep the non-recyclable/compostable waste to a minimum. Campers are also given a 'Waste Kit' to help them correctly sort their waste, by returning full bags they can win tickets to the following year's festival.
Ensure you stand out from the crowd by using a Pink'd Ecoffee Cup.
7-11 August, Cornwall
Cornwall's popular music and surf festival combines music from Wu-Tang Clan, Florence + The Machine and Foals, with daily beach cleans, World Surf League competitions, as well as yoga and wellbeing events.
Festival organisers are working to make Boardmasters one of the most environmentally conscious and low-impact festivals by eradicating all non-essential single-use plastic packaging in order to reduce overall waste and thus, the carbon footprint of the event. They also work closely with Surfers Against Sewage, a marine conservation charity, to develop and implement environmental strategies for the festival and the surrounding areas.
The Porthcurno Ecoffee Cup – part of the Ecoffee Cup X Surfers Against Sewage collaboration – will make the perfect addition to your Boardmasters festival experience.
15-18 August, Brecon Beacons, Wales
Attendees are invited to spend a whole week on-site exploring the Welsh mountains, forests, waterfalls and rivers before enjoying a musical line-up that includes Four Tet, Father John Misty and Sharon Van Etten.
This festival takes its environmental responsibilities seriously. Attendees are required to buy or bring their own reusable cups for use in the bars, single-use plastic straws are banned, and food-traders are required to only use compostable packaging and cutlery. And rather than sending discarded tents to landfill, organisers work with aid organisations to ensure that any unwanted camping equipment and food goes to refugees around the world.
Take your lead from the festival and pack a Green Polka Ecoffee Cup.
22-26 August, Northamptonshire
Shambala – aka adventures in utopia – includes a musical line-up featuring the likes of DJ Rap, Idles and Saul Williams, as well as Rebel Soul, an activist hub, explosions and experiments by Guerilla Science, The Imaginarium – a forum for ideas and debate – as well as the hugely popular Garden O'Feeden, where festival-goers can listen to talks from foodie experts.
Having reduced the carbon footprint of the festival by over 80%, achieved 100% renewable power, become meat and fish-free, and eradicated disposable plastics, it's no surprise that Shambala's green credentials are considered pioneering.
The festival's hot drinks traders will charge a 50p levy on every hot drink purchased in a disposable cup so make sure to pre-order your Shambala Ecoffee Cup online or buy on-site.
For more information on Ecoffee Cup, please visit www.ecoffeecup.com
-Ends-
*20% discount available on selected styles until 15-July-2019
For further press information please contact:
Elsa Findlay/Jo Kendall/Julie Aguilera
Rooster PR
T: +44 (0)20 3440 8930
E: [email protected]
About Ecoffee Cup
From manufacture through to disposal, Ecoffee Cup is a new generation of reusable takeaway cup.
Created with the world's fastest-growing, most sustainable crop – natural bamboo fibre – and non-GMO corn starch, Ecoffee Cup is BPA and phthalate free.
Ecoffee Cup feels a bit like thick, yet light cardboard. And because bamboo fibre is naturally sterile, Ecoffee Cup is lovely to drink from and won't flavour-taint drinks. It is also super-light and has a fully resealable 'no-drip' lid, making it perfect for when you're on the go.
Ecoffee Cup is fully dishwasher safe.
Available in a wide range of fun, contemporary patterns and bright, vibrant colours, Ecoffee Cup packs just a little bit more style than its plastic, ceramic or stainless steel cousins.