Zip Now Brings the World's Biggest Zip Wire Running Entirely Over Water to Cardiff from July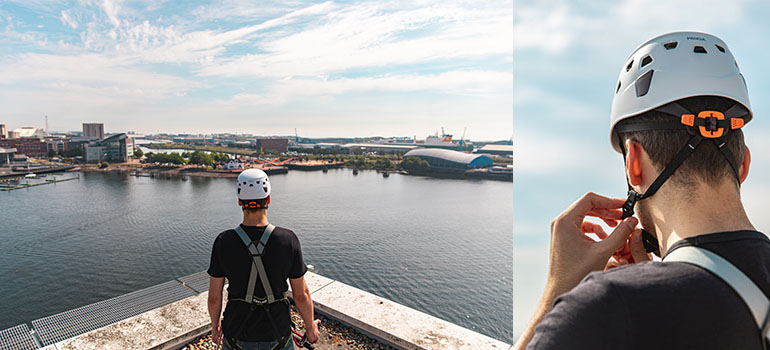 The City Zip Company is excited to announce that it is bringing its thrilling zip wire attraction to Cardiff this summer, in the first ever event of its kind in the Welsh capital!
Allowing visitors the opportunity to launch themselves from 45 metres up off the roof of the voco St. David's Hotel in Cardiff Bay, riders will travel 350 metres at speeds of up to 59 kilometres per hour, crossing over the water in Mermaid Quay before landing near the Norwegian Church on a separate, dedicated site. With two zip wires in parallel, riders are able to fly in pairs; enjoying incredible views of the skyline, Cardiff Bay, the Barrage and across to the Bristol Channel.
"We're so excited to be coming to Cardiff. Having such a beautiful, tall building so close to a large expanse of water allows us to create the ultimate zip wire experience," said The City Zip Company's founder and CEO, Barry Shaverin.
The attraction will operate from July 2019 to early January 2020, employing around 25 staff from the local area – and it is estimated it could attract over 50,000 people over the six months of operation.
The City Zip Company also operates Zip Now London, the world's biggest and fastest city centre zip wire. The London attraction is returning for a third season on 12th June 2019 after hosting 75,000 people in previous years.
"Our London event is one of the busiest attractions of its kind in the UK, and as a result, London's South Bank sees significant benefit in the form of jobs, global publicity and millions of pounds spent with other local businesses," said Shaverin.
"Having worked for two years in one of London's most cherished parks, we're able to do all this without upsetting local sensitivities.
"So it's really great for us to bring our unique offering to Wales; for so long the country's spiritual home for zip wires."
From today, a limited release of 1,500 launch vouchers are available to buy at cardiff.zip-now.co for the introductory price of just £25 per individual ticket. They offer a saving on the cost of a standard ride, priced at £30, and allow those first to the plate the ability to choose their date and time slot when the full booking system goes live in the coming weeks. A limited number of early bird tickets will also be available for £27 in due course.
As with Zip Now London, Zip Now Cardiff will be delighted to accommodate charities, fundraisers and corporate entertainment bookings; groups will always be priced at £25 a head for parties of 5 and above.
Pending the granting of planning permission from Cardiff Council, Zip Now Cardiff will be open seven days a week over the summer holiday period. With restricted opening hours of weekends only from September, full time operating hours will return during the October half term week.
Keep an eye on the official Zip Now Cardiff Facebook page for opening dates and times, which are set to be announced soon.
-Ends-
Facebook: Zip Now Cardiff / Twitter: @ZipNowEvents / Instagram: @zipnowevents
For more details about the launch of Zip Now Cardiff, to arrange to attend our Cardiff press event with a trial of the zip wire, or for an interview with a spokesperson from The City Zip Company, please contact:
Danny Hayes-Lissack / Beth Cook
S3 Advertising
029 20 373 321
[email protected]/[email protected]
For press enquiries about Zip Now London, to arrange to attend our London press event with a trial of the zip wire, or for details of The City Zip Company, please contact:
Baillie Horwood/Emma Arthurs/Joe Thomas
020 3440 8930
[email protected]