Five Hidden Gems of Cyprus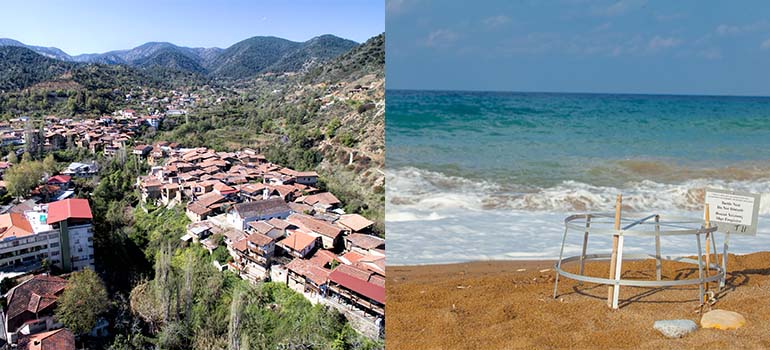 Aside from its beaming sunshine, popular beachside resorts, and out-of-this-world cuisine, Cyprus is a destination bursting with unfound beauty.   From its idyllic villages, epic nature trails, fascinating museums and even snow-capped mountains – there is a lot to be discovered about the third largest island in the Mediterranean.
For holidaymakers looking to step away from the beach and explore, the Deputy Ministry of Tourism for Cyprus has given six ideas to get you started.
Unwind in Kakopetria village
Located in the Troodos mountain range, nestled in the Solea Valley of Lefkosia, lies the pretty village of Kakopetria. Boasting breath-taking scenery of pine forests, narrow stone-paved alleys and quaint two-storey houses with wooden balconies, the old quarter of the village has been listed as a protected heritage site.
Those wanting to explore the surrounding area can head 5km from the village to find the church of Agios Nikolas tis Stegis, a Byzantine church considered by many as one of the most interesting on the island, thanks to its murals dating back as far as the 11th century.
Visit Lara Bay Turtle Conservation Station
The beautiful Lara Bay beach is a haven for loggerhead and green turtles due to its white sands and protective horseshoe shape. To help prevent these species from becoming extinct, a conservation station has been set up where ecologists are working tirelessly to boost population numbers.
Far from the busier areas of Cyprus, the Conservation Station is a small cabin overlooking a beach of aluminium cages which have been put down to protect turtle eggs from predators. Visit between May and August for a chance to see the turtles arriving on the beach to lay their eggs.
Learn about the first olive oil museum in Cyprus
Oleastro Olive Park and Museum, in Anoyira village, was the first olive oil museum in Cyprus. The museum showcases a love and dedication to the 60,000-year story of the olive tree, whilst producing its own oil brand in an environmentally friendly way, using the latest green technology.
Visitors will see a combination of ancient and modern techniques, including the ecological olive mill which uses cold pressing with millstones – a first in Cyprus. If you visit the park during the winter (between mid-October and February), you'll even be able to watch the olive oil extraction live.
Ski in the Mountains
Renowned for its long, warm summers it might be hard to believe that the temperature level drops low enough for skiing, but high up in the Troodos Mountains, there's a ski centre open in the winter months. At 2,000 meters above sea level on Mount Olympus, you'll find the Cyprus Ski Federation and Club with eight alpine ski runs to enjoy.
Book onto one the ski schools if you're a novice, or brave one of the cross-country ski tracks and picturesque runs if you're a seasoned skier. During winter, if conditions are right, it's even possible to ski down the mountain in the morning and go swimming in the sea in the afternoon!
Hike the Caledonia Nature Trail
Centred around the Caledonia Waterfalls (one of the highest waterfalls in Cyprus!), this beautiful forest trail offers nature lovers an easy trek with breath-taking views. Located in the village of Platres in the Troodos Mountains, the route is 3km long and takes around two hours.
This enchanting trail which takes walkers past many species of local flora and plants – its name 'Caledonia' actually originates from the swallow birds that sing during the spring and summer. Whilst the trail is not considered difficult, taking very young children is discouraged, and hikers are encouraged to take sign-posted shortcuts if necessary.
For more information, go to www.visitcyprus.com, www.facebook.com/visitcyprus.uk or www.twitter.com/visitcyprus.
-Ends-
For further press information, please contact:
Baillie Horwood/Emma Arthurs/James Brooke
T: +44 (0)20 3440 8927
E: [email protected]
About the Deputy Ministry of Tourism for Cyprus
Cyprus – the third largest island in the Mediterranean – attracts over two million tourists annually. Cyprus is a year-round island appealing to a wide range of personal tastes and lifestyles, from families and couples, to the most discerning of culture and nature-oriented travellers.
Tourists are attracted by the island's legendary hospitality, glorious coastline and stunning mountain villages. There is something to suit everyone – family resorts, world class spas, golf courses, marinas, agro-tourism and food and wine trails. The active can enjoy the warm waters of Cyprus for diving and waterskiing while adventure seekers can explore the island's beauty with trekking or bird-watching tours, while golfing enthusiasts play on award winning courses.
The island boasts the cleanest bathing waters in Europe, combined with a rich cultural heritage, a variety of agro-tourism projects and a wide choice of special interest activities.
For more information: www.visitcyprus.com