Croydon School Children Raise £70,000 For Charity
The annual Flight Centre Schools Triathlon returned to Royal Russell School for a fourth year.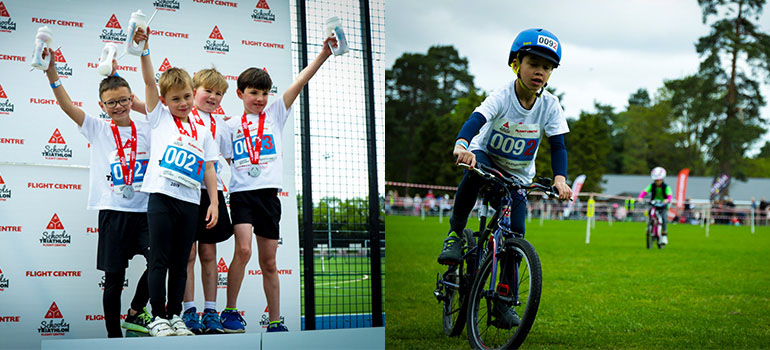 The Flight Centre Schools Triathlon has kicked off its 2019 series by raising an amazing  £70,000 (with the total still rising!) at the first of its four charity triathlons for kids.
On Sunday 28 April, almost 700 children took part in the triathlon event at Royal Russell School, Croydon, raising £70,000 for Restless Development and other charities.
James Thompson, Headmaster of Royal Russell Junior School, said: "This is the fourth year we have hosted the Flight Centre Schools Triathlon on our extensive campus and it just goes from strength to strength. To think that our children have contributed to the £1m raised since it started is just amazing. As a school we are really proud of all the children who take part and the way in which they throw themselves into the fundraising and competing. Through their efforts they are helping other children all around the world."
The next three triathlons in the series will be at Bradfield College, Berkshire (May 12th), Charterhouse School, Surrey (May 12th), and Marlborough College, Wiltshire (May 19th) with participants from over 50 schools aiming to raise almost £400,000 in total.
The Flight Centre Schools Triathlon supports Restless Development, an international development charity that puts young people at the very heart of dealing with the issues that affect them, their communities, and their countries. The events will raise funds for Restless Development and the chosen charities of the host and participating schools.
Jim Sewell, founder of the Flight Centre Schools Triathlon, said: "We are blown away by what these brilliant children have done – £70,000 is a huge amount of money and it will help thousands of children in developing countries access health education and life skills which will transform their lives. There is something wonderful about children really understanding what a difference their actions can make. The Flight Centre Schools Triathlon is getting bigger every year – more than 9,000 participants have taken part since we started. We are well on our way to making this one of the biggest sporting fundraisers for the children in the UK, thanks in no small part to the generous hospitality of our host schools and the ongoing support from Flight Centre Travel Group."
Chris Galanty, Managing Director of Flight Centre Europe and South Africa, said: "We love that children are front and centre at these triathlons and we are proud to play our part in making them happen. This is the fourth year we've been involved in the triathlons and our people really enjoy getting out of the store for the day and interacting with their local communities in a different way. And nothing makes us happier than seeing families having a fun time together – either here at home or away!"
Specialising in Tailor Made holidays and Premium and Round the World Flights, Flight Centre is one of the world's largest travel retailers. It has over 80 stores throughout the UK, with new stores opening regularly.
Any school interested in taking part in or hosting a 2020 Triathlon event should contact Jim Sewell at: [email protected] . Follow #triflightcentre on https://www.instagram.com/schoolstriathlon/ and https://twitter.com/SchoolTriathlon
-Ends-
For information about the triathlons, please contact:
Tessa Murray
The Flight Centre Schools Triathlon
T: +44 (0)7768 740907
E: [email protected]
About the Flight Centre Travel Group (FCTG)
The Flight Centre Travel Group (www.fctgl.com) is one of the world's largest travel companies with over 18,000 staff and 2500 stores across its leisure, corporate and wholesale businesses. The company's turnover in 2014/2015 financial year was £9 billion. After starting with one shop 30 years ago, FCTG has enjoyed remarkable growth and is one of the top 100 publicly listed companies on the Australian Securities Exchange.
All specialist brands under the FCTG Corporate banner offer 24/7 support and the benefits of a blended offline/online solution; global negotiation strength and unique and superior business travel products.
About Flight Centre
The team at Flight Centre are experts when it comes to travel and are committed to providing customers with a great experience. The company's success comes down to its people, experienced Travel Experts who are passionate about finding their customers the holiday they want, for the price they want.
Since establishing the first Flight Centre store in 1995, the business has grown its team of Travel Experts to include over 80 stores within the United Kingdom, with new stores opening regularly. Worldwide, Flight Centre has an amazing 2,500 stores across the United Kingdom, Australia, New Zealand, South Africa, United States, Canada and more, making Flight Centre one of the largest and most successful independent travel retailers in the world. With its global reach and close relationships with the world's best travel providers, the company is able to provide competitive travel deals.
The Flight Centre team can organise anything from flights to holidays, hotels, car hire, tours, travel insurance, visas and more. They also have dedicated First and Business Class flight teams and Business Travel teams to help with any specialised travel needs.
For more information go to www.flightcentre.co.uk, www.facebook.com/FlightCentreUK, www.twitter.com/flightcentre_UK or www.instagram.com/flightcentreuk.
About Restless Development
Young people have the power to solve the challenges we face in our world. Restless Development is a global agency working with young people so they can lead in solving those challenges. Whether that means supporting communities to end child marriage or prevent HIV, Restless Development works with young people to change their lives and the lives of people in their communities. Restless Development is run out of hubs in ten countries across Africa, Asia and in the UK and USA, with a wider network of partners across the world. The agency has been working with young people since 1985 and its work is led by thousands of young people every year.
For more information go to www.restlessdevelopment.org, www.facebook.com/restlessdev or www.twitter.com/restlessdev