Sunday Night Blues Prompts Dreams of Luxury Drives
Surge of Brits browsing luxury hire cars between 8pm-12am on Sunday nights
Over one in ten bookings by Brits are for UK staycation drives (12%)
Porsche 718 Boxster booked most sports car by Brits
June most popular month to book a luxury car, embracing UK summer road trips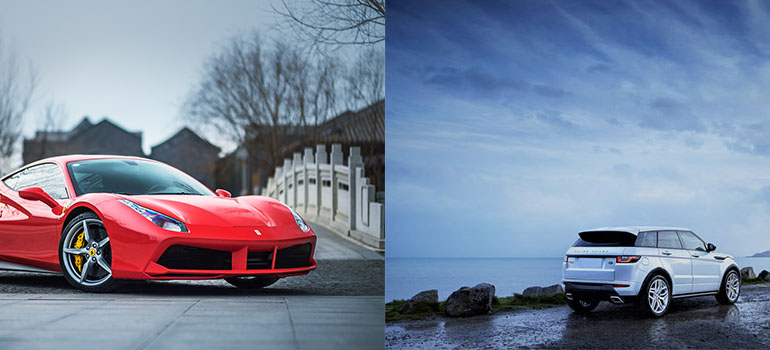 Travellers are easing the back-to-work dread by planning luxury road trips and browsing premium hire cars late night on Sundays. Data from Driverso, Europe's leading luxury car hire service, sees a surge of UK customers browsing its selection of sportscars, convertibles, sedans and SUVS between 8pm to 12am Sundays evenings – with 17% of users visiting the website on this day.
With many Brits dreaming of a drive through the countryside in a Lamborghini Huracan or cruising along the coast in AMG Roadster, more than one in ten (12%) British Driverso customers are embracing the "staycation". However, Italy is by far the most popular choice of destination for road trip holidays (66% of UK Driverso bookings). Driverso customers can choose from a range of cars across the UK, Italy, France, Spain, Portugal, Switzerland, Germany and Austria.
UK drivers travel in style when they hire a car with Driverso, with the Porsche 718 Boxster being the most popular sportscar booked by Brits (21%). Ferrari California and Jaguar F-Type Cabrio are the second most popular sportscar choices (booked by 18% of Brits). Of Driverso's full range of cars, UK customers most frequently book a Mercedes-Benz E Class Convertible (9.3%), Range Rover Classic Autobiography (6.2%), and a Range Rover Velar (6.2%).
UK holiday bookers like to plan their trips well in advance; while the average booking is made six weeks ahead, some ultra-organised customers book as far as 227 days (32 weeks) in advance. Overseas, Driverso customers in Italy and France only book 23 days and 36 days ahead on average, respectively.
Most Brits booked their luxury car in June last year (20%) and most travelled in July (19.7%) and September (18.6%) during 2018.
Driverso offers instant online booking for the largest collection of luxury cars in Europe –offering over 400 models from 20 suppliers. Priding itself on the highest standards of qualified, luxury cars and personalised customer service, Driverso will deliver and collect any car from the customer's desired location – creating an unparalleled car hire experience.
Pierluigi Galassetti, Managing Director of Driverso, said "Holidaymakers are setting aside time on Sundays to plan a truly special, unique holiday experience, and that's exactly what we provide. With Driverso, the car is the most memorable part of the trip and the rest of the holiday is built around it. With a clear, simple booking process and personal drop-off and collection, Driverso is much more than just a car hire service."
For more information and to book online, visit: www.driverso.com.
-Ends-
For further press information, please contact:
Yasmine Triana/Natalie Garland/Aaryn Vaughan
T: +44 (0)20 3440 8934
E: [email protected]
About Driverso
Previously Vroomerz, Driverso was founded in March 2017 by Saverio Castellaneta and Pierluigi Galassetti and is backed by parent company, Primerent. Driverso is Europe's first luxury car hire metasearch platform and offers the largest collection of verified luxury cars from suppliers across Europe.
Driverso is the first luxury car hire company to offer clear, transparent pricing and real-time availability, allowing customers to conduct the entire booking process seamlessly and quickly online for the exact luxury car of their choice.
Ranging from a Ferrari 488 GTB to a Mercedes-benz Class G or a Range Rover Sport, Driverso customers can select from over 400 luxury sports cars, convertibles, sedans, SUVs and vans.
Luxury cars are currently available to hire in the UK, Italy, France, Spain, Portugal, Switzerland, Germany and Austria.
Driverso is headquartered in Rome and employs 20 staff.
For more information, visit: www.driverso.com.