Algorithms – Fight or Flight?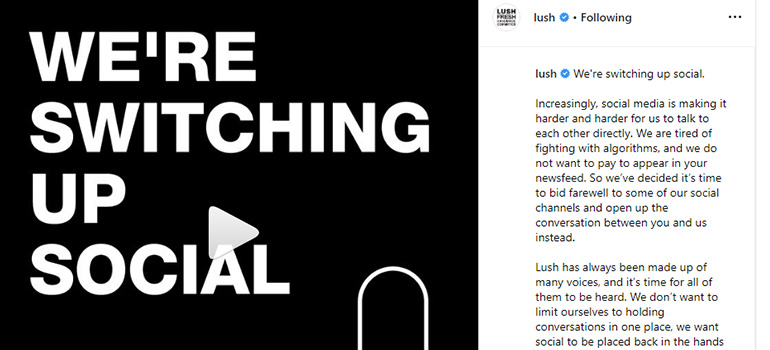 Last week we were left puzzled when LUSH announced it had made the bold move to bid farewell to its social media channels.
In an Instagram post (ironically), the cosmetics company said social media is making it harder for them to speak to their customers and they are tired of fighting algorithms. Directing customers to its online live chat, customer care email address, and telephone number instead, Lush said it wants to "open up the conversation".
Well it certainly got people talking, but we were still left wondering why…and will this just be the start?
The brand has amassed hundreds of thousands of followers – more than 572,000 on Instagram, 202,000 on Twitter and 423,000 on Facebook – but it produces the question do brands need social media to be successful?
We put the question to our own followers and the divide was clear. The majority of respondents to our Twitter poll (38%) said other brands will follow Lush's lead, while 33% said customers would hate it. On the fence, 29% said to watch this space and see what happens!
Ditch the Digital
With alogrithms making it a constant battle to be seen on social media many influencers have taken time away from their channels or taken on a "digital detox" to connect with the real world, but it's rare to see a brand follow suit.
So will LUSH infact become more personal and have more direct contact with its customers this way? Or is it potentially isolating hundreds of thousands of people it could reach?
Having been brought up in the Instagram generation I am a marketeer's dream; if there's a sponsored ad I'll click it, show me a product and I'll instantly buy it. Hootsuite says that 60% of Instagram users today search and discover new products on the platform, proving it's the place to be seen, but these tactics are beneficial for brands who are "breaking into" the social media scene and trying to get their presence known.
I'd argue that pretty much everyone has heard of LUSH by now, despite the brand being just 24 years old, and its done a good job showcasing itself and its values on its own.
The brand has never gone down the traditional advertising route and instead relied on word-of-mouth marketing for many years, reporting billion dollar revenues in 2017.
So does it need social media in order to sell its products? I know it sells bath bombs, I know the products smell good, and I know what the company stands for, so if I want to purchase something I will – I don't need to a see a Boomerang of someone dropping a bath bomb into their bath to convince me.
Crucial Crisis and Customer Service
Admittedly many of us turn to social media to complain about a brand when something's gone wrong. No one is going to take time out of their day to sit on hold on the phone to someone or dare to have a real-life conversation with a human being, so you bet if there's a product missing from their order or it hasn't arrived in time of course they're going to shame the company and shout about it to their 2k odd followers – how else will they speed up the response time?
But any brand knows the key rule of crisis communications – take it off social media immediately. So it's no wonder LUSH may have taken the step to minimise the visibility of customer complaints.
Keeping Social Media Social
Social media should be just that – social; a platform for brands to communicate with the masses. There's nothing like a simple 'like' or retweet to make you feel part of the gang.
So while I applaud LUSH for speaking up against the negativities of social media, the answer shouldn't be quitting altogether. Take a stand and shape your social channels in the way that you want, not how your followers want them to be. If it's not working, do it differently.
Only time will tell whether pulling out of social media will prove beneficial for the brand. Watch this space…