Meze Must-Haves: 10 Dishes to Dazzle Your Dinner Guests, Cypriot Style!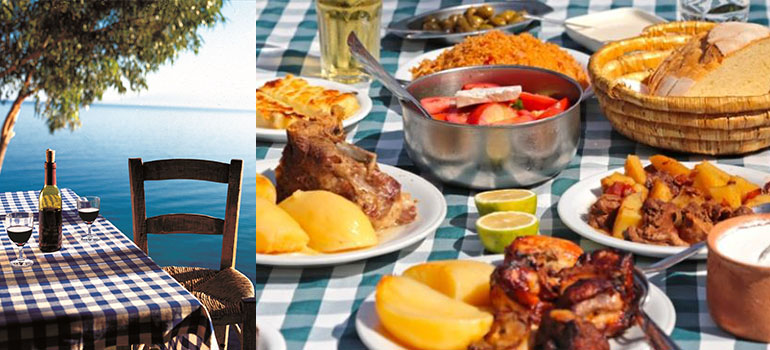 An important part of Cyprus' culture is the sharing of good, fresh local cuisine. Traditionally, locals will gather all their family and friends for a meze and it's more of a social event than a formal meal. Cypriot cuisine is an exotic blend of Greek and Middle Eastern cultures and with many dishes shared around the table it is a bucket list experience worth seeing first-hand.
Before booking your flights to the island, why not choose a Cypriot meze for your next foodie feast for the family? Usually made up of 15-20 plates, cold bites come first, followed by lighter hot dishes, the main course and fruit and pastries for desert.
Here the Deputy Ministry of Tourism for Cyprus suggests its must-include meze dishes that are bound to leave your guests wanting to hop on a plane to the Mediterranean isle right away.
Start your meze with a selection of succulent olives and flavoursome dips. Whether its yoghurt, Houmous, Tahini (sesame seed based), Skordalia (with potato and garlic), Taramosolata (fish roe dip) or Tsatziki (cucumber and mint), a selection served with pitta bread and crisp salad will go down a treat.
After a light start, it's time to step it up and bring out the big guns – grilled halloumi cheese. A Cypriot cheese, it's an undeniably popular food, especially here in the UK. It's best to grill before garnishing with rock leaves and tomatoes.
Add Sheftalies to the mix, next. It's a type of sausage but without the skin and is usually made of ground pork or lamb shoulder, mixed with finely chopped onion and parsley.
*Top tip, these also go well with warmed pitta bread and a handful of fresh salad.
One of the most traditional dishes from Cyprus and a must-include for your evening is Koupepia. Simply, vine leaves stuffed with a mixture of minced meat and rice. Easy to prepare, simply stuff the vine leaves with the above, plus tomato, mint, parsley and lemon juice before cooking in an oven.
*Top tip, this can easily be a vegetarian dish, too!
One that's easy to prepare and succulent in its taste is Stifado, or more simply, beef stew. Stifado is made with onions, tomatoes, garlic, red wine, cinnamon and aniseed, added to the pan and allowed to simmer until tender.
For meat lovers, skewered lamb, barbequed chicken or pork chops are always a winner, and a good way to signal that the next round of dishes is on its way. Simply grill your chosen meats and serve with chunks of lemon.
For something hearty, Moussaka is a must have. A layered dish of eggplant, lamb (beef or pork can work too) tomatoes, and potatoes. It's the perfect dish for entertaining, and even one for friends and family to take away and re-heat for the next day!
Lamb and potatoes, cooked with bay leaves and oregano, is known as Kleftiko in Cyprus. Kleftiko means 'stolen' in Greek and dates back centuries to when sheep were stolen and cooked underground to avoid the smell giving the thief away. For a dish with a story, Kleftiko is a must!
*Top tip, the longer you cook, the better!
To accompany your mains, stuffed vegetables make for the best sides. Yemista, as the Cypriots call it, can be peppers, tomatoes, onions, courgettes or aubergines stuffed with flavoursome rice and melted cheese.
End your meze with fresh fruit, pastries, and coffee. A Cypriot favourite is Bourekia me Anari, tiny little pastries full of Anari cheese and cinnamon. These delicious treats are best when fried and dusted with icing sugar.
If you tried it at home, then the next step is to bring all your family and friends out to Cyprus for the real deal. One thing is for sure, you won't be leaving hungry!
For further information on Cyprus, please visit www.visitcyprus.com
-Ends-
For further press information, please contact:
Baillie Horwood/Emma Arthurs
T: +44 (0)20 3440 8927
E: [email protected]
About Cyprus
Cyprus – the third largest island in the Mediterranean – attracts four million tourists annually. Cyprus is a year-round island appealing to a wide range of personal tastes and lifestyles, from families and couples, to the most discerning of culture and nature-oriented travellers.
Tourists are attracted by the island's legendary hospitality, glorious coastline and stunning mountain villages. There is something to suit everyone – family resorts, world class spas, golf courses, marinas, agro-tourism and food and wine trails. The active can enjoy the warm waters of Cyprus for diving and waterskiing while adventure seekers can explore the island's beauty with trekking or bird-watching tours, while golfing enthusiasts play on award winning courses.
The island boasts the cleanest bathing waters in Europe, combined with a rich cultural heritage, a variety of agro-tourism projects and a wide choice of special interest activities.
For more information: www.visitcyprus.com