Cheese Lovers Rejoice: London's Sell-Out Halloumi Pop-Up Embarks on a UK Tour
Visit Cyprus partners with new two restaurants in Liverpool and Edinburgh.
Due to popular demand, the Deputy Ministry of Tourism for Cyprus has decided to take its halloumi pop-up craze on a UK tour. This April, cheese lovers in Edinburgh and Liverpool will be given a unique taste of the squeaky goodness as a way of the destination showcasing its national cheese and enticing people to visit the island.
Kicking off the tour, Otro restaurant in Edinburgh will serve an exciting new menu from Monday 8th April until Sunday 21st April. Created especially for the event by head chef, Maciek Szymik, the menu comprises an array of halloumi-inspired lunch and dinner dishes. See below for menu.
Following closely, Liverpool's Clockworks restaurant, will serve a brunch menu which incorporates halloumi in every dish for one weekend only from Thursday 11th April 2019. Created especially for the event by head chef, Paul Fuller, the menu comprises an array of halloumi-infused brunch dishes. See below for menu.
The Deputy Ministry of Tourism for Cyprus is delighted to continue showcasing the versatility of Cypriot halloumi, explaining "We are incredibly excited to take our sell-out halloumi pop-up to Liverpool and Edinburgh this April. Halloumi cheese is a huge part of Cypriot culture, and to see it enjoyed so much in the UK is wonderful. We are pleased to yet again present restaurant-goers with exciting new menus that both justify how adaptable our national cheese is."
Edinburgh Lunch and Dinner Menu:
Grilled new season asparagus – with pea & broad bean salad, grated halloumi (£8.50)
Coddled egg with smoked halloumi – with wild garlic and mushrooms (£6.50)
Lamb and halloumi meatballs – with burnt aubergine, pomegranate and mint (£7.00)
Courgette, chickpea and halloumi fritters – served with basil mayo (£6.50)
Halloumi waffle BLT – (£6.50)
Halloumi fries – served with harissa yoghurt & pomegranate (£3.95)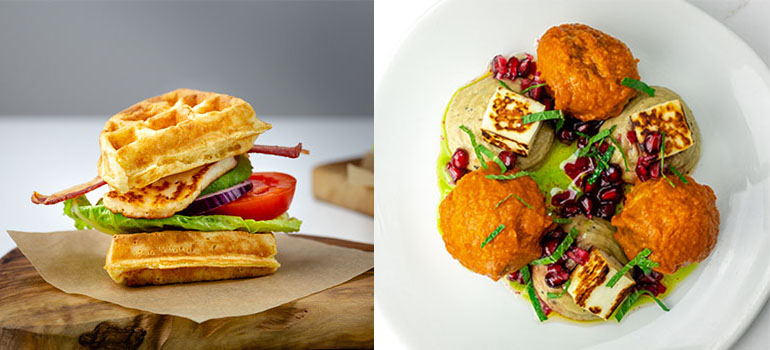 Diners will be able to try each dish individually or opt for the full tasting experience, sampling every item on a sharing platter for two, priced at £38.95 for six dishes.
To make a booking, please call 0131 556 0004 or visit www.otrorestaurant.co.uk
Liverpool Brunch Menu:
Butterbeans on Toast with chorizo, sundried tomatoes, paprika, crème fraiche Halloumi (£6.50)
Honey & mint halloumi Rösti with smashed avocado, salsa verde, scrambled eggs (£6.50)
Chilli Benedict with spice rubbed Halloumi, shredded ham hock, toasted muffin, poached egg, pickled chilies, paprika hollandaise (£7.50)
Halloumi Duck Egg Frittata with red peppers, cherry tomatoes, chilli jam cucumber dressing (£6.00)
House waffle with Halloumi, spinach, streaky bacon, red onion, maple syrup (£6.50)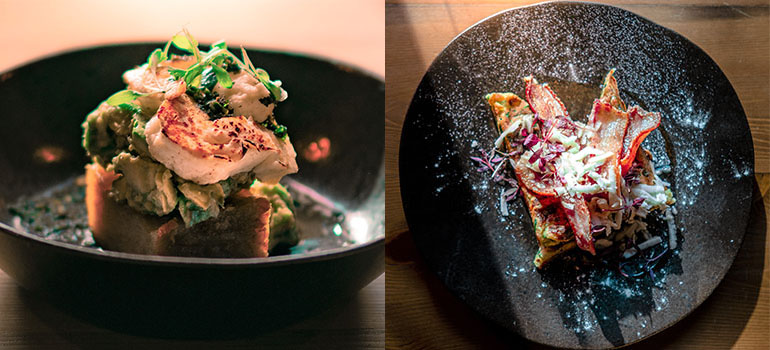 Diners will be able to try each dish individually or opt for the full tasting experience, sampling every item on a sharing platter for two, priced at £19 for three dishes. To make a booking, please call 01517070210 or visit www.clockworksliverpool.com
-Ends- 
For further press information, please contact:
Emma Arthurs/Baillie Horwood
T: +44 (0)20 3440 8927
E: [email protected]
About the Deputy Ministry of Tourism for Cyprus
Cyprus – the third largest island in the Mediterranean – attracts four million tourists annually. Cyprus is a year-round island appealing to a wide range of personal tastes and lifestyles, from families and couples, to the most discerning of culture and nature-oriented travellers.
Tourists are attracted by the island's legendary hospitality, glorious coastline and stunning mountain villages. There is something to suit everyone – family resorts, world class spas, golf courses, marinas, agro-tourism and food and wine trails. The active can enjoy the warm waters of Cyprus for diving and waterskiing while adventure seekers can explore the island's beauty with trekking or bird-watching tours, while golfing enthusiasts play on award winning courses.
The island boasts the cleanest bathing waters in Europe, combined with a rich cultural heritage, a variety of agro-tourism projects and a wide choice of special interest activities.
About Otro Restaurant
Otro is situated at 22 Coates Crescent, Edinburgh EH3 7AF and is the sister restaurant of New Chapter, located on Eyre Place.
Otro has two private dining spaces that can be hired for a variety of events, from business meetings and networking lunches to wedding receptions and family parties, for 16-120 people. There is a dedicated events coordinator that will work with customers to tailor menus and experiences to every budget, for any occasion.
@otrorestaurant
About Clockworks Restaurant
Clockworks Liverpool offers breakfast, lunch and dinner, specialising in twisted British classics, but sticking to what they do well – classic food and cocktails. The food is sometimes a little indulgent, but always comforting, tasty and entirely traceable. The way food should be. Clockworks kitchen makes everything from scratch, using only the finest ingredients and never cuts corners on quality.
Our building has stood for over 200 years and it was fundamental to us to create an interior that reflected that history. With the combination of exposed red brick, steel and iron we have managed to create a comfortable and unique look back into a twisted industrial era. Open from 9am until late serving Liverpool's growing brunch and dinner needs right through to the evening providing a cosy cocktail bar ambiance.