St. Kitts Sustainable Destination Council a Finalist for Destination Stewardship Award at 2019 Tourism for Tomorrow Awards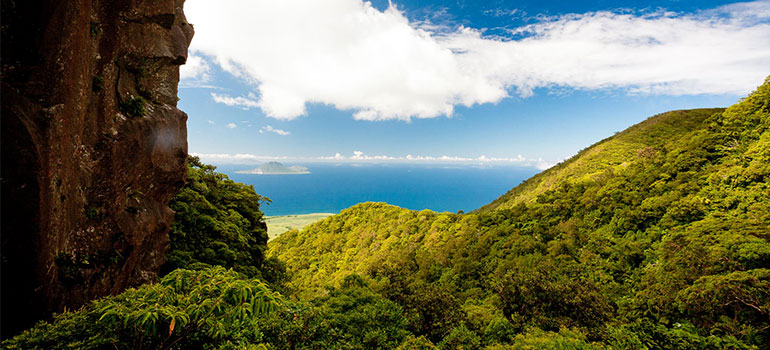 Looking after St. Kitts' lush rainforest is paramount in protecting the island's tourism for years to come
The St. Kitts Sustainable Destination Council is thrilled to have been shortlisted as a finalist for the Destination Stewardship Award at the World Travel & Tourism Council's 'Tourism for Tomorrow Awards'.
This accolade recognises that St. Kitts is leading the way globally in sustainable destination management, and is strategically balancing the great economic benefits of tourism with the need to minimise any negative impacts on society, culture and environment.
The Tourism for Tomorrow Awards are the world's top accolade in sustainable tourism, recognising the highest ethical standards in the tourism sector. The awards are aimed at recognising best practice in sustainable tourism globally, based upon the principles of environmentally friendly operations, support for the protection of cultural and natural heritage, and direct benefits to the social and economic well-being of the local people in travel destinations around the world.
Following exponential tourism growth from 2005, the St. Kitts Sustainable Destination Council was established to identify a vision for the nation during a time of change and growth, to maximise long term development and evolution, and to safeguard the beautiful, unique tourism offering of St. Kitts for years to come.
Minister of Tourism, The Hon. Lindsay F.P. Grant, said that to be a finalist in the WTTC Tourism for Tomorrow Awards is a tremendous achievement for the island.
"It is indeed a great honour to be recognized alongside organisations pursuing leading practices in sustainable development," Minister Grant said.
"The SDC facilitates partnerships and functional relationships among public and private sectors and all people in St. Kitts, to ensure that development in our destination preserves and benefits our environment, culture, heritage and community livelihoods. We hope this preservation will lead to long-term tourism growth and allow people to enjoy our beautiful island for many years to come".
Carlene Henry-Morton, Permanent Secretary in the Ministry of Tourism, said, "This recognition underscores our serious commitment to working with local, regional and international partners to keep the conversation going on this critical matter and to practising a wholesome, 'pro-people pro-planet' approach to Tourism. Posterity deserves nothing less."
Permanent Secretary Henry-Morton and Assistant Secretary Diannille Taylor-Williams will attend the 19th WTTC Global Summit in Seville, Spain from 2–4 April 2019, where the winners of the 2019 Tourism for Tomorrow Awards will be announced.
-Ends-
For further press information, please contact:
Natalie Garland/Charlotte Wright
T: +44 (0)20 3440 8930
E: [email protected]
About St. Kitts
Intoxicating natural beauty, sunny skies, warm waters, and sandy beaches combine to make St. Kitts one of the most seductive spots in the Caribbean.  Located in the northern Leeward Islands, it offers a diverse tourism product developed from the destination's natural beauty, cultural heritage and rich history. The island's stunning variety of tourism attractions include hiking through the tropical rainforest, riding the scenic railway that connects the island's former sugar plantations, visiting the Caribelle Batik factory, and touring Brimstone Hill Fortress National Park, which is an UNESCO World Heritage Site. Among the more traditional vacation pastimes available are watersports including catamaran cruises, golf, shopping, tennis, dining, gaming at St. Kitts' exclusive casino or simply relaxing on the beach.
The island is easily accessible for British travellers with twice-weekly British Airways flights from London Gatwick (with a short stop in Antigua).
For more information about St. Kitts, visit www.stkittstourism.kn.