The English Tourism Week Guide to Unique Staycations
Hotelgift shares its alternative guide to holidaying in England ahead of Easter and the May bank holidays.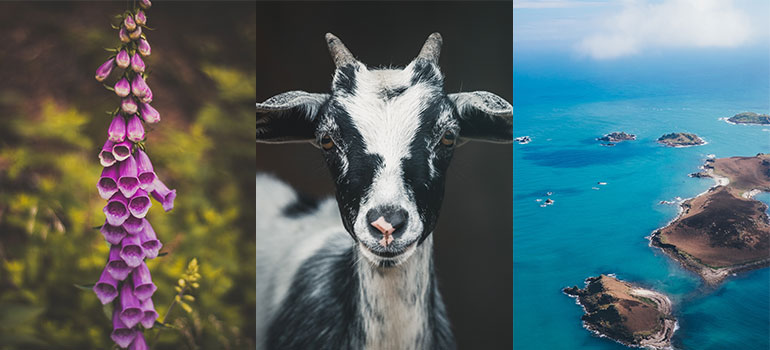 For those looking for something a bit different to beach huts, castles, cottages, historic city breaks, or walking in the lakes this spring, leading hotel gift card brand, Hotelgift, shares its guide to the best alternative staycation activities in support of English Tourism Week, which runs this year from 30 March to 7 April.
From cheese rolling, or goat yoga, or a visit to the world's most poisonous garden, there really is an abundance of weird and wonderful activities to enjoy on your very own doorstep. Hotelgift reveals it's best kept English Tourism secrets…
Find your inner 'kid'
Head to Dartington, Devon, and indulge in the newest trend in wellness – goat yoga!
Simply Soulful Goat Yoga is a therapeutic workout for the mind, body and soul. Yoga is known for improving balance, flexibility and strength, whilst also relaxing your mind, so what could be better than adding playful goats to the mix?
The UK's answer to the Caribbean
Tresco, located on the Scilly Isles, is more subtropical paradise than traditional UK seaside break. While not exactly straightforward to reach – either a 15-minute flight from Land's End to the main island of St Mary's or a short ferry ride from Penzance – the reward is well worth it.
This is a break for those looking for a break. The islands are unspoilt, uncrowded and visitors will enjoy a slow-paced, chilled, barefoot vibe.
Enjoy the small local market where you can buy delicious home baked breads and fresh fruit before heading to the heavenly white sand beaches and turquoise waters. Just don't be fooled into thinking that the water will be up to Caribbean temperatures …
Lark around with sea parrots
Whether you call them sea parrots, clowns of the sea, or simply puffins, it's hard not to love these quirky seabirds. While they may not be excellent fliers – often crash landing in water or rolling onto the grass – they are excellent swimmers and divers.
Visit the Farne Islands and prepare to while away the hours enjoying the sight of these charismatic birds, as well as the slightly more subdued activities of the nearby grey seal colony.
The world's most dangerous garden?
The Alnwick Garden in Northumberland is famed for beautiful roses, perfectly manicured topiaries and magnificent fountains, but did you know that it also houses a Poison Garden?
Inspired by the famed Medici poison garden in Italy, Alnwick Garden houses 100 lethal plants. Visitors are instructed to refrain from smelling, touching or tasting the plants – though this hasn't stopped some visitors who have subsequently fainted from the fumes!
Join the pack
Thrill seekers should head to Yorkshire for a sledding adventure with a 30-strong pack of huskies.
With a third of the pack consisting of rescue dogs, Pesky Husky allows these sled-dogs to spend their days enjoying what the love best – running! However, if adrenaline pumping activities aren't your bag, you can still enjoy spending time as part of the pack with treks, kennel visits and hiking all on offer.
Witness a wheel of cheese travelling at 70 miles an hour
Picturesque Gloucestershire is well worth a visit at any time of the year – think sleepy chocolate box villages and classic British countryside. However, each year it hosts the Cooper's Hill Cheese Rolling Festival, considered one of the worlds' Seven most bizarre 'Feats of Strength', and not for the faint-hearted.
On the 27th May, a nine-pound wheel of Double Gloucester cheese will be released from the very top of the hill and chased down by a hardy bunch of runners. The cheese often reaches speeds of over 70 miles an hour! The first runner to get to the bottom of the hill wins the contest and, no surprises, the wheel of cheese.
This rich tradition dates back several hundred years with local lore suggesting it started in the early 1800s to celebrate the turn of winter and a fresh batch of crops.
A very crooked pub 
So, you've heard of the Leaning Tower of Pisa, but what about The Crooked House pub in Dudley?
Originally built in 1765 as a farmhouse, there are no optical illusions here – one side of the pub is actually 4ft lower than the other due to subsidence caused by local mining. Don't leave without witnessing the infamous marble trick…
Northern Lights in Northumberland
And if you're already planning a winter holiday, forget Norway and Iceland, the Northumberland coast is the perfect place to view the Aurora Borealis.
This area of Outstanding Natural Beauty offers panoramic views across the North Sea with the winter months the best time to visit, as the skies are darker and clearer. What better way to spend your holiday than witnessing natures' spectacular light show?
-Ends-
Notes to Editors:
Flightgiftcard & Hotelgift co-founders, Loes Daniels & Jorik Schroder, are available for interview or comment upon request.
For further press information, please contact:
Jo Kendall/Elsa Findlay/Julie Aguilera
T: +44 (0) 20 3440 8930
E: [email protected] | [email protected]
About Flightgiftcard & Hotelgift
Flightgiftcard is the world's only flight gift card brand. Hotelgift is the number one hotel gift card brand.
With no catch and no limitations, Flightgiftcard and Hotelgift's monetary value provides giftees complete freedom to book wherever and whenever they want.
Both gift card options can be redeemed, via the Flightgiftcard and Hotelgift website, for flights with over 300 airlines, and over 110,000 hotels worldwide.
With short and long-haul flights to 980 destinations across the globe, recipients of a Flightgiftcard will find flights to suit all budgets and requirements.
Flightgiftcard & Hotelgift offers a choice of three simple options to deliver the delight:
A customisable, digital gift card that can be emailed to the recipient or printed for hand delivery.
A luxury printed gift card with a handwritten message (shipping takes 2-4 working days).
A recorded video greeting that can be sent alongside the ecard.
Flightgiftcard launched in February 2018 in the UK following the success of sister brand, Hotelgift.
Set up in the Netherlands in 2014 and operating in the UK from July 2016, Hotelgift launched officially in the UK on 21 November 2017.