How to Bring Balance to Your Home This Spring: A Lagom Guide
With spring clean and home improvement season upon us, Contura shares tips on how to 'lagom' your interiors to make your home a sanctuary this spring.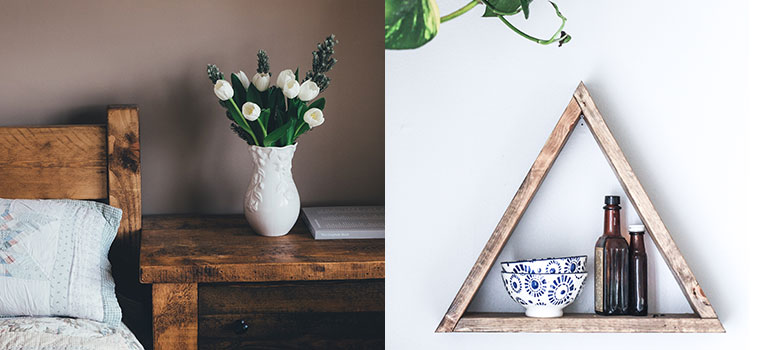 'Lagom' is a Swedish term for 'just the right amount,' and denotes a mindful approach to life, focusing on moderation, balance, sustainability and frugality. This 'not too much nor too little' lifestyle can be harnessed in every aspect of our lives, from finding a good work-life balance or promoting mental wellbeing, to managing finances and embracing sustainable living.
The principles of lagom can also be adopted into interior design, with an increasing number of us Brits already preferring simpler, pared-back styles in our homes, embracing minimalist design, opting for eco-friendly materials, and choosing to declutter on a regular basis.
Catharina Bjorkman, lifestyle expert at Swedish wood-burning stove brand, Contura, says: "In Sweden lagom plays into all areas of our lives, but it is particularly present in the home. Having a busy working schedule and packed social life can make us feel overwhelmed, which is where a calming home environment can play an important role in boosting wellbeing.
"We Swedes pride ourselves on creating a home sanctuary, making it a place where we can relax and unwind, as well as enjoy spending quality time with family and friends," says Catharina. "Keeping the principles of lagom front of mind, we have devised a guide with simple tips to update your home this spring."
Read on for advice on how to add a little lagom to your interiors.
Simplicity is key
Forget bright or bold colour schemes, when it comes to lagom, choose neutral tones that are simple yet elegant. You don't need to stick with white as warm red-based shades, soft pinks and dusky greys all provide a soothing, neutral background.
Clutter free
Don't be tempted to let items pile up on shelves, tables or surfaces. Embrace lagom and remove clutter on a regular basis. Go through your clothes and shoes and donate any items that are no longer of use. Curate your personal items – books, magazines, photo frames, etc. – and only keep your favourites. Loose items that you don't use every day can be tidied away in stylish storage boxes to keep rooms organised.
Keep it green
A variety of green plants and foliage can give a room an instant uplift whilst also ensuring better indoor air quality. Choose easy-to-care for varieties, such as cactus, spider plants, aloe vera or cheese plants. If you have a dark room or areas without much light, fake plants can also make great decor additions.
Upcycle or recycle
Before splashing out on new furniture or homewares, check online sites to see if you can bag a bargain. Try your hand at a little DIY to spruce up larger items such as tables, chairs or sofas, as varnishing, painting or reupholstering gives an instant facelift. It often works out much cheaper to upcycle or repurpose rather than purchase brand-new items, plus, pre-loved furniture is more unique and personal.
Key design touches
Keeping balance in mind, Swedish interiors are typically pared-back but do include one or two feature design pieces. Add a large floor lamp, interesting art piece or design-led chair to create key focal points in a room, keeping the rest of the interiors very minimal by comparison.
Mellow lighting
Soft lighting creates a relaxing environment, so ditch overhead spotlights for soothing lamp light or strings of fairy or festoon lights whenever possible. You'll also save money on energy bills by switching off lights and keeping usage to a minimum.
Up the cosy factor
Fluffy blankets, cushions and candles all help to create a cosy interior; perfect for when the weather is bad and you want to spend time indoors. For added cosiness, add woven rugs to wooden floors, frame and hang your favourite photos and use fragrant diffusers to spread a delicious scent throughout your home.
Up the nature stakes
Laid-back lagom also encourages us to embrace the natural world in all its glory. Choose natural materials, such as untreated wood, soft cotton and items that have been hand crafted, such as woven baskets, wicker chairs and embroidered cushions. Forget glitzy or decadent design and choose simple pieces that add true style and originality to a space.
For more information on Contura, please visit http://www.contura.eu
-Ends- 
Notes to editors:
Rooster PR will coordinate comment, interview and profile opportunities for Contura UK Country Manager, Phil Wood. The Contura PR team will also arrange visits to the nearest Contura Design Centre dealerships or the Contura showroom in Doncaster to see the product range.
Sources detailed in footnotes.
For further press information, please contact:
Elsa Findlay/Jo Kendall/Julie Aguilera
T: +44 (0)20 3440 8930
E: [email protected]
About Contura
Contura is Europe's leading manufacturer of wood burning stoves, offering an extensive range of classic and contemporary wood burners; from traditional insert stoves suitable for existing fireplaces, to freestanding statement models made with innovative materials such as soapstone.
Starting at £1,295, Contura stoves are premium yet affordable. Award winning, timeless Swedish design means the products complement or enhance any style of home, whilst also offering outstanding performance, maximum efficiency, practicality and ease of use.
Designed and assembled at the factory located in Markaryd, Sweden, and manufactured to the highest standards, Contura stoves are highly energy efficient, offering powerful convection, superior combustion technology and clean burning systems. Currently, 95% of Contura stoves are DEFRA Clean Air Act exempt and thus approved for use in Smoke Control Areas.
Contura stoves can be purchased through a network of 165 independent retailers nationwide.
Contura is part of the NIBE group, a Swedish manufacturing company producing world class solutions in sustainable energy across Europe, North America, Asia and Australia.
Contura is a founding member of the Stove Industry Alliance (SIA) in the UK.
For more information please visit www.contura.eu