London Rent Most Expensive in Europe for Expats, 4th Most Expensive in the World
Rent in Manchester most expensive outside of London, 30th in Europe
Birmingham sees biggest rent increase in the UK, up £110 per month
Edinburgh re-enters top 50 most expensive rent in Europe
Dublin rent enters top five most expensive in Europe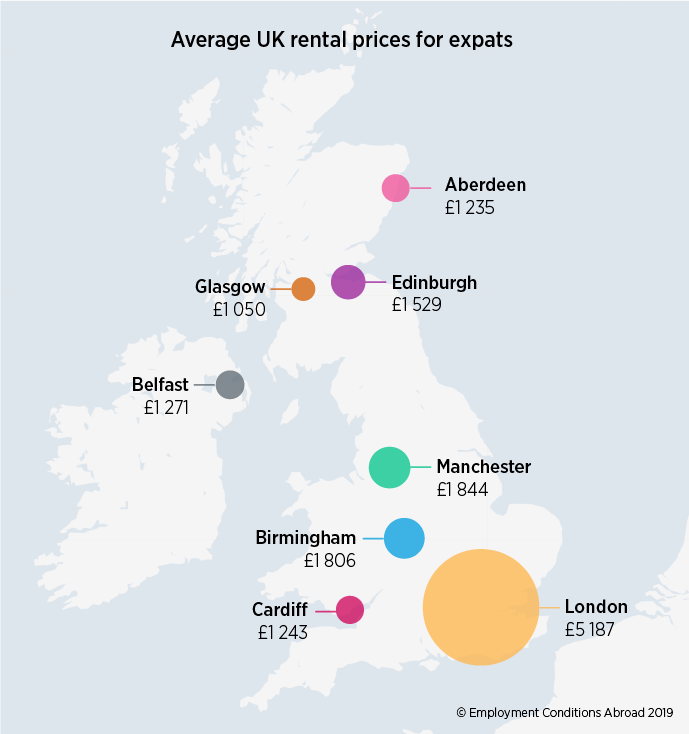 Rent in London is the most expensive in Europe for expats, averaging USD 7,189 (£5,187) per month for a three-bed home according to the latest annual research published by global mobility experts, ECA International (ECA). Despite uncertainty around Brexit, demand for rental accommodation in London remains steady as young professionals are increasingly unable to buy within the M25.
Although rental costs decreased in central London (zone one) this year, rent in outer London remained stable. London maintains its position in the top five most expensive for rental accommodation in the world (4th), followed by Moscow, Zurich, Geneva and Dublin.
ECA's annual rental accommodation report analyses the rental prices for an unfurnished, mid-market, three-bedroom home in areas commonly inhabited by expatriates. According to this year's ECA housing report, the average rent in outer London is on the rise at USD 5,543 (£4,000) per month, whereas the average rent in central London has fallen to USD 9,701 (£7,000) for a three-bedroom apartment.
"A polarisation of rent changes was observed between properties in central and outer London since the previous year. Rents fell in prime neighbourhoods in London travel zone one, with salaries for top jobs largely stagnant and demand waning. Rents in outer London were more stable but are anticipated to increase with London property purchases growing ever more out of the reach of many Londoners," explained Alec Smith, Accommodation Services Manager at ECA International.
Robust economy outside London
The jobs market is relatively buoyant in the UK which has caused a general increase in demand for rental accommodation in some of the UK's major cities. Manchester continues to have the most expensive rental accommodation in the UK outside of London and has re-entered the top 120 most expensive in the world (119th) this year. Ranking 30th in Europe, average rent in Manchester for a three-bedroom home is now USD 2,555 (£1,844) per month, £54 more expensive than last year. Birmingham has seen the largest rental cost increase in the UK at a staggering £110 per month, and is the 36th most expensive city in Europe to rent in.
Smith continued: "Central Manchester has seen a large population growth in recent years and is now widely considered the second most important city in the UK economically. Numerous companies have relocated to the city, fuelling demand for rented accommodation, particularly in central areas."
Demand in Aberdeen declines while Edinburgh rents are on the rise
Other than Central London, Aberdeen is the only UK city to see a decline in rental costs, dropping by £190 per month, however Glasgow remains the cheapest city in the UK to rent a three-bedroom home, costing on average USD 1,455 (£1,050) per month, £794 less than in Manchester. Rent in Edinburgh on the other hand has re-entered the top 50 most expensive in Europe, costing USD 2,119 (£1,529) on average per month and up £101 on last year.
"The ongoing decline in the oil and gas industry has reduced the number of overseas renters in Aberdeen. With remaining workers having their housing budgets cut, average rent levels have followed suit. Changes in Scottish legislation in the past couple of years have affected the supply of rental accommodation in Edinburgh while demand remains strong. Tax increases on the purchase of second homes have increased landlords' costs, while the phasing out of shorthold assured tenancies means many landlords have increased rents to cover the perceived greater risks in renting out their properties".
Top 20 most expensive cities to rent in Europe
| | | |
| --- | --- | --- |
| Location | 2019 Ranking | 2018 Ranking |
| London | 1 | 1 |
| Moscow | 2 | 2 |
| Zurich | 3 | 3 |
| Geneva | 4 | 4 |
| Dublin | 5 | 8 |
| Paris | 6 | 7 |
| Luxembourg City | 7 | 11 |
| Amsterdam | 8 | 9 |
| Copenhagen | 9 | 12 |
| Stockholm | 10 | 10 |
| Kiev | 11 | 6 |
| Istanbul | 12 | 5 |
| Rome | 13 | 16 |
| The Hague | 14 | 15 |
| Vienna | 15 | 19 |
| St Petersburg | 16 | 13 |
| Oslo | 17 | 14 |
| Munich | 18 | 24 |
| Malta | 19 | 22 |
| Milan | 20 | 28 |
Dublin rent enters top five most expensive in Europe

Dublin is now the 26th most expensive city in the world and fifth most expensive in Europe to rent a three-bedroom, unfurnished home. The Irish capital has risen by a staggering 35 places since last year's report by ECA. It reveals the average rental price in Dublin has risen to USD 4191 (€3,406pm) an increase of €277.
Smith said: "The past 10 years have seen a significant turnaround in the fortunes of Dublin's residential rental market. The global financial crisis exposed a property bubble in the Irish capital and rents have increased significantly with each subsequent year of recovery. The cost of renting has also been affected by elevated demand from international companies relocating staff while looking to take advantage of Ireland's low corporate tax rate."
Rents rise across the Eurozone
Rental costs across Europe rose significantly through 2018, due in part to the strength of the Euro. Whilst Dublin saw the biggest rises in expatriate rental costs in Europe, major cities such as Madrid, Rome, Paris and Barcelona all saw increases over €120 a month.
In Spain, Madrid saw the average expatriate rent rise by €240 to €2299, whilst in Barcelona rent increased by €202 to €2049.
Smith said "Madrid and Barcelona have reversed years of falling rents that followed in the wake of the global financial crisis. Their markets are flooded with renters, both from the local young professional population, and international assignees. Property purchase is now out of reach of the majority of city residents, keeping competition for tenancies high."
Meanwhile in Paris, as the city continues to target attracting business due to Brexit, demand remains strong for property in the French capital and expatriate rent has risen to USD 4090 (€3324), an increase of over €126.
Hong Kong most expensive rent in the world
Elsewhere, Hong Kong remains the most expensive location in the world for expatriate rent, with typical expat accommodation averaging USD 10,929 per month. This is an increase of 4.9% from last year.
Smith explained: "Rents increased across Hong Kong during 2018 with limited availability, a long-term issue for the Hong Kong housing market, being the main driver. Rent increases are not just limited to central Hong Kong anymore either, with rents expected to rise throughout outlying neighbourhoods in 2019 too, as international firms seek more affordable office space and try to take advantage of cheaper suburbs."
Rental accommodation cost in China drops in global ranking
Chinese cities endured a mixed fortune throughout 2018 with major rent increases seen in some locations, but static or decreasing levels of rent in others. Shanghai was the highest placed Chinese city and the eighth most expensive city for expats to rent in globally, averaging USD 5,305 a month.
Smith said: "With a new property tax mooted to be introduced in Shanghai from 2020, many landlords are now choosing to sell their properties rather than continuing to rent them out. This has led to a reduction in the availability of rented accommodation, prompting some rent increases."
New York retains second spot despite rents dropping
New York remains the second most expensive city in the world for overseas workers to rent in, and by far the most expensive location in the Americas. However, rental costs have dropped by over USD 250 since last year, as demand dropped slightly.
Smith explained "2018 saw the market delivery of a large number of newly constructed rental properties. This eased issues with low vacancy rates that normally apply in New York, leading to some modest decreases in average rents.
-Ends-
Notes to Editors
Rooster will coordinate comment and interviews for Alec Smith, Accommodation Services Manager, ECA International
The survey was based on the average rental prices for a three-bedroom apartment in the mid-range of the expatriate market
Figures used in this release were taken from ECA's 2018 Accommodation Survey
The rental prices were collected in 2018 and have been converted into US dollars and/or Pound Sterling for ease of comparison, using 2018 exchange rates.
For further press information, please contact:
James Richards/Aaryn Vaughan/Yasmine Triana
T: +44 (0)20 3440 8934
E: [email protected]
About ECA International (www.eca-international.com)
ECA International is the market-leading provider of knowledge, information and technology that enables businesses to manage their international reward programmes.
Partnering with thousands of clients on every continent, we provide a fully-integrated suite of quality data, specialist software, consultancy and training. Our unparalleled insights guide clients as they mobilise their most valuable resource: people.
We make the complex world of international mobility simple, providing clients with the expertise and support they need to make the right decisions – every time.
ECA International: Mobility solutions for a world that's constantly moving.
ECA International's housing data
This ranking is based on data from ECA's accommodation reports, which we began publishing annually in 1996. The reports provide comprehensive and reliable information for locations worldwide on the rental trends, types of accommodation and districts commonly sought by expatriates. To ensure impartiality and to maintain the accuracy of information, data from a number of sources is used to compile each accommodation report. ECA uses a global network of estate agents, relocation agents and extensive in-house research into worldwide property markets to establish and verify the housing data in the reports. Rental prices are collected annually. This housing data is also fed into ECA's Accommodation Tool which can be used to set, manage and review the right accommodation allowances for international assignees.