Discover Digital Detox Destinations with StudentUniverse
Globally, around one in every three minutes spent online is devoted to social media networking and messaging; with digitally savvy 16-24s spending up to 2 hours 40 minutes online each day. Surprisingly, the leading reasons for social media usage among 16-24s, identified in GlobalWebIndex's 2018 report, was "filling up spare time".
StudentUniverse wants to encourage youth travellers to put down their smart phones and fill their spare time discovering the world first hand, rather than through social media platforms. Here they list their top seven 'Digital Detox Destinations' that will make putting phones and tablets down even easier.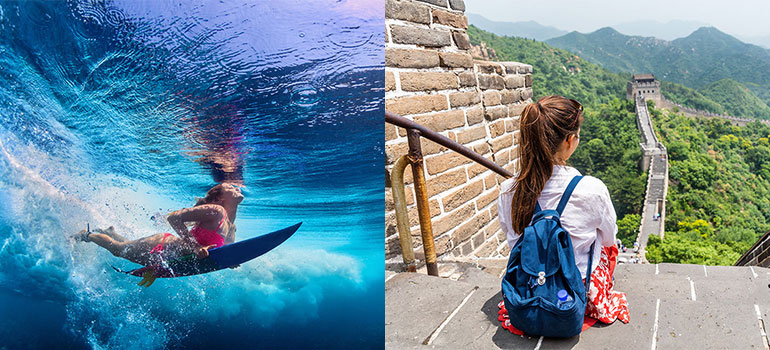 Trek through Wi-Fi free Madagascar
Travellers will explore the Antsirabe by rickshaw, take in the countryside by bicycle and canoe the Matsiatra River, leaving no time to scroll through social media, but instead engage with the friendly Bara and Betsileo people during hikes through small remote villages.
*A 14-day adventure costs from £2,137 per person. To book, visit www.studentuniverse.co.uk
Discover penguins at the end of the earth
As young travellers set foot on the world's least visited continent, there will be no chance of FOMO when there is the opportunity to encounter leopard seals lazing on icecaps and immense rookeries of penguins, surrounded by towering glaciers.
*An 11-day adventure costs from £3,999 per person. To book, visit www.studentuniverse.co.uk
Ascent to Everest's base camp
Along a route dubbed by some as "the steps to heaven," every bend in the trail provides another memorable moment, and requires full concentration meaning digital devices can't be in hand.  Who needs social media when there's beautiful forests, Sherpa villages and glacial moraines to admire?
*A 15-day adventure costs from £1,007 per person. To book, visit www.studentuniverse.co.uk
Journey through East Africa
When in the presence of rare mountain Gorillas in Uganda's dense forest, checking in on Facebook or hashtagging on Instagram will be the last thing travellers will be thinking about. This epic adventure takes in the stunning Serengeti, Masai Marah and Jinha River, the breath-taking habitats of some of the planet's most magnificent animals.
*A 27-day adventure costs from £3,695.00 per person. To book, visit www.studentuniverse.co.uk
Discover true happiness in Bhutan
Hiking along the peaceful nature trails in one of the most remote counties in the world, will give reason to live in the present and absorb the calming and break-taking surroundings. During the tour of the Buddhist kingdom, travellers will discover the cliff-side Taktsang Monastery, receive a lecture from Buddhist monks and explore remote mountain villages and shrines.
*A 10-day adventure costs from £2,319.20 per person. To book, visit www.studentuniverse.co.uk
Costa Rica, a thrill-seeker's paradise
Rafting along the renowned Pacuare River rapids, mountain biking in the presence of the Arenal Volcano and surfing the Caribbean seas won't allow for a moment of mindless scrolling. The action-packed thrill-seekers adventure to San Jose will keep even the most energic person on their toes.
*A 13-day adventure costs from £1,019.15 per person. To book, visit www.studentuniverse.co.uk
For more information on StudentUniverse, and the trips available, please visit www.studentuniverse.co.uk
For further press information, please contact:
Arabella Halfhide/Baillie Horwood
T: +44 (0)20 3440 8930
E: [email protected]
About StudentUniverse
StudentUniverse is the world's leading travel booking site for students and youth. Through negotiations with a network of global partners, StudentUniverse offers discounted pricing and terms on flights, hotels and tours. StudentUniverse also operates Journeys are Made @ GapYear.com, the world's largest gap year inspiration travel platform.
StudentUniverse launched in the UK in 2013 and was acquired by Flight Centre Travel Group in 2015. StudentUniverse is headquartered in Boston with offices in London, Toronto, New York and the Philippines. StudentUniverse believes that travel is essential to a modern education. Millions of students use the service every year.
For more information go to www.studentuniverse.co.uk.