St. Kitts Brings Kittitian Limin' Spirit to London and Newcastle Agents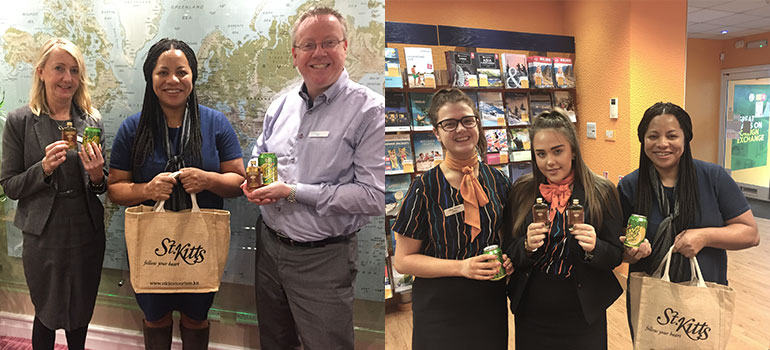 Pictured L-R: Travel Bureau in Gosforth, Newcastle – Joanne Kinnaird, Gillian Young, and Iain Bell.
Hays Travel in Newcastle – Megan Anderson, Abbie Richardson and Gillian Young.
The St. Kitts Tourism Authority's UK sales representative, Gillian Young, has spent the last few weeks visiting travel agents across London and Newcastle to share some St. Kitts spirit – in the form of a 'Ting with a Sting' cocktail.
Hard-working travel agents from Turquoise Holidays in Wandsworth, Newmont Travel in Shepherds Bush, Travel Designers in Balham, Travel Bureau in Gosforth, Barrhead Travel and Hays Travel in Newcastle, were treated to some St. Kitts rum and the Caribbean grapefruit soda, Ting, to create the iconic St. Kitts rum drink.
Sharing these traditional Kittitian drinks with agents across the country has helped educate them on St. Kitts' culture and food & drink offering.The St. Kitts Tourism Authority works very closely with travel agents year-round, and have a number of agent incentives in place to encourage bookings to St. Kitts. As part of its participation in the My Booking Rewards Peaks Campaign, the SKTA is offering a triple incentive for all new bookings logged on the St. Kitts Rewards Programme. Agents can earn £30, plus bonuses, for each St. Kitts booking logged between now and 30 April.
To qualify, all bookings must include flights and a minimum of seven nights' accommodation at a St. Kitts hotel.
Agents can also earn additional bonus rewards from four of St. Kitts' hotels – £30 extra for bookings at the five-star Belle Mont Farm or Park Hyatt, £15 for bookings to Ocean Terrace Inn and £10 bonus for bookings to Sugar Bay Club. Agents must register to www.stkittsrewards.co.uk and log each booking to receive their cash bonus.
-Ends-
For further press information, please contact:
Natalie Garland/Charlotte Wright
T: +44 (0)20 3440 8930
E: [email protected]
About St. Kitts
St. Kitts is the authentic, quintessential, year-round Caribbean destination for the discerning, experienced traveller. Intoxicating unspoilt natural beauty, sunny skies, warm waters, and white sandy beaches combine to make St. Kitts one of the most seductive spots in the Caribbean. Located in the Eastern Caribbean, the island is easily accessible for British travellers with twice-weekly British Airways flights from London Gatwick (with a short stop in Antigua).
For more information, visit:
www.stkittstourism.kn, www.facebook.com/StKittsTourism, www.twitter.com/StKittsTourism or www.instagram.com/stkittstourism.