Fun For All The Family in Ras Al Khaimah
Emirate Launches Bigger and Better Summer Campaign for 2019.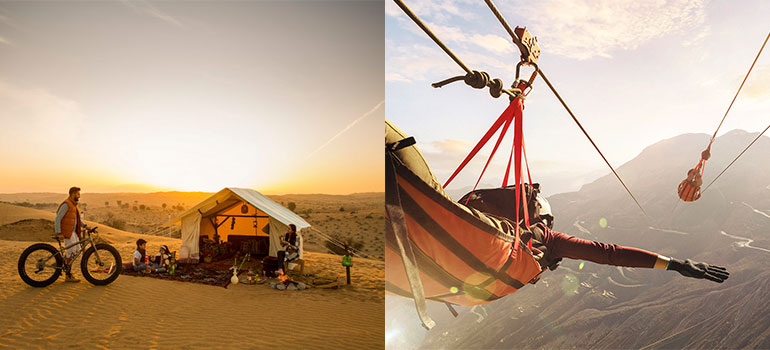 For a fun and family-friendly holiday off the beaten track, look no further than Ras Al Khaimah (RAK) this summer. With its 64km of coastline, unique desert landscape and the UAE's highest mountain, RAK is one of the most diverse destinations and ideal for a family holiday of sun, fun and discovery.
From 1st May until 30th September 2019, the Emirate's summer campaign has a host of exclusive offers suitable for families, including:
Two kids under 12 go free in 18 hotels and resorts, meals included
Free tickets for children and 50% discount for adults on the World's Longest Zipline – Jebel Jais Flight.
Free shuttle services from all hotels to Jebel Jais via the Jebel Jais shuttle
Free return shuttle service from Dubai International Airport Terminal 1 and 3 to all hotels via the RAK Shuttle Bus
Free tickets for children and 50% discount for adults in Dubai Parks & Resorts
Privilege discounts in Dubai Mall including complimentary shuttle service
Juxtaposed between the Hajar Mountains and the Arabian Gulf, RAK remains a hidden gem despite its accessible location, just 45 minutes from Dubai International Airport.  Its pristine beaches and hotels offer a wide variety of activities for families from water sports to cookery and arts classes and temperature controlled outdoor pools, while the desert and mountains are ideal for safaris and nature trails for a true Arabian experience.
For those with a quest for adrenaline fuelled adventure, the Jebel Jais Flight is a must. Located on Jebel Jais, the highest mountain in the UAE, Jebel Jais Flight is the Guinness World Record's longest zipline at 2.83km long. Adventure seekers are propelled at speeds between 120 and 150kph from a height of 1,683m above sea level.
Participants ride the line on special 'superhero' style horizontal harnesses with the longest flight itself taking between two and three minutes. Guests finish the bucket list flight on a stunning, glass-bottomed suspended landing platform where they are transferred to a second line to complete their journey.
This summer, head to RAK for a plethora of activities, each offering a different side to a summer holiday: horse riding at Al Wadi Equestrian centre, camel riding in the desert, or gain an in-depth understanding of the traditional and noble art of falconry. Unrivalled terrestrial adventure complemented by ample beach side experiences from kayaking, make this authentic Emirate the holiday destination choice for 2019.
Participating hotels are as follows: 
Al Hamra Residence & Village
City Stay Beach Hotel Apartments
Marjan Island Resort & Spa Managed by Accor Hotels
Ras Al Khaimah Hotel
Rixos Bab Al Bahr
Smartline Ras Al Khaimah
Beach Hotel by Bin Majid Hotels & Resorts
Mangrove by Bin Majid Hotels & Resorts
The Cove Rotana Resort – Ras Al Khaimah
Hilton Al Hamra Beach & Golf Resort
Hilton Ras Al Khaimah Resort & Spa
Waldorf Astoria Ras Al Khaimah
DoubleTree by Hilton Resort & Spa Marjan Island
The Ritz-Carlton Ras Al Khaimah Al Hamra Beach
Jannah Resort & Villas Ras Al Khaimah
DoubleTree by Hilton Ras Al Khaimah
Hilton Garden Inn Ras Al Khaimah
The Ritz-Carlton Ras Al Khaimah, Al Wadi Desert
For more hotel information, click here – https://en.rasalkhaimah.ae/enkgf
Guests can also avail the shuttle services that can be booked online at www.rakshuttle.com to take them from DXB airport – Terminal 1 & 3 and drop them at all the main hotels in Ras Al Khaimah. WIFI, water bottles and maps will be available on board and visitors can sit back and enjoy the scenic route and desert views.
Visit en.rasalkhaimah.ae/summer now to book with selected partners and benefit from a variety of enticing offers.
-Ends-
For further press information, please contact:
Emma Arthurs/Baillie Horwood
T: +44 (0)20 3440 8930
E: [email protected]
About Ras Al Khaimah
One of the world's fastest growing tourism destinations, Ras Al Khaimah boasts a rich culture and long-standing history dating back 7,000 years. The Emirate boasts an array of archaeological sites and breath-taking natural vistas, from golden sand beaches, awe-inspiring terracotta dunes and a green belt of date palms to Jebel Jais, the highest mountain in the UAE.
About Ras Al Khaimah Tourism Development Authority (RAKTDA)
The Ras Al Khaimah Tourism Development Authority (RAKTDA) was established in May 2011 under the government of Ras Al Khaimah. In alignment with the Emirate's new destination strategy, Ras Al Khaimah Tourism Development Authority continues to create compelling offerings that combine the Emirate's key promises: pristine beaches, natural beauty, cultural heritage, excellence in hospitality and unrivalled experiences, with a view to attract close to 1.5 million visitors by 2021, and 3 million visitors by 2025.
To learn more about Ras Al Khaimah, visit us at: