Staycationing This Year? Become a Conscious Road-Tripper
Camptoo reveals the top eco-activities for anyone road-tripping around the UK in 2019.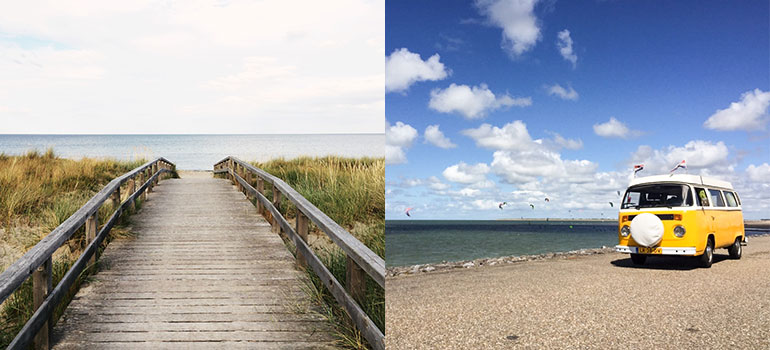 Brits' awareness and interest in conscious travel continues to grow, with 86 percent of UK adults reporting that they would be willing to participate in volunteering activities on holiday to give back to the community and environment[1].
From helping protect wildlife, and cleaning up rivers, oceans, parks and woodland, to participating in litter collections or beach cleans, there are plenty of road-trip friendly initiatives around the UK to get involved in.
For anyone planning a staycation this year, Camptoo, the sharing economy platform connecting owners and renters of campervans, has curated a round-up of the top UK eco-activities that conscious road-trippers could get involved in.
Read on for the full guide.
Become a Sea Champion
Run by the Marine Conservation Society, Sea Champions is a nationwide, year-round volunteer programme, encouraging hands-on beach cleans, providing talks, raising funds and promoting sustainable seafood in the local community. There are opportunities to suit everyone, so why not head to a seaside town or the coast on your next road trip and get stuck in?
River cleaning
Rivers provide crucial habitats for a range of wildlife and spaces for local people to enjoy. The Rivers Trust holds river cleaning events across the UK, with activities including tree planting, water testing and litter picking to promote a cleaner water environment.
Spring clean the Great British Countryside
The Great British Spring Clean will take place from 22 March to 23 April and aims to inspire 500,000 people to join forces to collect and recycle plastic from woods, beaches, canals, parks and streets around the UK. For anyone planning to visit the British countryside, why not combine this with a spot of clearing up the local area?
Don't bury your head in the sand
 The UK is home to beautiful beaches and coastline, but discarded plastic bottles, ice cream wrappers and cigarette butts look unsightly and have a disastrous impact on fragile eco-systems. The National Trust runs regular beach cleans throughout the country to clear domestic rubbish and remove fishing gear to protect seals, seabirds, fish and marine animals from entanglement. Check out the Beach Clean Guide for a full list of beaches and activities.
Working holidays
For a different sort of holiday, why not experience life as a ranger, farmer or gardener with a National Trust working holiday? No two days are the same and you'll learn on the job throughout. Activities can range from dry-stone walling, fixing paths, cleaning ponds and collecting litter, and locations can include historic houses and gardens. With over 170 working holidays to choose from, varying from weekend breaks to week-long adventures, there is something for everyone to enjoy.
Branch out with the Woodland Trust
Woodland accounts for 13 percent of the total land area in the UK, and the Woodland Trust has worked with volunteers for over 40 years to protect and maintain ancient British woodlands. Volunteer positions range from wildlife monitors to tree health recorders and bird watching, with opportunities across England, Wales, Scotland and Northern Ireland.
The not-so secret garden
For any green-fingered fans, English Heritage gardens are a haven for visitors and local wildlife. Garden volunteers helps to maintain gardens around the UK, with tasks including planting and weeding, interacting with visitors and giving tours. There are over 400 sites and historic gardens across the UK for anyone keen to preserve a piece of living history.
To rent a campervan, motorhome or caravan for an eco-conscious road trip, visit www.camptoo.co.uk.
-Ends-
Notes to Editors:
Camptoo founder, Martijn Peeters, is available for interview or comment upon request.
For further press information, please contact:
Elsa Findlay/Jo Kendall
T: +44 (0) 20 3440 8930
E: [email protected]
About Camptoo
Launched in the Netherlands in 2014, Camptoo is a sharing economy platform that connects the owners and renters of campervans, motorhomes and touring caravans.
Since it was launched, Camptoo users have booked over 100,000 nights in vehicles rented through the site. Owners are able to generate income from their campervan when it's not being used while renters have greater flexibility when booking their vehicle so that it best suits their needs.
There are over 2,500 vehicles to choose from across Europe and a further 400 across Australia, with more being added every week. Vehicles are properly insured to allow both owner as well as renter a carefree holiday, with Camptoo providing all the necessary paperwork, checklists and roadside assistance. For more information, visit http://www.camptoo.co.uk
[1] https://news.booking.com/bookingcom-8-travel-predictions-for-2019/