Brand New Online Shopping Tool, PinkDot, Could Save the Average British Shopper £246 Per Year
PinkDot launches today, identifying online deals and saving shoppers time & money
The only tool that displays results directly in Google searches, PinkDot does not disrupt the normal shopping experience
PinkDot users can win regular cash prizes of up to £100,000
Every 'PinkDotter' gives to good causes at zero cost to themselves
PinkDot does not affect retailer prices
With a total average online shopping spend of £822 per person in Britain in 2018[1] – the highest per capita online spend in Europe – and internet sales now making up 20 percent of total retail sales in the UK[2], it's official; Brits love to shop online.
And with potential savings of £246[3] per year on your shopping bill – even bigger the more you spend – online shopping just became even more appealing…
Launching today, Monday 11 February 2019, PinkDot.Shop is a free online shopping tool that highlights offers without changing the way you browse, search or shop.
The easy-to-use PinkDot is a free desktop browser add-on that, once installed, follows you as you shop, pinpointing special offers directly in your Google search results or when visiting your favourite retailers' websites.
Working with over 2,700 online retail brands, with around 45,000 live offers at any one time, covering fashion, travel, beauty & wellness, homewares, gifts, groceries and media, PinkDot has been designed to save shoppers valuable time and help make their hard-earned cash go further. From getting the shoes to go with the dress or adding an extra treatment to your spa day, to upgrading to a smart TV, PinkDot makes it possible.
Real Deals
Right now, PinkDot users could be benefitting from the following live savings[4]:
| | | |
| --- | --- | --- |
| Item | Discount (%) | Saving (£) |
| Wayfair Pocket Sprung mattress | 46% off | £97 |
| 2-for-1 5 star Spa day with Prosecco | 50% | £149 |
| All-inclusive 5 star holiday to Crete for family of four | 36% | £145pp |
| Smart 4K Ultra HD HDR OLED TV | 30% | £800 |
| Interflora bouquets & gifts (ideal for Valentine's Day!). Use the PinkDot voucher code. | 10% | Up to £10 |
PinkDot is updated every hour, which means that all offers are current and valid.
What's more, the interactive dot identifies upcoming offers as well as live deals – perfect for when hunting down an item that can't or doesn't need to be purchased straight away.
PinkDot will also offer a number of exclusive deals.
And it doesn't end there…
Win regular prizes of up to £100,000 in cash (regardless of spend)
As well as maximising budgets and saving users time, PinkDot is gamifying the online shopping experience by placing 25 percent of its revenue (commission from retail partners) from every purchase into prize pots to be paid back to winning 'PinkDotters', drawn at random. With every approved purchase, users automatically collect tickets that are entered into five different prize draw pots, providing the chance to win £10, £100, £1,000, £10,000 or £100,000 in cash.
Once the platform has reached 100,000 users – forecast within 12 months from launch – and based on an average estimated monthly spend of £100 per user, PinkDot will be paying out the following prizes as each of the pots fill up:
| | |
| --- | --- |
| Prize | Number of Prizes Per Year |
| £10 | 32,500 |
| £100 | 3,250 |
| £1,000 | 325 |
| £10,000 | 33 |
| £100,000 | 3 |
That's a total of £1,605,000 in one year that PinkDot users could take a share of; four prizes per hour, 24 hours per day, seven days a week, with a one in three chance of winning! And the greater the number of users or the higher the spend, the more frequent the prizes…!
And that's still not all…
Give to good causes every time you shop without spending a penny
Shopping through PinkDot automatically makes every shopper a philanthropist, generating funds for good causes at zero cost to the user. As with the prize pots, 25 percent of PinkDot revenue from approved purchases goes directly into a charity pot that will donate £1,000 a time to verified charities around the world.
Consumer champion
"With the online shopping industry ever stronger and a growing trend of discount shopping," says PinkDot founder, Nico Nicholas, "I wanted to create simple-to-use tool that truly helps the consumer find the right deals without disrupting the online shopping experience. Giving up 50% of our revenue to reward users for their loyalty and raise money for charities was a no-brainer."
How PinkDot works:
Visit shop to install the tool in just one click
Search for products in Google as normal – PinkDot will appear directly in your google search results, highlighting live and upcoming offers
OR
Head directly to your favourite retail website – PinkDot will reveal the best live and upcoming deals for that retailer
Purchase through the PinkDot widget and/or use PinkDot voucher codes at checkout to save money, win money and donate to charity
Using PinkDot does not affect prices on retailers' websites
It does not cost anything to download or purchase through PinkDot
PinkDot is currently available for Chrome desktop users. Other browsers – including Firefox, IE and Edge – and a dedicated mobile app to follow. Mobile users or those using other browsers can start shopping with PinkDot (and start collecting prize draw tickets and donating to good causes) by accessing retailer sites via the PinkDot.shop website.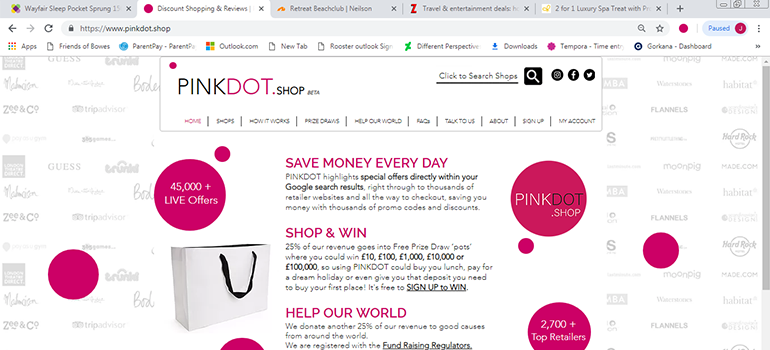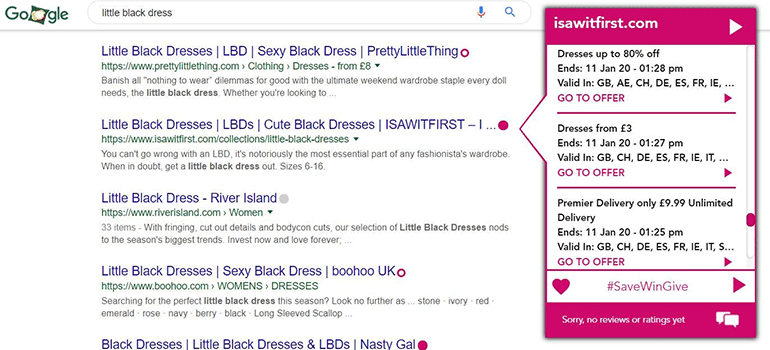 Check out PinkDot's demo to see how easy the tool is to use: www.pinkdot.shop/video
And for more information, or to download PinkDot and start saving, winning and donating, visit www.pinkdot.shop
-Ends-
Notes to editors
PinkDot founder, Nico Nicholas, is available for comment or interview on topics including shopping, money-saving and budgeting, online & high street retail industry, entrepreneurship, etc.
Sources detailed in footnotes.
For further press information, please contact:
Elsa Findlay/Jo Kendall/Julie Aguilera
Rooster PR
T: +44 (0)20 3440 8930
E: [email protected]
About PinkDot
PinkDot.Shop is a free desktop browser add-on. Once installed, a pink dot highlights special offers and vouchers directly within a user's Google search results and on over 2,700 retailer websites, all the way to checkout, saving shoppers money with thousands of promo codes and discounts which are updated hourly.
Besides being a great money saving tool, 25% of PinkDot.Shop's revenue goes into 'Free Prize Draw Pots' where a user can win £10, £100, £1000, £10,000 or £100,000. Once a pot is 'full', a prize is paid out and it starts over, creating a continual prize giving cycle.
Another feel-good factor is that 25% of PinkDot.Shop's revenue goes into a 'Charity Pot' which donates to various verified charities from around the world each time the pot reaches £1,000.  Like with the prize pots, it starts over after each pay out.
About Nico Nicholas
PinkDot founder, Nico, is a seasoned business and technology professional and a real 'business artist' at heart. He is an ideas guy with a 'can-do' attitude. Above all else, he values integrity, passion, and zeal.
From a very young age, he strived to build innovative and trail-blazing companies within a multitude of sectors. He is a creative thinker who excels at problem solving and developing new business ideas that stand out in competitive markets.
[1] Statista.com Ecommerce Reports. Average annual spending per capita for online shopping in Europe from 2015-2018 by country: British consumers had the highest per capita spending at €942 in 2018.
[2] https://www.ons.gov.uk/businessindustryandtrade/retailindustry/timeseries/j4mc/drsi  
[3] Calculation: Average annual spend pp x average discount (£822×30%=£246.60)
[4] Offers valid as of 11 Feb 2019, 10:00