Couple Goals: Sailing the Seas With Your Loved One and Crew
MedSailors encourages couples to share their holiday experiences with others.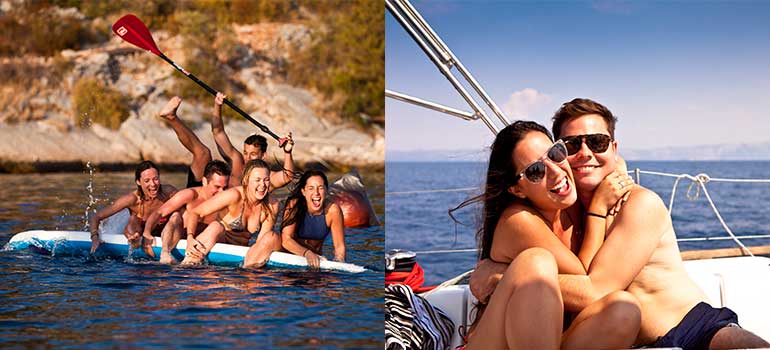 Photo credit: Medsailors.com
Setting sail into the sunset with a loved one is a dream trip that many couples long to experience. But, the reality of seven days at sea with just your partner for company can be a little daunting for some. That's why MedSailors are encouraging those in a relationship to share their sailing holiday with others, spreading the love far and wide!
Daniel Painter, Managing Director of the skippered sailing company, says: "With MedSailors, couples can opt to travel with friends or be grouped on a yacht with other like-minded pairs. With the distraction of meeting new people or hanging out with old pals, couples can choose how much one-on-one time they spend together, while giving each other the space they need to make their sailing trip memorable, for the right reasons!"   
To guide those looking to sail the Med together, MedSailors has listed their top five reasons as to why combining a skippered sailing trip with your significant other and friends, offers the perfect balance of romance and fun.
Avoid cabin fever
We all love spending quality time with our partner, but in the close-quarters of a yacht you need a little time apart to avoid cabin fever and really appreciate the moments you spend together as a couple. On a skippered sailing trip, you can slip off for a romantic swim with your loved-one, then head back to your boat for a paddleboarding expedition with your friends, giving you the space you need to truly enjoy your getaway. 
No need to compromise
Couples travelling together often have to compromise on destinations or activities to keep both partners happy. The beauty of a skippered sailing trip is the diversity of activities and destinations on offer; you can head off on a mountain trek with your bestie while your partner sunbathes, then meet up later in the day to enjoy a swim in a secluded Mediterranean cove before setting sail to a totally different landscape the following day.
Your onboard skipper does all the hard work
That little disagreement over who's the captain and how to navigate a map can grow into a week-long tiff for couples planning their own holiday. Luckily, all MedSailors' boats have an onboard skipper to make the big decisions and avoid those little quarrels, so there's more time to spend learning the ropes of the boat together or to relax on the Mediterranean's sunny beaches with your shipmates.
Learn together, grow together
Setting sail across the Med is a new experience for many and often just a once in a lifetime trip. For those wanting to learn the ropes while on board, this can provide a great opportunity to grow alongside your partner, as you acquire a new skill together. Sharing this experience with other couples and watching each other develop will bring your partnership closer together and allow you to maintain a healthy sense of competition, without sparking rivalries in your own relationship.
Get your new 'holiday squad'
Be it home friends, Uni friends, work friends or mashing up a mixture of pals; nothing bands a friendship group together quite like a common interest. Sometimes the best holiday memories are made with the people who aren't part of our everyday social circle, but whom you can rely upon for an awesome adventure nonetheless. It's also a great opportunity for your friends to get to know your other half!
MedSailors offer skippered sailing holidays in Croatia, Greece, Turkey and Italy. Couples can book together on a yacht with other couples or like-minded people, or groups of 8-10 friends can book an entire yacht to themselves. Trips last seven days and offer guests the flexibility to enjoy all their favourite holiday experiences at once; be that spending time with their partner, searching for adventure along the stunning Mediterranean coast, or simply relaxing for the week with friends.
For more information or to book your own skippered sailing holiday visit: medsailors.com.
-Ends-
For further press information, please contact:
Katie Raby/Arabella Halfhide/Hannah Carlisle
T: +44 (0) 20 3440 8930
E: [email protected]
About MedSailors
MedSailors is part of the Navigate Travel group – a dynamic, forward-thinking travel company, which launched nearly a decade ago. Proving that sailing holidays aren't only for the rich and famous, MedSailors offers skippered trips at sea for young adventurers in Croatia, Greece, Turkey, Italy and the Caribbean and has sent over 22,000 travellers on unforgettable breaks.
The company has since expanded to launch its second sailing holiday brand, Yacht Getaways in 2014, offering premium sailing experiences to an older demographic. It's most recent venture is Wild Kiwi, which offers epic small group, adventure tours for the millennial market in New Zealand & Australia.
For more information, visit www.navigatetravel.com