Cyprus Celebrates Biggest Arrival Numbers Ever Recorded
Global YOY Arrivals Up 7.8% and UK Arrivals Up 5.9% YOY
The Deputy Ministry of Tourism in Cyprus is celebrating a record-breaking year for tourism with global visitors up 7.8 per cent in 2018 compared to 2017. From January to December 2018, Cyprus' global tourist arrivals reached 3,938,625; of these, there were 1,327,805 UK arrivals; a 5.9 per cent increase on 2017 (1,253,839).
The UK and Russia constitute the main sources of tourism for Cyprus, with visitor proportions at 33.7 per cent and 19.9 per cent respectively, while arrivals from Greece comprise 4.7 per cent and Israel 5.9 per cent of total arrivals in 2018.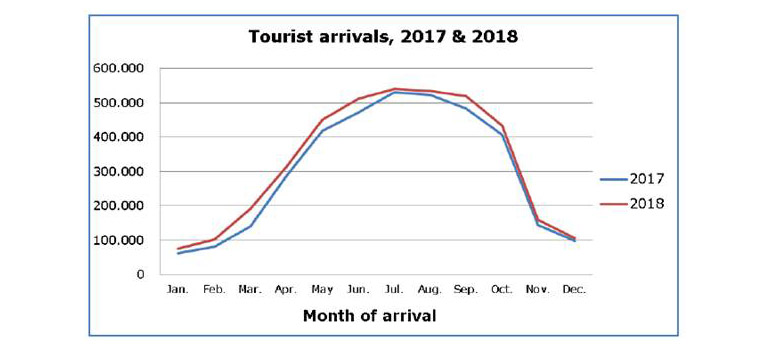 July was 2018's biggest month with 539,626 global arrivals and August coming in a close second with 534,847 visitors to the island. Of July's visitors, 175,904 were from the UK.
In December 2018, arrivals of tourists reached 106,563 compared to 98,924 in December 2017, recording an increase of 7.7 per cent. Tourist arrivals from the United Kingdom increased by 13.6 per cent in December 2018 compared to December 2017 while an increase of 13.5 per cent was also recorded for tourists from Greece.
For 51.1 per cent of tourists the purpose of their trip in December 2018 was a holiday, whilst 36.9 per cent visited friends and relatives and for 11.9% of visitors their trip was business related.
Mr Christos Moustras from the Deputy Ministry of Tourism in Cyprus said: "We're proud of achieving another record breaking year of visitors to Cyprus. Our beautiful island has so much to offer every type of traveller so it's a not a surprise that nearly four million people chose to visit in 2018 to sample its Blue Flag beaches, rich cultural heritage as well as legendary hospitality and delicious cuisine. We look forward to offering visitors to Cyprus a warm welcome in 2019 and hope it will be yet another successful year for us."
For more information, go to www.visitcyprus.com, www.facebook.com/visitcyprus.uk or www.twitter.com/visitcyprus.
-Ends-
For further press information, please contact:
Emma Arthurs/Baillie Horwood
Rooster PR
T: +44 (0)20 3440 8927
E: [email protected]
About Cyprus
Cyprus – the third largest island in the Mediterranean – attracts nearly four million tourists annually. Cyprus is a year-round island appealing to a wide range of personal tastes and lifestyles, from families and couples, to the most discerning of culture and nature-oriented travellers.
Tourists are attracted by the island's legendary hospitality, glorious coastline and stunning mountain villages. There is something to suit everyone – family resorts, world class spas, golf courses, marinas, agro-tourism and food and wine trails. The active can enjoy the warm waters of Cyprus for diving and waterskiing while adventure seekers can explore the island's beauty with trekking or bird-watching tours, while golfing enthusiasts play on award winning courses.
The island boasts the cleanest bathing waters in Europe, with 64 Blue Flags, combined with a rich cultural heritage, a variety of agro-tourism projects and a wide choice of special interest activities.
For more information: www.visitcyprus.com.