Mini Marathons and Family Fun Runs Debut at 2019 Ras Al Khaimah Half Marathon
This year's edition will introduce a new category targeting the local community, children and families
Marathon to be ran at Al Marjan Island for the first time
Ras Al Khaimah's Half Marathon offers statistically the fastest half-marathon course in the world*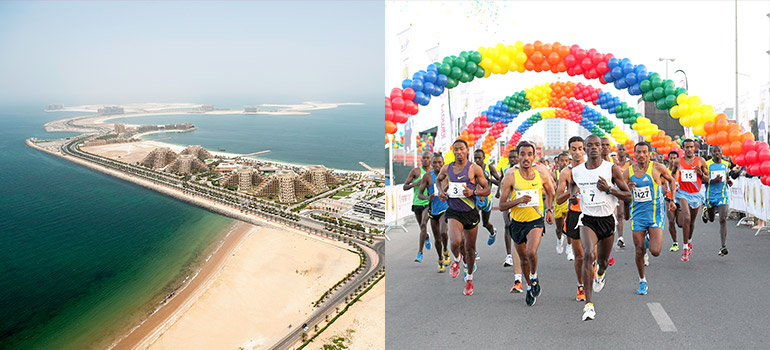 London, UK, 22nd January 2019: Preparations are in full swing in the UAE's northern Emirate as it prepares to host the 13th edition of the much anticipated "Ras Al Khaimah Half Marathon" at Al Marjan Island on Friday 8th February 2019.
Professional athletes, running enthusiasts and amateurs will be gathering in Ras Al Khaimah to take part in the world's fastest half marathon and experience the brand-new running route surrounded by scenic views.
In addition to the usual individual categories and relay team challenges (teams of four), the 2019 edition of the Ras Al Khaimah Half Marathon will introduce a new category, the MINI marathon, aimed at families and younger runners.
The MINI marathon will feature a 2.3km run for 7-12-year-old participants, and a 5K "Teens Dash" for 11-17-year olds. Furthermore, there will be a fun race created to engage the whole family, where 'Dads & Daughters' and 'Mums & Sons' can form teams of two to run the 2.3km distance together.
Event Schedule:
12:00     The Junior MINI Marathon (7 – 12yrs)
12:30     Dads & Daughters (5-12yrs) MINI Marathon
13:00     Mums & Sons (5-12yrs) MINI Marathon
13:30     Teens 5K Dash (11-17yrs)
All races will have the same start and finish points as the morning's main race, which will allow participants to run along parts of the same course where some of the world's best runners competed for the title and attempted to set new records earlier in the day.
The 2019 Ras Al Khaimah Half Marathon will continue its renowned high international standard with a focus on runners and a community ambience, offering participants the best sporting day out for the whole the family. Attendees will have access to the "Fan Village" where they can engage in various fun activities such as the sports game zone for kids, rock climbing, face painting, obstacle courses, musical performances and entertainment while enjoying a variety of food trucks serving scrumptious bites and refreshing beverages.
Families can sign up and register for the MINI marathon online via https://www.premieronline.com/event/ras_al_khaimah_mini_marathon_2019_3910. Race Packs for the MINI Marathon must be collected from the Baggage Desk in the Race Village at the following times: Thursday 7th February from 5pm – 7pm, and Friday 8th February from 5am.
Register for the Half Marathon online via:
https://www.premieronline.com/event/ras_al_khaimah_half_marathon_2019_3734
For more details please visit: visitrasalkhaimah.ae and rakmarathon.org
-Ends-
*What makes the Ras Al Khaimah Half Marathon 'the World's Fastest Half Marathon'?
If you take the top 10 fastest times recorded in Ras Al Khaimah for men (and the same for women) and find the average (for each) and then do the same with the top 10 fastest recorded times across all races, the faster average time for both men and women will be in Ras Al Khaimah, making it the world's FASTEST half-marathon.
About Ras Al Khaimah
One of the world's fastest growing tourism destinations, Ras Al Khaimah boasts a rich culture and long-standing history dating back 7,000 years. The Emirate boasts an array of archaeological sites and breath-taking natural vistas, from golden sand beaches, awe-inspiring terracotta dunes and a green belt of date palms to Jebel Jais, the highest mountain in the UAE.
To learn more about Ras Al Khaimah, visit us at:
#VisitRasAlKhaimah
For further press information, please contact:
Nicole Lovett/Emma Arthurs/Baillie Horwood
Rooster PR
T: +44 (0)20 3440 8930
E: [email protected]
About Ras Al Khaimah Tourism Development Authority (TDA)
The Ras Al Khaimah Tourism Development Authority (TDA) was established in May 2011 under the government of Ras Al Khaimah. In order to achieve target growth of one million visitors by the end of 2018, the authority aims to develop the Emirate's tourism infrastructure and establish Ras Al Khaimah as a world-class destination for leisure and business travel, creating sustainable investment opportunities and enhancing the quality of life for its residents. In order to achieve its goals, the Ras Al Khaimah TDA has a government mandate to license, regulate and monitor the Emirate's tourism and hospitality industry.
To register for the RAK Half Marathon media accreditation, or to attend the press conference or download the media kit, please visit:
https://www.rakmarathon.org/media