Luxury Sailing Holiday for Solo Travellers Returns for 2019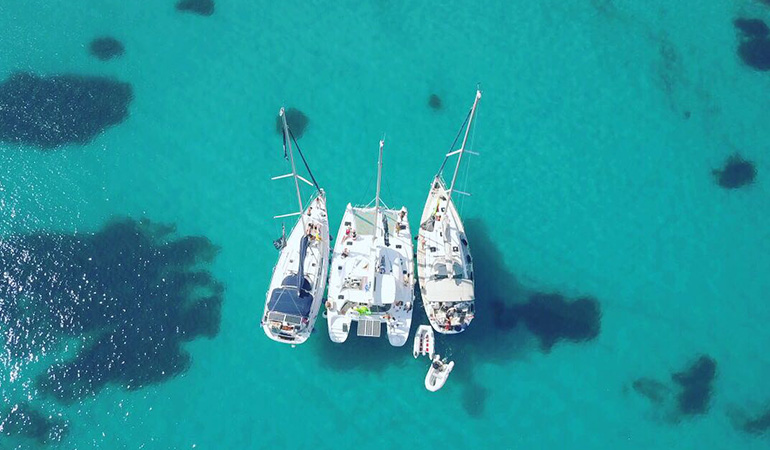 For a social and unique solo adventure this summer, spend a week sailing the Ionian Islands with The Oblique Life.
Expect seven days in the sun complete with sightseeing, water sports, delicious local cuisine and – most importantly – making new friends and memories to last a lifetime.
With 3.8m #solotravel images on Instagram, over a third of young people are expected to take a solo trip this year*. The Oblique Life puts emphasis on curating and hosting social events and trips that are designed to be as social and friendly as possible, while enjoying an experience full of culture, fun and relaxation.
Open to both members and non-members, The Oblique Life's Boat Week takes place from Saturday 20 July to Saturday 27 July, sailing across the idyllic islands of Lefkada, Ithaki and Kefalonia. Scattered along the coastline of Central Greece, the Ionian Islands are adorned with mountains, olive trees and cool, blue waters.
Aside from an itinerary packed with social activities such as diving and snorkelling, hikes, dining together and dancing the night away, travellers will have the opportunity to explore the islands and relax on the beautiful waters. Expect to sample traditional Greek cuisine with local delicacies including fresh meze and seafood.
During Boat Week guests will have the option to stay on a luxurious 46ft yacht or 46ft Catamaran, complete with double bedrooms, en-suite bathrooms, kitchen and living area, and a den for relaxing in.
Travellers can sit back and relax as Boat Week is hosted by The Oblique Life founders themselves, brothers Romi, Shonil and Keyu Sumaria, to ensure everyone is having a holiday to remember.
Boat Week was launched in 2016 and is the pinnacle of The Oblique Life's events calendar. This year's event will be the fourth hosted by the members club thanks to glowing feedback from previous attendees. While the trip is open to everyone, guest ages range from 21 to 35 with an equal mix of men and women.
Jenny Hack, who attended Boat Week 2018, said: "I came with minimal expectations; I hoped it would be a fun week and that I would make a few friends. I had the time of my life and loved every single person and every night. I laughed, I danced, I slept outside under the stars and I made so many amazing friends.  I definitely want to come next year and the years after."
Romi Sumaria, founder of The Oblique Life said: "There is something particularly special about Boat Week as it brings so many people together who usually wouldn't travel or go to events alone. Last year we visited the Sporades islands and enjoyed sunset yoga, hiking through Alonnisos and exploring an old shipwreck. This year is set to be even better as the demand has been incredible.
"Those who book onto the trip not knowing anyone have had the best time with a diverse and social group of people and we're consistently asked when the next one will be. That's exactly what Boat Week is all about for us."
The Oblique Life is a London members' club set up by the Sumaria brothers to help people socialise in the city and to redefine what luxury lifestyle means for today's Londoners. It is tailored towards like-minded people from all walks of life who are welcoming, social and passionate about new experiences.
Dates: Saturday 20 July – Saturday 27 July
Yacht: £850pp for Oblique Life members, £1,050 for non-members
Catamaran: £1,150 for Oblique Life members, £1,350 for non-members
Includes seven nights' accommodation, skipper, hostess, mandatory starter pack, fuel and water.
For further information or to book, visit https://www.obliquelondon.com/ or email [email protected].
-Ends-
Note to editors:
*A study of 3,500 consumers by Travel Leaders Group found 36% of respondents said that their future travels would include at least in part one solo trip.
Romi Sumaria, CEO and Co-Founder of The Oblique Life is available for comment and interviews.
For further press information, please contact:
Yasmine Triana/Natalie Garland/Aaryn Vaughan
Rooster PR
T: +44 (0) 20 3440 8930
E: [email protected]
About The Oblique Life
The Oblique Life is a London based Membership Club and Lifestyle Management Service that puts community first.
Tailored towards like-minded people from all walks of life who are welcoming, social and passionate about new experiences, The Oblique Life is revolutionising how Londoners meet people by creating a membership that pioneers a social slant on experiences and community-driven events in the digital age.
The family-run start-up was founded by the Sumaria brothers: Romi, Shonil and Keyu, with the ambition to combine fun and welcoming experiences with a 24/7 personal assistant to help members with both every day and special tasks.
The Oblique Life app is available to download from the iOS App Store and Google Play for Android.
For further information visit www.theobliquelife.com.