Brits Feeling the Squeeze Internationally
The stronger US dollar makes US and UAE particularly expensive for British visitors post-referendum
London has dropped 81 places in the Cost of Living ranking since the Brexit referendum
Swiss cities continue to dominate the top five most expensive in the world
In its latest Cost of Living report, global mobility expert, ECA International (ECA) has revealed the rising costs for UK residents working or living overseas since the Brexit referendum.
As a result of the weakened GBP since the referendum, the cost of living in UK cities* has, despite inflation, become comparatively lower than the majority of cities in the US and the Middle East, as well as many in Europe such as Paris, Brussels and Dublin, making it more expensive for Brits overseas.
However, London's low ranking means that expatriates coming in from countries such as the UAE and US may find everyday basket goods cheaper in the UK thanks to the current strength of the US dollar in comparison to the weakened pound. This has seen locations such as Indianapolis move ahead of London in the rankings for the first time.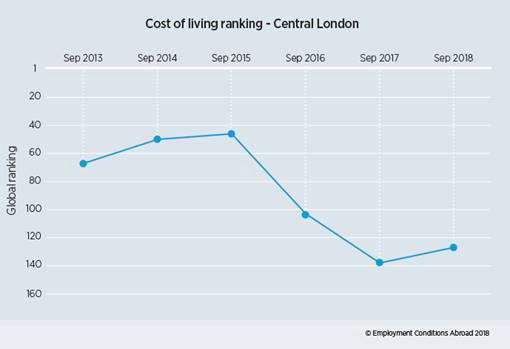 Brexit effect on UK cost of living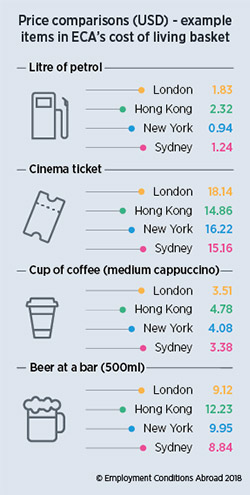 Steven Kilfedder, Production Manager at ECA International, said: "The cost of living in the UK has dropped significantly for overseas workers and visitors since the referendum along with the value of the pound. With the UK's scheduled leave date fast approaching, all that can be certain is there will be more fluctuation in inflation and exchange rates as the nature of future relationships becomes clearer."
The UK has dropped 81 places since the Brexit referendum according to ECA's Cost of Living report which compares a basket of like-for-like consumer goods such as groceries, meats and vegetables, and essential household goods.
"The current political uncertainty is demonstrating the economic rollercoaster that the UK is facing right now and there is likely to be ups and downs as Brexit negotiations continue. This all has an effect on exchange rates, which makes a huge impact on how expensive Brits will find working and living abroad. Depending on the outcome of the negotiations UK cities could continue to fall in the rankings or start moving back up, depending on how the exchange rate moves," continued Kilfedder.
ECA's Cost of Living report analyses a basket of goods and services commonly purchased by international assignees in 479 locations worldwide. The survey allows businesses to ensure that their employees' spending power is maintained when they are sent on international assignments. ECA International has been conducting research into cost of living for over 45 years.
US overtakes many European cities in top 100 most expensive
Four US cities have re-entered the Top 100 most expensive in the world, bringing it up to 17 cities in total. Miami, New Jersey, Baltimore and St Louis have jumped by 26 places on average, making them more expensive for Brits than in the past as well as for other visiting Europeans. The cost of living in countries pegged to the USD, such as Hong Kong and some Middle Eastern countries, has also increased due to the strength of the USD.
Australia and New Zealand drop in the rankings
However, it's better news for Brits visiting down under as the Australian and New Zealand dollars performed poorly in the past year, causing all cities in the report to drop by around 33 places on average. Darwin, Adelaide and Christchurch dropped out of the top 100 for the first time in three years as a result.
The cost of living for overseas workers in Australia and New Zealand has plummeted since 2017, with every Australasian location included in the survey dropping at least 20 places. Sydney and Canberra both fell out of the top 50 and now sit in 70th and 85th respectively. According to ECA's report, petrol is an example of an item that is much cheaper in Sydney compared to London, costing 46p less per litre (96p compared to £1.42).
Kilfedder explained: "Both the Australian and New Zealand dollar experienced difficulties over the past year and were outperformed by a number of other regional and global currencies. This is good news for UK expatriates living in cities in these two nations however, as they have become much less expensive overall."
The UAE leads a rise in the rankings for Middle Eastern countries
The cost of living in the majority of cities in the Middle East has increased, with Dubai entering the top 50 most expensive cities list for the first time**.
"The introduction of a five percent Value Added Tax in the UAE has pushed up the average price of goods and services in Dubai and Abu Dhabi. This, combined with the fact that its currency is pegged to the US dollar has caused the cost of living for many overseas workers to jump. In the past five years these UAE cities have jumped by 125 and 128 places in the rankings, with Dubai now in 49th place and Abu Dhabi at 54th," explained Kilfedder.
Swiss cities make up four of the top five most expensive in the world
Geneva (2nd), Zurich (3rd), Basel (4th) and Bern (5th) all continue to demonstrate that Switzerland is one of the most expensive countries in the world, with the four Swiss cities maintaining a steady record of being within the top ten most expensive in the world for the past five years. A cup of coffee in Geneva for example costs £4.73, over £2 more than in central London (£2.71).
Kilfedder explained, "A strong currency and particularly high food prices are among the reasons why Switzerland is so expensive for foreigners. However, despite the high prices, high salaries in the country mean locals are still well-off compared to their European counterparts."
-Ends-
Notes to Editors:
Rooster will coordinate comment and interviews for Steven Kilfedder, Production Manager at ECA International
*UK locations featured in the UK's cost of living report include Central London, Outer London, Edinburgh, Manchester, Cardiff, Glasgow and Belfast
**Since ECA's Cost of Living ranking first began in 2005
For further press information, please contact:
Yasmine Triana/Aaryn Vaughan
Rooster PR
T: +44 (0)20 3440 8934
E: [email protected]
About ECA International (www.eca-international.com)
ECA International is the market-leading provider of knowledge, information and technology that enables businesses to manage their international reward programmes.
Partnering with thousands of clients on every continent, we provide a fully-integrated suite of quality data, specialist software, consultancy and training. Our unparalleled insights guide clients as they mobilise their most valuable resource: people.
We make the complex world of international mobility simple, providing clients with the expertise and support they need to make the right decisions – every time.
ECA International: Mobility solutions for a world that's constantly moving.
About ECA's Cost of Living Survey
ECA International's cost of living surveys are carried out in March and September using a basket of day-to-day goods and services commonly purchased by assignees. The data used above refers to year-on-year movements between ECA's September 2013 and March 2018 surveys. ECA's Cost of Living Survey rankings began in 2005.
Cost of living indices are used by ECA clients to calculate cost of living allowances for assignees. The survey covers:
Food: Groceries; dairy produce; meat and fish; fresh fruit and vegetables
Basic: Household goods; recreational goods; general services; leisure services
General: Clothing; electrical goods; motoring; meals out; alcohol and tobacco
Certain living costs such as accommodation rental, utilities charges (electricity, gas, and water), car purchases and school fees are not included in the survey. Such items can make a significant difference to expenses but are usually compensated for separately in expatriate packages.
This comparison of cost of living was calculated on a base composed of various developed countries and is used to reflect an international lifestyle. Other indices available from ECA reflect specific city-to-city comparisons and different levels of shopping efficiency.
ECA's blog provides updates and commentary on currency, inflation and expatriate cost of living. Follow the blog here: https://eca-international.com/insights/blogs