London Community Raises over £2,500 for Local Homeless Charity Through Christmas Concert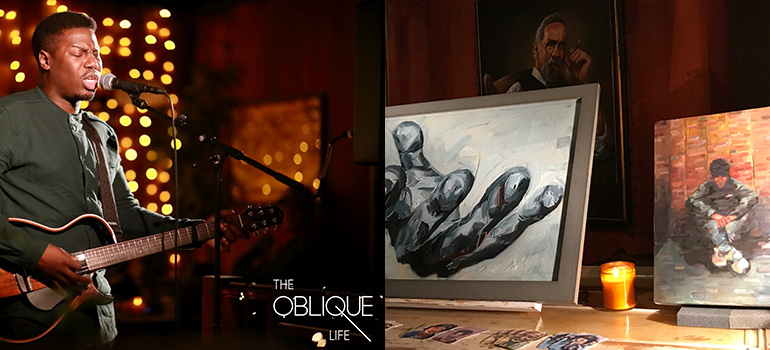 The Oblique Life has initiated a fundraising campaign for North London Action for the Homeless
Members have donated over £2,500 and counting following a Christmas live music fundraiser
Local artist has donated original artwork available for auction until Christmas Eve
JustGiving page for the charity has exceeded initial fundraising target
The Oblique Life members club is raising money for local homeless charity, North London Action for the Homeless (NLAH), already exceeding their initial target of £1,500 by hosting a special Christmas live music event and art auction.
London brothers and founders of The Oblique Life, Romi, Shonil, and Keyu Sumaria, hosted the Christmas concert on Sunday 9 December at Burlock in Mayfair, raising more than £2,500 and counting.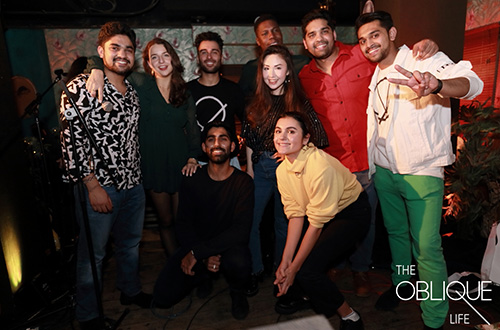 Donations are still coming in following the event as well as from an art auction, with all funds raised going to NLAH – a charity that provides meals, haircuts, services and more to those in need. NLAH's Christmas appeal ensures that visitors to their centre will get a special festive lunch and dinner, a privilege that many take for granted on Christmas Day.The Oblique Life with music artists from charity Christmas concert
Romi Sumaria, founder of The Oblique Life, said: "We are truly humbled by the generosity of our Oblique Life members who contributed to this worthy cause. We wanted to support a charity that makes a difference in our local community and North London Action for the Homeless changes the lives of those that are struggling by giving them that little extra support, whether it's a much-needed meal or even a haircut to help get them back on their feet.
"The Christmas concert was a real reflection of how effective a strong community can be to embrace the spirit of giving back and we're proud of the community we've created with our members, partners and supporters. We're delighted that the funds we're raising will help the NLAH to provide a special Christmas meal for those who would otherwise go without."
Artwork available at auction illustrates homelessness in the UK
As part of the event, artist Vishal Joshi donated two pieces of his work to The Oblique Life in order to be auctioned to help raise funds for NLAH; 'Absence/Abundance', a monochrome hand that represents both needing and giving support, and 'Brick People #1', illustrating how homeless people are often overlooked as part of the brickwork by passers-by.
Describing his artwork, Vishal said: "We know that everyone can have a bad time in life and I believe we should support people through it whenever we can so that they can move closer to getting back on top of it all again. This heavy monochromatic hand is reaching both to give and to take, signifying that we are either in a position of power or struggle. Sometimes we need support and sometimes we must give it."
The art auction is live until 24 December and bids can be made for the two original pieces. A selection of limited edition prints are also available to buy for £150. For further information or to bid, visit: https://www.32auctions.com/organizations/48361/auctions/59564.
The Oblique Life is a new members' club that focuses on community rather than location. It was set up through the brothers' frustration with London's hostile and lonely social scene. The brothers founded The Oblique Life with an aim to create a welcoming community in London with a friendly, positive vibe.
Members have access to regular weekly events where they have an opportunity to network and socialise. Events take place in venues across London to make the most of the unique things you can do and the people you can meet. The Oblique Life is all about making true, personal connections.
Artists who performed at the fundraising event included BOTA, Chiara, Davy Denke and The fortysix, some of The Oblique Life's most popular up-and-coming artists from previous live music events.
Additional donations can be made to a JustGiving page for the event here: https://www.justgiving.com/crowdfunding/sundaynightlivexmas
-Ends-
For further press information, please contact:
Yasmine Triana/Natalie Garland/Aaryn Vaughan
Rooster PR
T: 020 3440 8930
E: [email protected]
About The Oblique Life
The Oblique Life is a London based Membership Club and Lifestyle Management Service that puts community first.
Tailored towards like-minded people from all walks of life who are welcoming, social and passionate about new experiences, The Oblique Life is revolutionising how Londoners meet people by creating a membership that pioneers a social slant on experiences and community-driven events in the digital age.
The family-run start-up was founded by the Sumaria brothers: Romi, Shonil and Keyu, with the ambition to combine fun and welcoming experiences with a 24/7 personal assistant to help members with both every day and special tasks.
The Oblique Life app is available to download from the iOS App Store.
For further information visit www.theobliquelife.com.