Mission Impossible: MedSailors Fights Plastic Pollution at Sea
Sailing holiday company reveals its top 10 tips for an eco-friendly trip.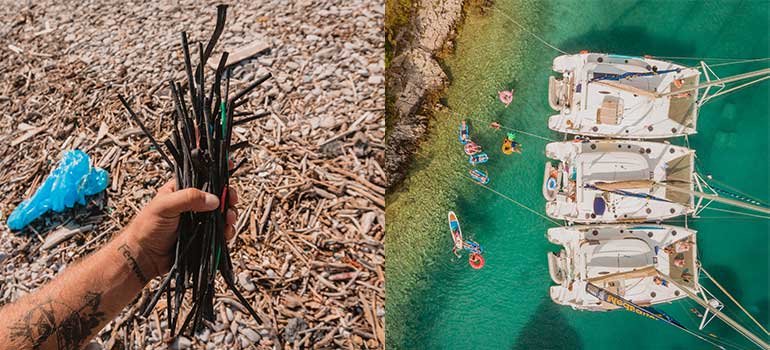 In a world where we are now surrounded by warnings on the use of single-use plastics and the impact this is having on our marine life, for some, the closest they have got to seeing the actual problem is through shocking images in the media. But for those living at sea, the true extent of the issue is something they are experiencing every day.
Which is why MedSailors, the adventure sailing holiday provider for 20-35 year-olds, decided to tackle the issue first-hand, in a bid to preserve and protect the beautiful Mediterranean coastline and prevent the problem from worsening further.
This summer, #MedSailorsBeachClean was born. While en route between destinations, groups of MedSailors crews and guests started hitting beaches around the Mediterranean, scouring coves and bays to grab as much rubbish as they could. Some beaches, nearly ankle deep in plastic bottles, were looking pristine again within weeks.
With the wind in their sails following the beach clean-ups, the MedSailors team then created the Floatie Recycling Programme on the Greece Saronic route with enormous success. Guests were encouraged not to bring their new unicorn floaties or inflatable donuts, and were instead asked to reuse floaties from weeks prior to raise money for non-profit organisation, Archipelagos, the Institute of Marine Conservation in Greece. Not only did this initiative raise money for a good cause but it also resulted in eliminating hundreds of new plastic inflatables from either being brought into the country or purchased there.
Daniel Painter, Managing Director of MedSailors said: "Taking care of our oceans has never been more important. This year we have seen a real shift in people's attitudes towards the need for businesses to be more eco-conscious. In a recent survey of MedSailors guests, 87% said that it was of high importance to them that brands act environmentally responsible, which is why we feel we have had so much support from our guests in bringing our new initiatives to life.
"Without our fantastic crew and guests, the changes we have made during our 2018 season to contribute toward tackling marine pollution, wouldn't have been possible and we are looking forward to bringing more people together to get involved in 2019."
MedSailors' desire to develop into a more sustainable and eco-friendly company was sparked long before the 2018 season. Their partnership with Bags of Ethics for the production of guest tote bags was an initiative designed in 2017 to encourage guests to use less plastic bags. The totes are made with eco-friendly dyes and are completely biodegradable; perfect for the daily run to the shops for local delicacies.
To add to this, ahead of the company's 2019 season, MedSailors has announced its top 10 tips for an eco-friendly trip to encourage guests to think sustainably:
Bring eco-friendly toiletries
Grab a recycled floatie at check-in instead of bringing one
Bring a reusable water bottle to refill
Say "no" to straws at bars and restaurants
Ask for no plastic lid or straw with iced coffees
Bring your own coffee cup
Use a tote for shopping and ditch the plastic bags
Take part in a beach clean-up en route
Choose a cone over the cup when indulging in your ice cream
Calculate your carbon footprint and give a little to offset travel emissions at ClimateCare
For more information, visit: medsailors.com.
-Ends-
For further press information, please contact:
Katie Raby/Hannah Carlisle
T: +44 (0) 20 3440 8930
E: [email protected]
About MedSailors
MedSailors is part of the Navigate Travel group – a dynamic, forward-thinking travel company, which launched nearly a decade ago. Proving that sailing holidays aren't only for the rich and famous, MedSailors offers skippered trips at sea for 20-35 year-olds in Croatia, Greece, Turkey, Italy and the Caribbean and has sent over 22,000 travellers on unforgettable breaks.
The company has since expanded to launch its second sailing holiday brand, Yacht Getaways in 2014, offering premium sailing experiences to an older demographic. It's most recent venture is Wild Kiwi, which offers epic small group, adventure tours for the millennial market in New Zealand & Australia.
For more information, visit www.navigatetravel.com