Choose the Right Wood, Use it Correctly and Store it Safely
Dos and Don'ts for a warm, safe, efficient and more eco-friendly home this winter from Contura.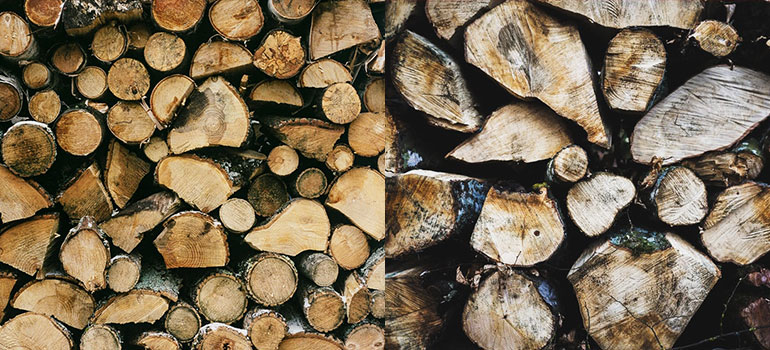 With the Autumn chill finally biting, many of us are bringing our wood burning stoves out of hibernation and preparing for a winter of cosy evenings in front of the fire.
Here, the aptly named Phil Wood, Contura's Country Manager for the UK and Ireland, provides a guide to using a wood burner safely, along with best practice for storing wood both indoors and outdoors.
Phil says: "All too often we see images online and in magazines of logs stacked precariously closely to wood burners, which is a real fire hazard. When it comes to using your wood burner, safety should always be a priority and taking simple steps to store wood correctly will ensure a winter free from risk."
Storing wood indoors
Although it can look stylish to stack wood around your wood burner, this can be dangerous as, once lit, heat transfer from the stove to the logs could set them alight.
Similarly, as you open and close the stove door to add more logs to the fire, the possibility of wood moving around in the chamber means that errant sparks can escape and catch onto any logs stacked nearby.
It's important that wood is kept separate from the heat chamber to avoid any accidental catches. Ideally, isolate it in a fire-resistant log box that is manufactured especially for this purpose (some stove designs also have them built-in at the base) and if this is not possible, we recommend a minimum of 500mm to the side and 1m in front.
Alternatively, log storage units made from wicker, rattan, felt and leather can work well and are also useful for transporting wood from outside. Ready-to-burn logs available in bags don't take up a lot of space, but however you choose to store your logs, make sure they are at a safe distance from the wood burner.
Protect the floor
Due to the risk of falling embers, a combustible floor (usually wood or carpet) must also be protected by a hearth plate. This must extend 300mm in front of the stove and 150mm on each side. Suitable hearth plates are made from natural stone, concrete, metal or glass.
Choose the right wood
Always choose the best wood that you can afford and ensure it is fully dried before burning. Burning moist, green or fresh wood creates an acid vapour called creosote that will build up in your chimney or flue, and over time this can compromise the structure of your chimney and increase the likelihood of a chimney fire.
Woodsure, the UK's woodfuel accreditation scheme, offers the 'Ready to Burn' certification mark to suppliers who can demonstrate that their logs have a moisture content below 20 percent – the ideal moisture level for efficient and clean combustion.
Storing wood outdoors
Although logs can be left in the open, they do benefit from the extra protection of a cover or dedicated storage area.
A woodshed is the obvious place to store any extra logs. Ensure the area is dry with good air circulation to keep wood in the best condition. Ventilation can be provided through an open front and gaps in the side of the shed. If airflow is not sufficient, damp conditions will cause mould and fungi to grow which will rot the wood.
Elevate the logs off the ground to avoid moisture from grass or soil seeping into the wood, place on a flat and stable surface, and keep out of prevailing rains to make sure the logs are as sheltered as possible. Don't place logs under trees as water will drip down, whilst low-lying areas are prone to dew, mist or fog.
It may take a while, but by carefully splitting and stacking logs (rather than dumping them) they're more likely to stay drier and burn better, saving you time and money in the long-run.
Wood burner or open fire?
Use a wood burner as opposed to open fire for maximum heat efficiency. 80% of the heat generated by a wood burning stove is radiated and convected into the room, compared to only 20% with traditional fireplaces (it is also illegal to burn wood on an open fire in Smoke Control Areas).
Wood burning stoves also require less wood as a couple of logs will burn for up to an hour, compared to only 15 minutes on a traditional open fireplace, meaning you use less logs and get the optimum energy out of each log used.
Never burn…
Painted wood, treated wood (typically varnish or copper compounds), plywood, MDF or building materials such as Oriented Strand Board. The more natural the state of the wood, the better.
For the best burn
Species such as ash, beech or birch burn particularly well, giving a nice, bright flame and good heat output. English oak burns well but do mix in other woods as oak contains tannin which can eventually damage the stove masonry.
Dos and don'ts for wood storage inside
Do:
Use a purpose made steel or metal log box/storage unit that can be placed conveniently close to the stove
Consider making a feature of your log storage in the wall beneath or beside the stove/cassette; it's much safer, practical and looks good too
Place logs in the log compartment provided underneath a freestanding stove; this will have an airflow shield above the logs and is protected from any heat transference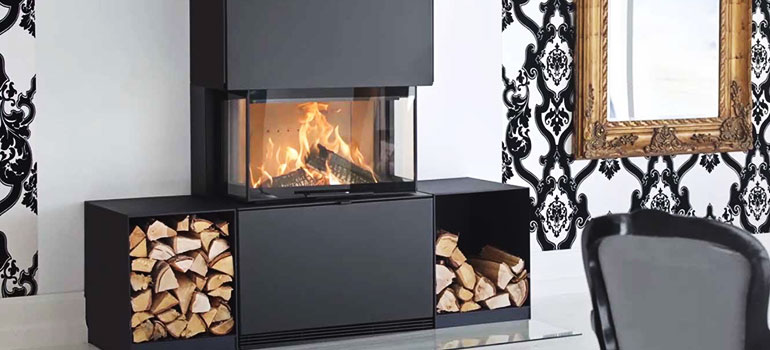 Don't:
Store wood directly next to the stove. The sides can get extremely hot causing a real fire risk and in some cases ignite the logs
Place logs on top of a lit stove to 'dry' them out – moisture should not be removed in this way as logs can ignite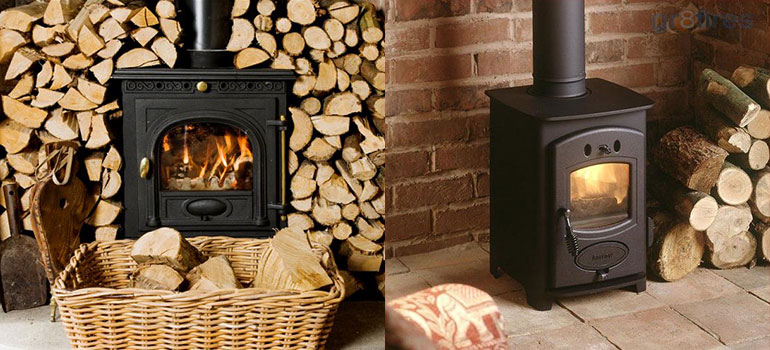 Dos and don'ts for wood storage outside
Do:
Allow for air circulation
Buy split logs when possible as these dry quicker and easier
Raise the wood from the floor on a pallet or ledge
Test the moisture content using a moisture meter and never burn wood with more than a 20 per cent moisture reading. To provide the best burn, the optimum moisture content is between 12-20 percent
Allow wood to season gradually. It can take up to two years depending on the species
Bring logs inside to acclimatise to room temperature at least 24 hours before burning
Don't:
Stack or wrap wood too tightly. This will trap moisture, restrict airflow and cause the wood to rot
Check out this Contura video guide for how best to light your stove, https://bit.ly/2oGRHM7
For more information on Contura, visit www.contura.eu
-Ends-
Notes to editors:
Rooster PR will coordinate comment, interview and profile opportunities for Contura UK Country Manager, Phil Wood. The Contura PR team will also arrange visits to the nearest Contura Design Centre dealerships or the Contura showroom in Doncaster to see the product range.
For further press information:
Elsa Findlay/Jo Kendall/Julie Aguilera
Rooster PR
T: +44 (0)20 3440 8930
E: [email protected]
About Contura
Contura is Europe's leading manufacturer of wood burning stoves, offering an extensive range of classic and contemporary wood burners; from traditional insert stoves suitable for existing fireplaces, to freestanding statement models made with innovative materials such as soapstone.
Starting at £1,295, Contura stoves are premium yet affordable. Award winning, timeless Swedish design means the products complement or enhance any style of home, whilst also offering outstanding performance, maximum efficiency, practicality and ease of use.
Designed and assembled at the factory located in Markaryd, Sweden, and manufactured to the highest standards, Contura stoves are highly energy efficient, offering powerful convection, superior combustion technology and clean burning systems. Currently, 75% of Contura stoves are DEFRA Clean Air Act exempt and thus approved for use in Smoke Control Areas.
Contura stoves can be purchased through a network of 165 independent retailers nationwide.
Contura is part of the NIBE group, a Swedish manufacturing company producing world class solutions in sustainable energy across Europe, North America, Asia and Australia.
Contura is a founding member of the Stove Industry Alliance (SIA) in the UK.