Flight Centre Opens its Latest Store in York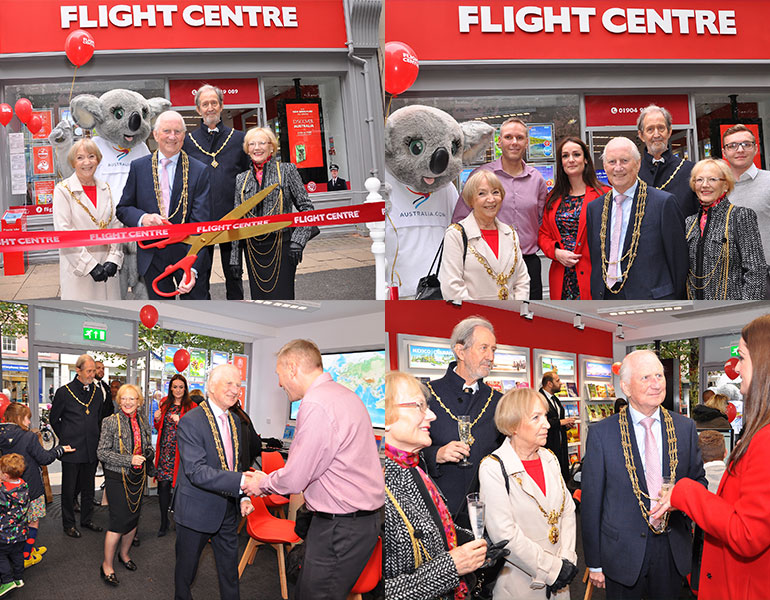 Flight Centre has opened its 82nd store – in Parliament Street, York.
The store was officially opened by Lord Mayor, Cllr Keith Orrell, on Saturday (6 October).
The latest opening is demonstrative of Flight Centre's success in the UK, as it expands its footprint and caters to every type of traveller, offering tailor-made holidays with unique experiences for everyone.
The store and staff offer knowledgeable and friendly travel advice to help customers plan their next holiday and will be welcoming customers through the doors of this new store.
Customers were greeted on the day by a friendly Flight Centre koala bear, and face painters were on hand offering fun designs for children.
Lucy Clifton, head of sales at Flight Centre, said the travel company had been eyeing a site in York for around three years.
She said: "With so many stores across the UK we felt York was the ideal place for our latest opening. One of the most important factors has been finding the right site, so we are pleased to be in the heart of York."
Flight Centre is one of the world's largest travel companies with over 18,000 staff and 2,500 stores across its leisure, corporate and wholesale businesses.
-Ends-
For further press information, please contact:
Natalie Garland/Emma Arthurs
Rooster PR
T: +44 (0)20 3440 8924
E: [email protected]
About the Flight Centre Travel Group (FCTG)
The Flight Centre Travel Group (fctgl.com) is one of the world's largest travel companies with over 18,000 staff and 2500 stores across its leisure, corporate and wholesale businesses. The company's turnover in 2014/2015 financial year was £9 billion. After starting with one shop 30 years ago, FCTG has enjoyed remarkable growth and is one of the top 100 publicly listed companies on the Australian Securities Exchange.
All specialist brands under the FCTG Corporate banner offer 24/7 support and the benefits of a blended offline/online solution; global negotiation strength and unique and superior business travel products.
About Flight Centre
The team at Flight Centre are experts when it comes to travel and are committed to providing customers with a great experience. The company's success comes down to its people, experienced Travel Experts who are passionate about finding their customers the holiday they want, for the price they want.
Since establishing the first Flight Centre store in 1995, the business has grown its team of Travel Experts to include over 80 stores within the United Kingdom, with new stores opening regularly. Worldwide, Flight Centre has an amazing 2,500 stores across the United Kingdom, Australia, New Zealand, South Africa, United States, Canada and more, making Flight Centre one of the largest and most successful independent travel retailers in the world. With its global reach and close relationships with the world's best travel providers, the company is able to provide competitive travel deals.
The Flight Centre team can organise anything from flights and hotels, car hire, tours, travel insurance, visas and more to tailor make the perfect holiday. They also have dedicated First and Business Class flight teams and Business Travel teams to help with any specialised travel needs.
For more information go to www.flightcentre.co.uk, www.facebook.com/FlightCentreUK, www.twitter.com/flightcentre_UK or www.instagram.com/flightcentreuk.