DFDS Celebrates 2016's Cohort of Newly Qualified Apprentices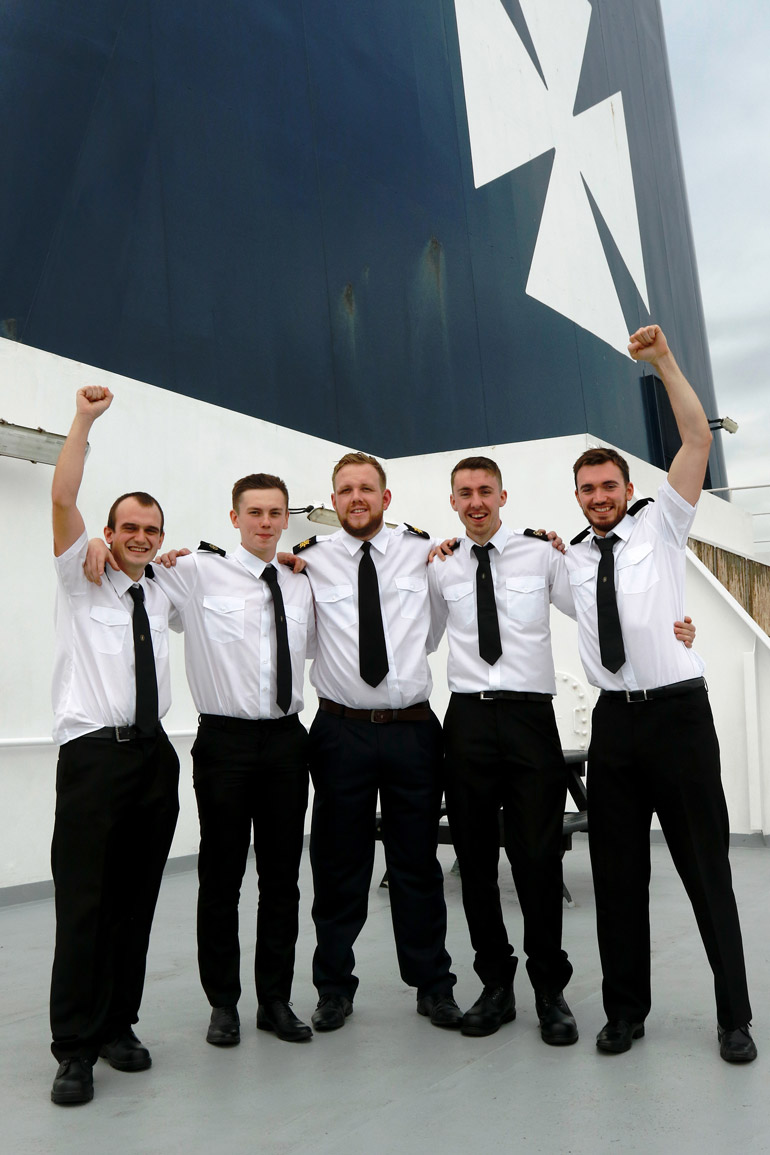 DFDS hosted a special sailing across the Channel yesterday, as the ferry operator celebrated the latest cohort of apprentices to complete their apprenticeship schemes.
A 'passing out' ceremony took place on board Dunkerque Seaways, and was attended by family, friends and industry representatives.
Five apprentices qualified from the 2016 intake, with four qualifying as Able Seafarers under the Deck Scheme and one qualifying as a Marine Fitter under the Engine Scheme.
Gemma Griffin, Vice President of HR and Crewing at DFDS said: "We are so proud of all of our apprentices.  They have worked hard both at college and during the on-board phases of the program.  A career at sea brings wonderful opportunities and when I look at the quality of these apprentices and the other cohorts, I feel sure that the future of DFDS is in very safe and talented hands."
With an estimated 95% of imports coming to our island nation by ship*, the maritime industry plays a significant role in the country's economy. Yet figures show there has been a substantial decline in seafarers ratings since the 1980s**, and recruiting young people to join the industry has been particularly challenging.
DFDS launched its apprentice programme in 2012 and has now seen 20 apprentices pass through the scheme, with 17 deck apprentices and 3 engineering apprentices qualifying. The ferry company is now also offering a Catering Scheme – an industry first – which will see students work towards becoming Maritime Caterers. To further encourage young people in the South East of England to choose a career at sea, the ferry operator has also been working closely with East Kent College to offer students work experience on board.
The apprenticeships are offered in partnership with the Merchant Navy Training Board (MNTB), the shipping industry's central body for promoting and developing sector-specific education and training skills.
The scheme lasts between 18 and 24 months and are aimed at 17-24 year-olds with a minimum of Grade C Maths and English at GCSE level.
DFDS will be taking in new cohorts in January 2019. For more information, visit;  http://www.careersatsea.org/opportunities-for-ratings/.
-Ends-
Notes to editors:
*figure provided by Sefarers UK
**Figures from Department of Transport show that more than 70% of ratings currently employed in the UK maritime sector are aged-40 or over. The number of UK seafarer ratings was 30,000 in the 1980s but currently stands at less than 9,000.
Gemma Griffin chairs the Employment Committee at the UK Chamber of Shipping. This sets the strategic direction on seafarers' living and working conditions, equality, minimum wage, union relations, seafarer immigration, recruitment and training, occupational health and safety, human element, and standards of training. Gemma led the Employer Leadership Group in developing the standards for the trailblazer rating apprenticeships, matching industry requirements and the syllabus for deck, engine and catering departments.
DFDS offers three apprenticeship schemes; The Deck Scheme which sees students qualify as Able Seafarers, working in the deck department as a watchman and assisting with loading and unloading the ship; the Engine Scheme which works towards becoming Marine Fitters within the engineering team, responsible for maintaining and repairing the ships; and the new Catering Scheme which will see students qualify as Maritime Caterers, working as chefs in the ship's galley to prepare the food served on board.
For further press information, please contact:
Katie Raby/Elsa Findlay/Charlotte Wright/Rachel Sewell
Rooster PR
T: +44 (0)20 3440 8930
E: [email protected]
About DFDS
DFDS is Northern Europe's largest integrated shipping and logistics company, with a network of around 30 routes and 50 freight and passenger ships.
DFDS prides itself on offering world-class facilities and services and the widest choice of ferry routes into northern Europe. In the UK, the company operates passenger ferry services on routes from Dover to Calais, Dover to Dunkirk, Newcastle to Amsterdam and Newhaven to Dieppe.
DFDS has been named the 'World's Leading Ferry Operator' for the last 7 years (2011-2017) as well as 'Europe's Leading Ferry Operator' (2012-18).
DFDS currently operates up to 54 sailings a day between Dover and France on its Dover-Dunkirk and Dover-Calais routes. DFDS also offers two daily sailings between Newcastle and Amsterdam. In addition, the DFDS network includes a passenger and freight service between Newhaven to Dieppe, which has four daily sailings and is operated by Transmanche Ferries.
For further information about DFDS, or to find out about the latest sailing times, fares and offers across all routes from the UK, visit www.dfds.co.uk.