Best Vineyards to Visit on Long Island, New York
A trip to Long Island Wine Country transports you to a place where over 60 vineyards flourish and over 30 wineries open their doors to visitors. Whether you wish to sample the latest award-winning vintage, or take a tour and watch how vintners have perfected their craft, exploring Wine Country is an essential component of any Long Island stay.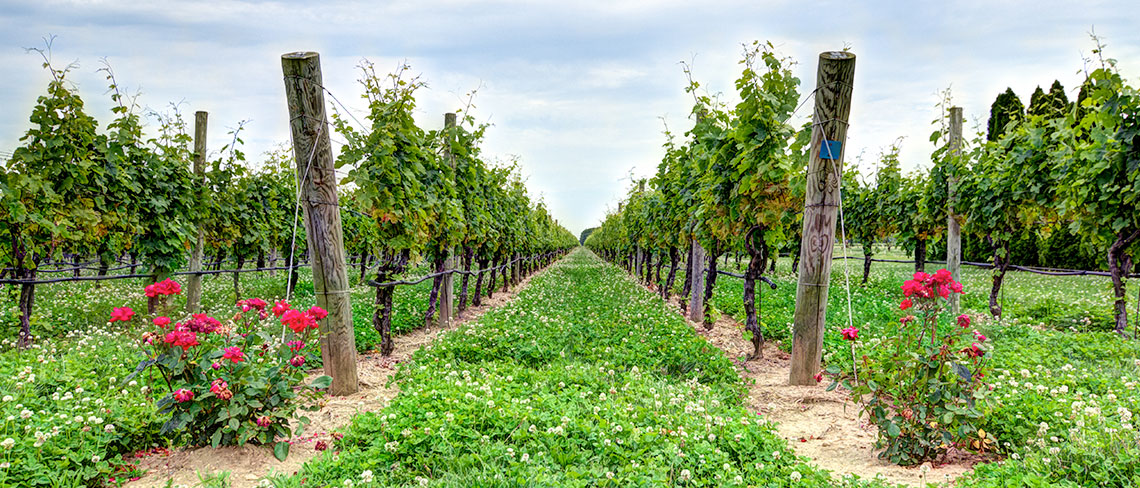 Here the team at Discover Long Island, the official tourism board for Long Island, share a selection of the vineyards available.
Sparkling Pointe Vineyards & Winery
Southhold
The only winery on the North Fork to produce exclusively sparkling wines, Sparkling Pointe encompasses 40 acres of vineyards planted with classic Champagne grape varietals – Pinot Noir, Pinot Meunier, and Chardonnay. The property is an architectural beauty. From the soaring double-height tasting room, to Venetian crystal chandeliers to the magnificent vineyard views, this venue celebrates all that the North Fork has to offer.
Kontokosta Winery
Greenport
The North Fork's first and only waterfront tasting room and winery, Kontokosta covers sixty-two acres and overlooks the regions coastline. As a family run vineyard, the vines are sustainably shepherded to ensure they have a consistent fruit quality and ripeness from vintage to vintage. Kontokosta wines are a fluid reflection of a long journey rooted in excellence, curiosity and personal growth.
Pindar Vineyard
Peconic
Proud to be the largest and oldest same-family owned vineyard and winery on Long Island, Pindar Vineyard encompasses 500 acres and produces over 70,000 cases of wine a year. By growing 17 varieties of grapes and crafting them into 23 varietals and proprietary blends, Pindar has a wide range of choice for visitors. From dry to sweet, sparkling to desert, there will be something for all tastes.
With more than 90 planted acres of farmland and 20 plus varietals of grapes, Palmer Vineyards is one of the North Fork's original wineries. From its award-winning Sauvignon Blanc to the first Albarino vines ever planted in the state of New York, Palmer vineyards capitalises on the unique maritime climate on the East End of Long Island to drive their diverse offering.
Jamesport Vineyard
Jamesport
A vineyard for all the ages, Jamesport is a 30-year-old, family run winery with quality wines crafted from 60 acres of grape vines. Known for providing a unique, hands-on, food and wine experience, the production takes place behind large picture windows that surround the tasting room.  Their wines show the characteristics of beauty that are encapsulated by Long Island grapes and truly honour the East End farming heritage.
Martha Clara Vineyards
Riverhead
Situated on 200 acres of boundless land, Martha Clara is certainly a unique and exquisite vineyard. Once a potato farm and then a thoroughbred horse racing operation, the landscape soon changed and farms gave way to fruitful vineyards and Martha Clara followed suit. Offering something for newcomers and aficionados alike, from wine education classes to cultured festivals, Martha Clara is one of the most progressive and evolving vineyards on the North Fork.
There are several companies offering guided wine tours and tastings packages around Long Island Wine Country. For more information, please visit: https://www.discoverlongisland.com/listings/vineyards-wine-tours/
-Ends-
For further press information, please contact:
Natalie Garland/Baillie Horwood/Nicole Lovett/James Brooke
Rooster PR
T: +44 (0)20 3440 8930
E: [email protected]
About Discover Long Island
Discover Long Island was established under the name Long Island Convention and Visitors Bureau & Sports Commission in 1979 as the official tourism promotion agency for the destination's travel and tourism industry. The organization contributes to the economic development and quality of life on Long Island by promoting the region as a world-class destination for tourism, meetings and conventions, trade shows, sporting events and related activities. For more information, please visit www.discoverlongisland.com.