#GAMESETNAPS: Wimbledon Queuers Treated to a Better Night's Sleep
Tennis fans who've travelled hundreds of miles are treated to pillows for a more comfortable night under the stars in #TheQueue.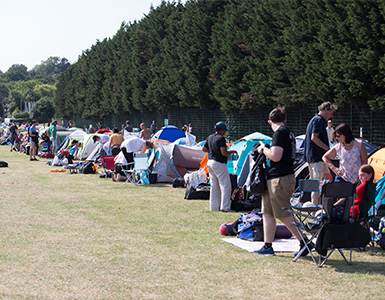 Image left: Early birds in The Wimbledon Queue at 9am on Sunday morning 
The Wimbledon Queue is as much as part of the British summer as Pimm's or strawberries & cream. With dedicated fans travelling hundreds of miles to pitch their tents in perfect queue formation to get their hands on the best tickets, it has become a social media phenomenon in its own right, thanks to #TheQueue hashtag.
This year, it is a case of Game Set and Naps for 24 year old tennis-mad fan Darius Platt-Vowles, who, having travelled 115 miles from Nailsworth, Gloucestershire, pitched up at Wimbledon Park at 2pm on Friday 29th June.
Darius has camped out in the queue five times before, but this year, determined to get the number one spot, he arrived days ahead of the first day of play. Camping for three nights and enduring temperatures as high as 28°, Darius has enjoyed pride of place at the very front of the Wimbledon Queue in order to bag himself the most coveted centre court tickets for opening day.
Darius describes the queue as a "friendship dating experience". He loves the thrill of camping in central London.
And he's in this for the long haul – here for the duration of the two week Championships, he'll be re-joining the queue each time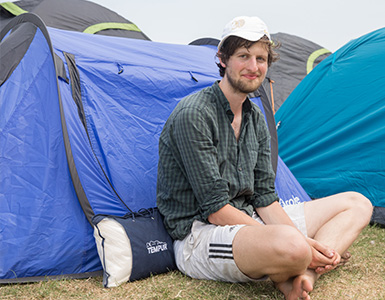 Image right: The first in the queue – Darius Platt-Vowles
Armed with a tiny two person tent, excitement and lots of patience, he is amongst the first to be treated to a free travel pillow from premium mattress brand, Tempur, who is handing out hundreds of pillows – recognised by NASA and certified by the Space Foundation – this Monday 2 July, in order to bring some home comforts and ensure a better night's sleep for occupants of the ever-growing canvas queue.
Almost 7,000 tennis fans made #TheQueue for the first day of the 2017 championships and this year, by as early as 9am on Sunday 1 July, the Tempur team had already spotted almost 150 tents pitched for today's opening day tickets.
Tempur spoke with a number of Wimbledon queuers as they provided pillows…
"Wimbledon is part of my annual pilgrimage to visit family in Switzerland," says 33 year old Swiss-American Monique Hefti; second in the queue. Monique has travelled all the way from Wales in Massachusetts, USA, and it's her 4th time camping out for tickets. She and No.1 queuer, Darius, have become queue buddies, having met three years ago in Wimbledon Park, and she knows 50 people in the queue this year. Guaranteed centre court tickets today, she is looking forward to seeing fellow Swiss, Federer.
Tempur also chatted to queuer, Andy Murray. Yes, that's his real name! Travelling from Liverpool, Andy arrived at 11:30pm on Friday. A queue first-timer, he loves the atmosphere: "It's not a queue, it's a big, fun, moving campsite!" Andy's must-have item to survive the queue is his beer bucket for ice.
Coming from Woodbury, Connecticut, USA, Sarah Cassidy-Seyarm has been to all the grand slams and loves being rewarded for being a crazy tennis fan by getting the best seats in the house. She fashioned her tennis ball hat in 2016 – the no. 1 Wilson ball on the top is signed by Federer. Her 4th time in the queue, Sarah's advice for those considering joining is to "embrace the whole experience, even the queue for the ladies bathroom, and have fun!"
Images above, from left-right: Federer fan and second in the queue, Monique Hefti; The Liverpudlian Andy Murray; Wimbledon-mad Sara Cassidy-Seyarm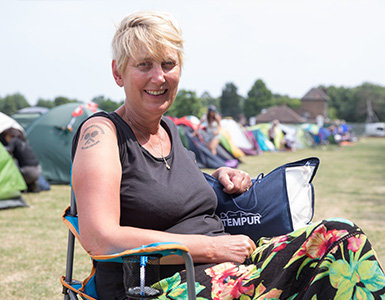 This year is the 39th queue experience for Ally Martin, 51, from Guilford. A dedicated Wimbledon fan, Ally first went to Wimbledon aged 12 with school, has been camping out since she was 16 and shows off her Wimbledon tattoo, which she got 21 years ago. Joined by her sister, son and son's fiancé, it's a family affair this year.
Image right: Queue pro, Ally Martin
For anyone else planning on joining #TheQueue over the coming week, Tempur has put together the following tips to help get the best from the experience this year:
Choose the right station. The Queue entrance is a five minute walk down Wimbledon Park Road from Southfields tube station; don't go to Wimbledon or Wimbledon Park if you want to avoid a longer journey laden with camping gear. You can view the Wimbledon Queue map here.
Get there early. For Centre Court or Court 1 you need to ideally be among the first 1,000 to guarantee your ticket.
Wait for your queue card and keep it safe! You may have to wait some time in the queue before you receive the queue card, however, don't be tempted to leave until you have it safely stashed away. It is the only thing that registers your place in the line and entitles you to get your tickets. Once you have been issued a queue card, it'll allow you to pop away from camp to stretch your legs, buy food, nip to the pub, or visit fellow queuers.
Bring the right sized tent. Whilst it's a great experience to be a part of, it's not a party, so don't bring a family sized tent or you won't be able to pitch it… Tent size is restricted to two person tents only.
Prepare for all weathers. It's July and the weather has been glorious, but it is England… Pack sun protection, sunglasses and shorts, but also waterproofs in case of a summer storm or downpour, and if it's sunny, don't let the daytime temperatures fool you. Fleeces, socks and blankets will help you get comfortably through the invariably chilly night time.
Other packing essentials. Torch (for night time toilet visits), small bag of toiletries and hand towel, wellies (if rain is forecast), compact picnic blanket, pack of cards, wireless phone charger.
Alcohol. Cans of G&T, Pimms or Prosecco are a packing essential, but this is Wimbledon and it's civilised so don't overdo it, as 1), drunk and disorderly behaviour is not tolerated and 2), you're only allowed one bottle of wine or two 500 ml cans per person once you get into the grounds.
Meals in #TheQueue. Once you have your queue card, you can mosey off to get food, but temporary absences from your place in The Queue are restricted to 30 minutes, so it's advisable to bring a picnic. You can also order a delivery, but make sure it arrives at the at the Wimbledon Park Road gate by 10pm. And don't forget to pack supplies for breakfast!
There are rules to abide by, including no BBQs, no loud music, no smoking or vaping and no anti-social or drunken behaviour. This is a very British queue after all… See here for the Wimbledon Queue full Code of Conduct.
Take cash. Cards are not accepted for the queue-on-the-day tickets.
Beware of banned items once in the grounds. Leave the selfie sticks, Tees brandishing political slogans, flasks and big camera lenses behind. You can find a full list of prohibited items here.
Prepare for an early start! Get an early night (stewards will be ushering you to bed around 10pm). Make sure you have all you need to get a good night's rest – ear plugs, travel pillow, warm bedding – and prepare for an early start. Many are packing up their tents from as early as 5am and if the noise doesn't wake you, you'll be woken by the stewards at around 6am.
As well as giving away pillows in Wimbledon Park (the team will continue to deliver comfort to those pitching up today), Tempur is offering the chance to win a mattress (worth up to £2,499) this Wimbledon season, regardless of whether you make it down to #TheQueue…
Wimbledon fans can enter by:
Showing or telling us how you're enjoying Wimbledon using our competition hashtag #GameSetNaps and tagging TEMPUR UK (Twitter & Facebook: @TempurUK; Instagram: @tempur_uk)
Following the TEMPUR UK profile that you enter on
Competition opens on Sunday 1st July and closes on Sunday 15th July. By posting your photo, tagging and following TEMPUR® UK and using our competition hashtag #GameSetNaps, you will automatically be entered into the prize draw. For full terms and conditions visit https://uk.tempur.com/gamesetnaps-terms-and-conditions.html
For more information on TEMPUR, visit www.tempur.co.uk
-Ends-
For further press information:
Jo Kendall/Julie Aguilera
Rooster PR
T: +44 (0)20 3440 8930
E: [email protected]
About TEMPUR
TEMPUR researches, develops, engineers, manufactures and distributes mattresses, pillows and other sleep products to improve the sleep experience worldwide.
TEMPUR mattresses and pillows are made from a formulation of the brand's proprietary pressure absorbing TEMPUR material, originally developed by NASA scientists in the 1970s to support and cushion astronauts during lift-off.
TEMPUR mattresses offer maximum quality, comfort, support, durability, value for money and aid a restorative night's sleep.
TEMPUR is the no.1 mattress brand in Europe for customer satisfaction, with 9 out of 10 customers claiming they would buy Tempur again.
TEMPUR products can be purchased direct via the TEMPUR UK website, from any of eleven TEMPUR brand stores and outlets, or from leading retailers including Dreams, John Lewis, Bensons for Beds, Furniture Village and Land of Beds.
Trusted and promoted by medical practitioners around the world, TEMPUR is the only mattress product recognised by NASA and certified by the Space Foundation. TEMPUR's Contour mattress is Good Housekeeping Institute Approved.
TEMPUR is a subsidiary of TEMPUR Sealy International Inc.
Follow TEMPUR: