You Wouldn't Believe This Luxury Spa is on a Cruise Ship
A new luxurious spa has launched, deemed to be a "revolution in relaxation." The new space is designed to be an unparalleled escape like no other and offers a number of industry firsts. But most surprising of all, it is a floating spa onboard a cruise ship.
Here, the experts at Cruise Nation shed light on this new space on board Celebrity Edge…
Celebrity Cruises has always been renowned for their fleet of ships which exude modern luxury. The Spa on Celebrity Edge offers 124 different treatments and therapies in 23 separate treatment rooms with over 31 expert spa therapists. On top of that, there are three brand new high tech treatments and eight distinct experiences in the SEA Thermal Suite.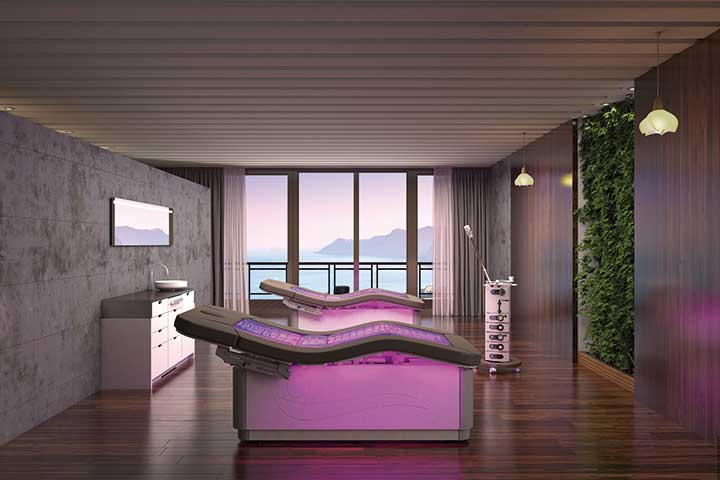 The Inspiration…
Celebrity Edge's Spa elevates relaxation from taking some time to yourself to a work of art. The designers were influenced by the forces of nature all around them: from the earth that launches the ships, to the air around them, and the vast waters that the ship cuts through. Creating something that brought together all this in harmony was key, and they did this by collaborating with world-renowned designer Kelly Hoppen, MBE.
Sea Thermal Suite…
The Spa is located on deck 14 and has 8 different areas to be explored by guests. At the very heart of this is the Sea Thermal Suite, home to heated tile loungers with panoramic views over the ocean, described as a playground for the senses, where you can relax pre- or post- treatment. Access to this area is also complimentary for guests staying in AquaClass accommodation.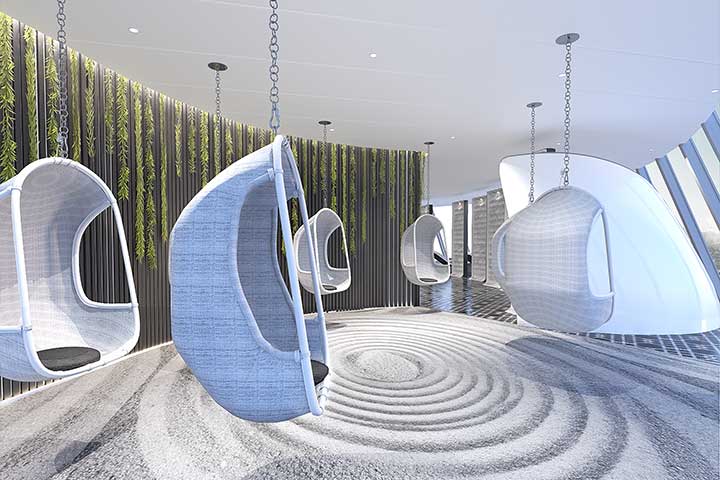 Different Zones…
The Float Room allows you to connect with the element of air by swinging into a meditative sleep in specially designed floating basket chairs that rock and sway gently with the motion of the sea beneath you. Here you can look out over views of the ocean through vast floor to ceiling windows.
While The Spa is credited for being sleek and modern, it is also inspired by age old traditions. The Hammam is one of these: a Turkish Bath inspired room filled with marble and mosaics where you can have body polish and soak treatments for relaxation.
The Infrared Sauna offers state of the art technology by using air heated by an infrared lighting system, which offers all the benefits of natural sun rays without the damage these can cause, to relieve any stress and release endorphins to really get you into the holiday mood.
Let your senses wander in the Crystalarium: a meditation aromatherapy room where natural healing energy pulses from the warming stone walls and amethyst crystal at its centre.
Therapies & treatments…
With well over 100 different treatments to choose from, guests at The Spa on Celebrity Edge are spoiled for choice! The Spa Wave MLW Amphibia table is the first of its kind onboard a ship. This is a table that is covered with water-filled cushions with colour therapy lighting that adapts to your body shape for the idea comfort experience.
Another couple of firsts are the WellMassage 4D table, which gives guests a deeper massage experience, and the MLX Quartz Table filled with warm crystals that can mould around the body, delivering an experience to release tension unlike any other.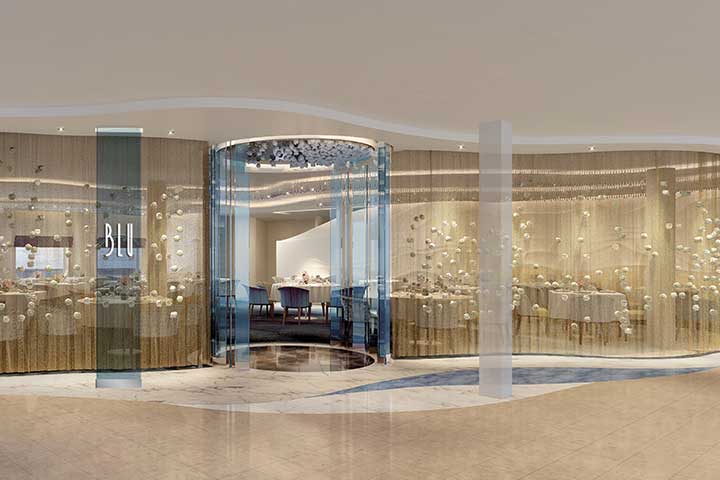 Healthy dining…
Not only is your fitness and mental health a top priority at The Spa on Celebrity Edge, your nutrition is key too. Your cruise can become a full health retreat with The Spa Café and Juice Bar where you can get refreshed and refuel after treatments and workouts. This offers fresh cold-pressed juices, nutritious salads and healthy meals.
Cruise Nation's holidays on the Celebrity Edge include a 12-night Caribbean and Bahama cruise from £1,299, a nine-night Fort Lauderdale cruise from £1,020 and an Italy, Spain and Monaco cruise from £1,579. For further information or to book visit www.cruisenation.com or call on 0800 073 6515.
-Ends-
For further press information, please contact:
Natalie Garland / Baillie Horwood
Rooster PR
T: 020 3440 8924
E: [email protected]
About Cruise Nation
Cruise Nation is an award-winning tour operator which aims to make cruising affordable for everyone, whether you're an established cruise passenger or new-to-cruise.
The Cruise Nation team has over 50 years' experience in the travel industry and pride themselves on creating cruise packages to an exciting range of destinations to suit all schedules, budgets and interests.
With their unique Smart Packages, customers can expect exclusive deals at unbeatable prices, including flights from regional airports and free hotel stays for more than just a cruise holiday.
For more information or to book your tailor-made cruise now, call the experts for free on 0800 408 0759 or visit www.cruisenation.com.