Keep Your Cool this Summer with Ecoair
With another hot spell forecast this week, some might be relieved to hear about the innovative Ecoair products that will bring respite from the heat (and humidity) this summer without requiring installation or breaking the bank.
NEW! Crystal – Portable Air Conditioner
Ecoair is proud to announce the launch of Crystal – a brand new portable air conditioning unit to help Brits through the heatwaves this summer.
With an impressive 9000 BTU (British Thermal Unit) of power, it effectively cools rooms of up to 26m2 with ease and consumes only 1010 kw/hour.
Creatively designed to be compact and yet retain all the power expected of a portable unit, its ergonomic design means it will fit effortlessly in the home or office.
Relatively lightweight, at only 26.5kg, and featuring easy glide castor wheels, Crystal is easy to manoeuvre between rooms and can be operated from a distance with a wireless remote control.
The unit has a filter to prevent dust and dander getting inside and an inbuilt dehumidification function with an extraction rate of 34 litres per day.
Following new regulations on the use of fluorinated greenhouse gases (F-Gases), it is also the first Ecoair product to use R32 refrigerant gas, which benefits from having minimal Global Warming Potential (GWP) as well as Zero Ozone Depletion Potential (ODP) offering peace of mind for environment conscious consumers.
Features:
Cool mode
Wireless remote control
Self-diagnosis
Auto fan mode
Electronic LED display
Easy glide castor wheels
Built in timer and auto restart functionality
Washable mesh filter
Sleep function
Currently priced at only £299.94 (while selected stocks last), the Ecoair Crystal is available to purchase via http://ecoairdirect.com
Ultra-quiet, Energy Efficient Pedestal Fans
Ecoair's low energy, high performance, ultra-quiet DC fans, offer up to 35 speed settings as opposed to the usual two or three, consume up to 70% less energy, and feature unprecedented low noise levels, from only 27dB.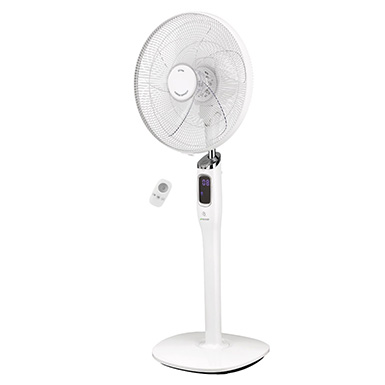 The AURA and Zephyr fans provide a more affordable alternative to portable air conditioning and are the perfect solution for the sporadic heatwaves typical of the UK summer.
Ideal for the home or office, they offer a sleek and modern design complemented by a multitude of practical features, including ultra-quiet 'Sleep Mode', a 'Nature Mode', which mimics the outside breeze using different fan wave patterns to enhance calm and relaxation, a special energy saving 'Intelligent Mode', which senses the temperature within your room and engages when this rises above 20 degrees, wide-angle oscillation, on-off timer, large backlit LED display with night function, and a convenient remote control.
DC powered fans receive direct current, which makes them much more energy efficient, running from 0.35 watts on an ultra-low speed, up to a maximum of only 27 watts on the highest setting (AC fans typically run at around 45 watts). So as well as providing a more environmentally friendly option, Ecoair's DC fans also help to lower household energy bills.
Currently priced from only £89.94 and available in black (AURA) and white (Zephr), Ecoair's DC fans are available to purchase via http://ecoairdirect.com
As well as heat, summer invariably brings high humidity, with warmer air carrying higher volumes of moisture. By helping to dry (and clean) the air in our homes in summer, a dehumidifier can remove damp or mould, reduce the risk of illness from viruses or bacteria, and also work wonders in alleviating seasonal allergies such as hay fever.
So for those who live in humid westerly coastal areas, suffer from damp anywhere in the home, or for hay fever sufferers, the launch of the most energy efficient and quietest dehumidifier on the market might be music to the ears, eyes, nose and wallet!
Arion 26L Ultra Low Energy Dehumidifier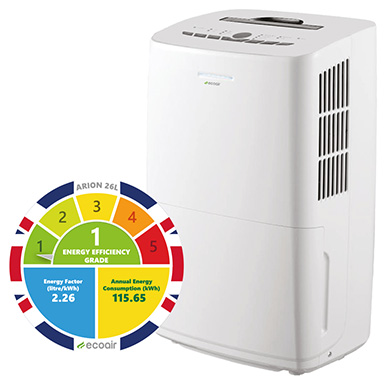 The Arion extends Ecoair's range of domestic compressor dehumidifiers.
Extracting up to 26 litres of moisture a day, this dehumidifier is the most energy efficient on the market, operating at only 257 watts.
Arion is powerful enough to dry the air of a six-bedroom house.
Boasting features such as an ultra-quiet setting, on/off timer and intelligent sensor to detect and display the humidity levels in your home, Ecoair's Arion is the perfect dehumidifier for a family. A huge 4.2 litre tank also means less time spent emptying water, whilst a child lock feature gives complete peace of mind in a busy family home.
Priced at £269.94 Ecoair's Arion is available to purchase via http://ecoairdirect.com
For more information on Ecoair or to view the full product range, please visit http://ecoair.org.
-Ends-
Notes to Editors:
Sally Fok, co-founder and MD of Ecoair, is available for comment or interview and can provide expert input or tips for features on air treatment.
Please contact us should you be interested in receiving product for review or for competition prizes.
We are not currently able to commit to paid-for or sponsored content.
For further press information, please contact:
Jo Kendall/Julie Aguilera
Rooster PR
T: +44 (0)20 3440 8930
E: [email protected]
About Ecoair
Launched in 2006, Ecoair is one of the leading suppliers of air treatment products in the UK and the #1 supplier of desiccant dehumidifiers. It is the driving force behind the introduction of desiccant dehumidifier technology in the UK and one of the first to bring desiccant dehumidifiers to the semi industrial market.
Ecoair boasts the largest range of desiccant dehumidifiers for the domestic market in the UK and is the only company currently to offer a 10L capacity desiccant dehumidifier for UK domestic use.
Providing the most honest and accurate product specifications, Ecoair is committed to bring products to market that give much better results than those of competitors.
Specialising primarily in dehumidifiers (desiccant and compressor), Ecoair also offers fans, air purifiers and air conditioning units (portable, wall mounted, multi split, window or ceiling cassette units).
With a dedicated R&D team, Ecoair has in the last 3 years invested heavily in improving the desiccant technology and specifications. Ecoair believes that all companies have a social responsibility to achieve sustainability. Many AC and dehumidifier products on the market still contain HFC gas, which is harmful to the environment. Ecoair's R&D is focused on working with sustainable sources to eliminate the need for HFC gas in its products.
For more information, visit http://ecoair.org, or follow Ecoair (@EcoairGB) on Facebook, Twitter and Instagram. To purchase an Ecoair dehumidifier, go to http://ecoairdirect.com.