Destination Unknown Becomes More Mysterious as srprs.me Goes Global
New travel packages broaden travel company's offering.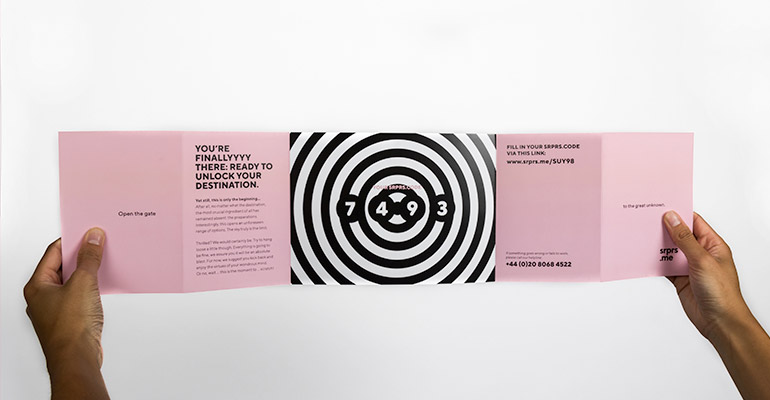 Having recently unveiled a mature, fresh new look, destination unknown travel company srprs.me has now added a range of extra booking options, giving travellers the choice to customise their level of accommodation and extend travel beyond Europe.
Following a successful first year in the UK and four years in business across Europe, srprs.me's trip booking system has previously catered predominantly to the 18-35 year-old market – and quite successfully with more than 75,000 travellers so far. The new company identity – now live on the srprs.me website – will appeal to a broader range of travellers, from the price conscious student, to the young honeymooners, to the family travelling together.
The booking process remains simple, but a new interface means users will find they have a longer list of filters that will ensure their trip meets their needs. For example, having originally focussed on European city breaks, the travel company is now offering travellers the opportunity to discover destinations further afield by introducing an option that excludes European destinations entirely*.
Accommodation options have also changed, as travellers can now select from a wider range of lodging standards from hostels to five star boutique hotels**. And add-ons such as checked-luggage and breakfast at the hotel can now also be booked too.
"We have had great success with the 18-35 year-old market but we want everyone, of all ages and demographics, to embrace the srprs.me approach to travel", says Raymond Klompsma, co-founder and CEO of srprs.me.
"Since day one, our aim has been to create amazing travel experiences – wanderlust adventures that burst with spontaneity and excitement", Klompsma continued, "we want to encourage more people to embrace the srprs.me way of thinking but in order to do so, we understand we need to still put certain decisions in the hands of the traveller so that they have the best experience possible once they arrive in their destination."
How it works (click for video)
Using the online platform, specify how long you want to be away for (3-5 days for Europe, 7 days for worldwide), your chosen dates, a departure point & favoured flight time, and your preferred type of accommodation
Set your budget and note up to three destinations you'd prefer not to travel to for a standard city break, or one destination if you opt for a certain region of Europe
Receive your dedicated page and srprs.consultant who personally selects the ideal destination, flights and accommodation to deliver the most memorable experience
Seven days before departure, you'll receive the weather forecast for your destination so that you can pack appropriately
A couple of days before you go, a scratchcard will arrive in the post. This reveals a code, which is your key to discovering your destination
Scratch off the card at the airport, input the code into your phone and surprise! You're going to…
srprs.me was founded by four Dutch entrepreneurs in Amsterdam in 2014. The company's network of travel consultants ensure accommodation is always of a high standard, in an attractive location and verified with reputable feedback.
For more information or to book your next srprs.trip, visit www.srprs.me
To see how the new brand looks, the following video has been created: https://vimeo.com/264029963/3690dc2093
-Ends-
Notes to Editors:
*Outside of Europe trips have to be for a minimum of seven days
**Breakdown of accommodation options as follows:
Shared > Hostel, shared bedroom, shared bathroom > Always 8+ on independent review sites
Standard > Hotel, B&B or apartment up to 3*, private bedroom, private bathroom > Always 8+ on independent review site
Comfort > Hotel, B&B or apartment 3* or 4*, private bedroom, private bathroom > Always 8.5+ on independent review sites
Premium > Hotel, 5*, private bedroom, private bathroom, starting from deluxe/superior room or similar > Always 9+ on independent review sites
How it works: https://vimeo.com/263931826/722b20d7c5
For further press information contact:
Rachel Sewell/Katie Raby/Stuart Fyfe
Rooster PR
T: +44 (0) 20 3440 8930
E: [email protected]
About srprs.me
Founded in April 2014, srprs.me is an exciting new travel company on a mission to bring back a sense of wonder into the world by making people travel without expectations.
srprs.me offers surprise City Breaks from 6 UK airports and 1 Irish airport. Travellers simply choose their dates, budget, type of accommodation and select optional extras (if desired) and experienced srprs.me consultants will craft a quality trip.
With their countdown clock ticking, travellers get nothing but a weather forecast and airport arrival time and discover their location via a personalised srprs.me card with scratch off code prior to departure.
Headquartered in Amsterdam and with more than 60 employees, srprs.me currently operates across The Netherlands, Belgium and the UK and has already helped over 75,000 people to embrace the unknown.
While surprise trips have previously been associated with undesirable locations and poor quality accommodations, srprs.me ensures accommodation is always of a high standard, in a convenient location and chosen based on reputable feedback.
For more information visit www.srprs.me / www.facebook.com/srprsmeUK, www.twitter.com/srprsme / www.instagram.com/srprsme