Travel Agents Get a Taste of St. Kitts and Nevis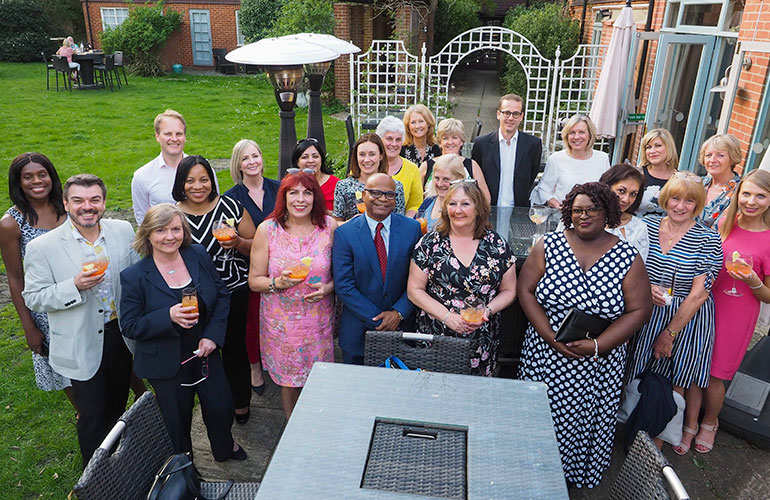 The Minister of Tourism of St. Kitts & Nevis, joined by the Tourism Authorities of both islands, hosted a special dinner for travel agents on Thursday 19 April at The Elephant Hotel in Pangbourne, Berkshire.
The event was attended by owners and senior managers of 15 travel agencies including Charter Travel, Not Just Travel, Farewise Travel, Toucan Travel, Travel Smile, Travelabout and Triangle Travel, as well as homeworking agents from Travel Counsellors and Hays Travel.
Also in attendance were hotel partners Julie York from the Park Hyatt St. Kitts and Juliet Lodde from Nisbet Plantation in Nevis, as well as Marc James from British Airways, the islands' key UK airline partner.
Agents were welcomed by the Minister of Tourism, Hon. Lindsay F.P. Grant, who spoke about the islands' rich history, the variety of authentic experiences and the ease of travelling between both islands for visitors to have a twin-centre holiday., who spoke about the islands' rich history, the variety of authentic experiences and the ease of travelling between both islands for visitors to have a twin-centre holiday.
Throughout the event, agents were given updates on St. Kitts and Nevis, including the addition of the Park Hyatt St. Kitts, which opened in November 2017, and the newly-announced Six Senses and Ritz Carlton properties, which are due to break ground in St. Kitts in 2018.
A twin-centre accommodation prize was won by Caroline Piccaver of Travel Counsellors – a four-night stay at Park Hyatt St. Kitts and three-night stay at Nisbet Plantation Beach Club.
Caroline said: "I was delighted to attend the event and it was such a surprise to win the prize on the night. Having heard such great things about St. Kitts and Nevis during the event I can't wait to go out there and see the islands for myself."
The event highlights the Tourism Authorities' continuing commitment to the UK travel trade and marked the start of quarterly agent events, with further events due to take place in July and October this year.
Minister Grant said: "It is testament to the strength of support from our travel agents that we are able to continue hosting these events to gain interest from the UK travel industry. The island goes from strength to strength each year and I was delighted to speak about our recent successes and upcoming plans. The opening of Park Hyatt St. Kitts last year was much anticipated and has given the island lots of momentum."
Agents learnt about St. Kitts and Nevis' unique culture, food scene and upcoming events. This year sees St. Kitts host the 22nd Annual St. Kitts Music Festival in June, with headliners including Lauryn Hill and Patti LaBelle, and the fourth annual St. Kitts & Nevis Restaurant Week in July. Each year the Restaurant Week celebrates a different local produce, highlighting plantain this year.
-Ends-
For further press information, please contact:
Natalie Garland/Nicole Lovett
Rooster PR
T: +44 (0)20 3440 8930
E: [email protected]
About St. Kitts
St. Kitts is the authentic, quintessential, year-round Caribbean destination for the discerning, experienced traveller. Intoxicating unspoilt natural beauty, sunny skies, warm waters, and white sandy beaches combine to make St. Kitts one of the most seductive spots in the Caribbean. Located in the Eastern Caribbean, the island is easily accessible for British travellers with twice-weekly British Airways flights from London Gatwick (with a short stop in Antigua).
Following the passage of Hurricanes Irma and Maria, St. Kitts & Nevis thankfully sustained minimal damage and the destination is welcoming visitors. The St. Kitts Tourism Authority continues to keep those impacted by Irma and Maria in their thoughts and prayers. The Caribbean Tourism Organization has activated its CTO Relief Fund to help families and countries rebuild after hurricanes, with monies raised being sent directly to CTO-member destinations affected by the catastrophic storm. For more information or to donate, visit www.gofundme.com/hurricane-relief-fund-CTO.
For more information, go to www.stkittstourism.kn, www.facebook.com/StKittsTourism, www.twitter.com/StKittsTourism or www.instagram.com/stkittstourism.