Appeal Launched for Three-Year-Old Girl Given Just One Day to Live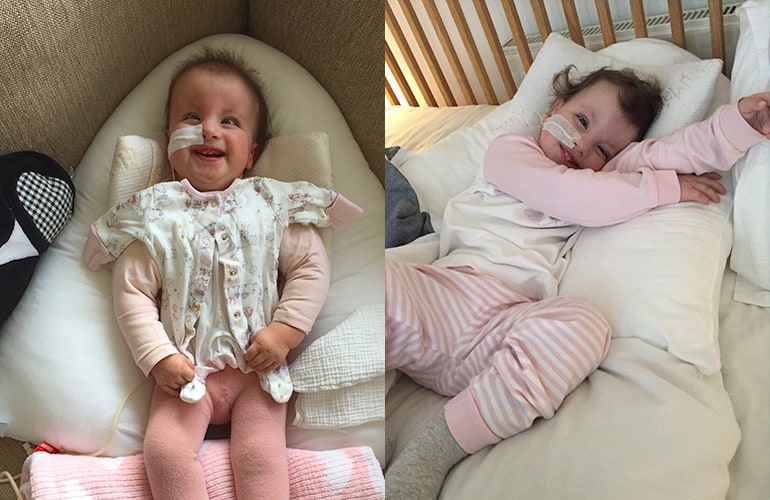 A HEARTFELT JustGiving crowdfunding campaign has been launched for a gorgeous little girl who was born with an extremely rare genetic disorder called Edwards Syndrome and was only expected to survive for one day.
Phoebe Sykes from Portsmouth who is now three-years-old, has remarkably defied all the odds but, unfortunately, will never be able to walk, talk, sit-up unaided, or taste real food and needs constant care by her parents Emily and Sam Sykes.
Her doting uncle, Henry Moore, (also from Portsmouth) who set up the JustGiving page said: "Phoebe enriches the lives of all that meet her. She is happy and communicates with anyone and everyone but to make life as comfortable as possible we now really need to raise money for specialist equipment which is expensive.
"For example, a car seat, with an insert shaped to fit Phoebe is over £1000; a pushchair that will allow Phoebe to sit up is close to £3000, and a special bath seat to support her is £300. As she grows, God willing, these will need to grow with her.
"The care provided to Phoebe, and her mum and dad, by the many good people of the NHS is exceptional – we do not have the words to adequately express the family's gratitude for all that they do. But there is a financial limit to what they can provide, and we respect that which is why we have launched this appeal.
"As part of my birthday celebrations happening in late April, I have also organised a raffle to raise money for both Phoebe and Ickle Pickles children's charity. All donations regardless of the amount will receive one ticket entry to the raffle happening on 21st April. Prizes include aa Apple HomePod, Apple AirPods, Moët Chandon Champagne.
"During the time Phoebe spent in neonatal intensive care, Ickle Pickles were able to provide specialist equipment and support throughout, which is why we're dedicating 50% of all raised to help their continued work with other families in our position."
Edwards' syndrome, also known as trisomy 18, is a rare but serious genetic condition that causes a wide range of severe medical problems. Sadly, most babies with Edwards' syndrome will die before or shortly after being born.
Some babies with less severe types of Edwards' syndrome, such as mosaic or partial trisomy 18, do survive beyond a year and, very rarely, into early adulthood. But they are likely to have severe physical and mental disabilities.
Each cell in your body normally contains 23 pairs of chromosomes, which carry the genes you inherit from your parents. But a baby with Edwards' syndrome has three copies of chromosome number 18, instead of two. The presence of this extra chromosome in cells severely disrupts normal development.
Edwards' syndrome is rarely inherited and is not caused by anything the parents have done. The development of three copies of chromosome 18 usually happens at random during the formation of either the egg or sperm.
As this happens randomly, it's extremely unlikely for parents to have more than one pregnancy affected by Edwards' syndrome.
To support the appeal, please visit:
https://www.justgiving.com/crowdfunding/pheebs-icklepickle
For further press information, please contact:
Jane Eggleton /Natalie Garland
Rooster PR
T: +44 (0)20 3440 8924
E: [email protected]
About JustGiving
JustGiving (a Blackbaud Company) is the world's leading social platform for giving, enabling over 22 million people to raise over $4.5 billion for over 26,000 charities since launching in 2001.
As a tech-for-good company, JustGiving develops world-class technology and innovative tools to fulfil its mission to connect people with the causes they care about. By making giving more simple, social and rewarding, JustGiving helps all causes, charities and people in need to reach more people and raise more money.
For more information, visit www.justgiving.com.