Adding 'Lagom' to Your Home
Embrace the Swedish trend of achieving a more balanced lifestyle, with tips on bringing 'Lagom' into your home from Contura, Europe's leading wood burning stove company.
The Swedish term "lagom" (pronounced lar-gom) means 'just the right amount'; 'not too much, not too little'. It comes from the phrase "lagom är bäst" meaning "the right amount is best", and is all about achieving balance, moderation, sustainable living, watching spending, and being content with what we've got.
Lagom is not just about lifestyle; it extends to our homes as well. A balanced home means living sustainably, creating less waste, cutting down on clutter and embracing all things natural; from plants to light. In short, embracing lagom will lead to greater wellbeing and happiness at home, whilst benefitting the environment and your bank balance too.
Catharina Bjorkman, lagom expert of Swedish wood burning stove company Contura, has devised a handy guide to help Brits achieve lagom in the home.
Embrace balanced colours
Your home should be a sanctuary, a place to unwind, and choosing a soothing colour scheme – cool greens, calming blues and pale or pastel colours – encourages us to relax and regenerate. Try pairing white or grey walls and plain wooden floors with accents of colour from cushions, lamps and rugs for a pared-back Scandi style.
Remember: less is more
A cluttered home is a no-go when it comes to lagom. You need a space that balances and uplifts and endless piles of laundry, stacks of old magazines and clutter isn't going to cut it. Take inspiration from Marie Kondo's book, 'The Life-changing Magic of Tidying Up,' and make time to have a proper clear-out. Work room by room and watch your home transform, the result will be a more pleasant place to spend time, and you will feel more refreshed and happy as a result.
Add greenery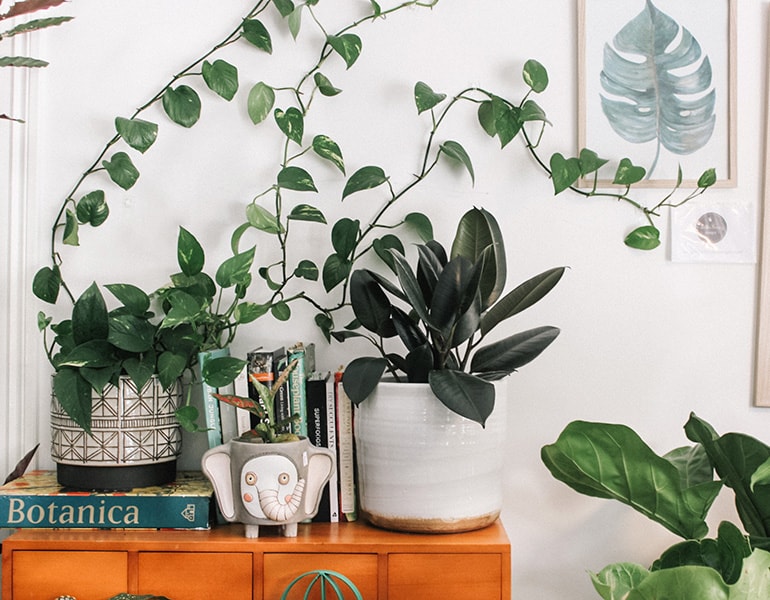 Plants are an inexpensive yet simple way to bring the outdoors in and add a touch of nature to your home. They also brighten up living spaces and help keep the air clean. Aloe vera, spider plants and cheese plants are easy to care for. Or add a selection of cacti with a mixture of metal and terracotta pots. For a splash of colour, try adding an orchid or a window box of flowers to herald in the spring.
Let there be light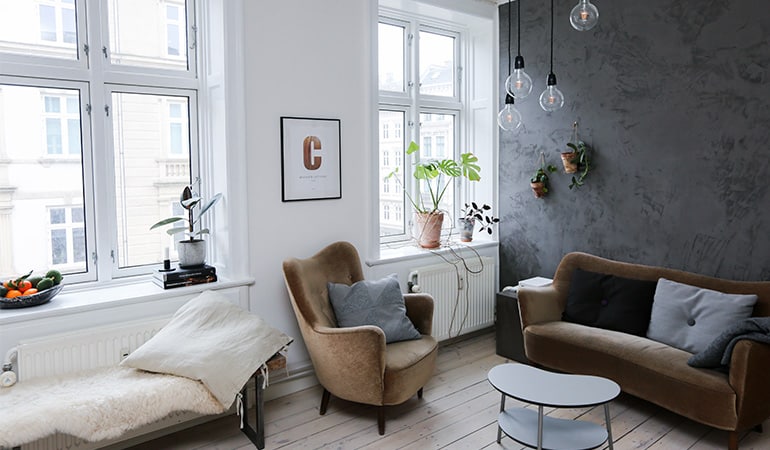 Try to use less energy in your home by making the most of natural light. Ensure window sills are kept clear of clutter and move any furniture blocking the sun's rays. Dark curtains can also be switched for lighter ones, or removed entirely, in time for summer. It's also worth switching to LED lights which use 85% less energy than incandescent bulbs, making them super-efficient and sustainable.
Recycle and reuse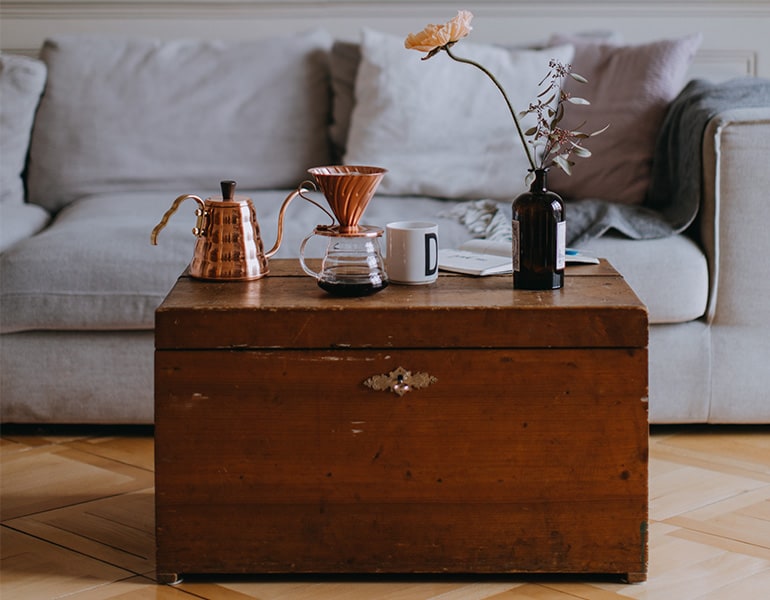 Being frugal and spend-thrift is also a part of lagom. Your furniture needn't be brand spanking new; you can unearth some real second-hand treasures in charity shops or from eBay, Gumtree and Preloved that will add character and charm to a home. Upcycle projects can provide huge gratification. Opt for natural and sustainable materials where possible, such as linen, cotton, wool and wood, and consider how the items have been produced before buying – the more eco-friendly and sustainable, the better.
Invest in key pieces
Lagom is centred on frugality, but it's also about spending wisely and choosing investment one-off pieces, rather than updating your home every season. Lagom goes against a throwaway culture and encourages us to be selective in what we choose to put in our homes, so pick items based on their practicality and function as well as their beauty. It's worth spending slightly more on larger home items such as sofas, dining table, wardrobes and sideboards to ensure better quality, as these will last a lot longer and save time and money spent on purchasing poor quality items more frquently.
For more information on Contura, visit www.contura.eu
-Ends-
Notes to editors:
Rooster PR will coordinate comment, interview and profile opportunities for Contura UK Country Manager, Phil Wood. The Contura PR team will also arrange visits to the nearest Contura Design Centre dealerships or the Contura showroom in Doncaster to see the product range.
For further press information:
Jo Kendall/Julie Aguilera
Rooster PR
T: +44 (0)20 3440 8930
E: [email protected]
About Contura
Contura is Europe's leading manufacturer of wood burning stoves, offering an extensive range of classic and contemporary wood burners; from traditional insert stoves suitable for existing fireplaces, to freestanding statement models made with innovative materials such as soapstone.
Starting at £1,250, Contura stoves are premium yet affordable. Award winning, timeless Swedish design means the products complement or enhance any style of home, whilst also offering outstanding performance, maximum efficiency, practicality and ease of use.
Designed and assembled at the factory located in Markaryd, Sweden, and manufactured to the highest standards, Contura stoves are highly energy efficient, offering powerful convection, superior combustion technology and clean burning systems. Currently, 75% of Contura stoves are DEFRA Clean Air Act exempt and thus approved for use in Smoke Control Areas.
Contura stoves can be purchased through a network of 165 independent retailers nationwide.
Contura is part of the NIBE group, a Swedish manufacturing company producing world class solutions in sustainable energy across Europe, North America, Asia and Australia.
Contura is a founding member of the Stove Industry Alliance (SIA) in the UK.
For more information please visit www.contura.eu