First in Series of Four Flight Centre Events Helps Raise £66,000 for Charity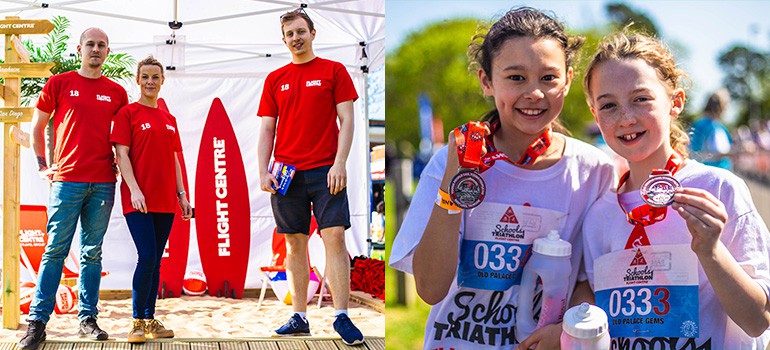 The annual Flight Centre Schools Triathlon has returned for its third year, kicking off a series of events in the hopes of becoming the schools' equivalent of the London Marathon.
Flight Centre is pleased to announce the Flight Centre Schools Triathlon has raised £66,000 (with totals still rising!) after the first in a series of four school events.
On Sunday 22 April, more than 200 children from the local area took place in the triathlon event at Royal Russell School, Croydon, raising £66,000 for Restless Development.
The Flight Centre Schools Triathlon is a series of four events encouraging children aged 7-13 to participate in triathlons in a safe and non-competitive environment while raising money for charity.
Further events are due to take place at Bradfield College, Berkshire, Cranleigh School, Surrey, and Marlborough College, Wiltshire, in May, with participants aiming to raise £300,000 in total.
As well as sponsoring the event, Flight Centre is offering participants the chance to win a nine-night family holiday to California for a family of four. Everyone who takes part will be entered into the draw and the winner will be announced at the final triathlon event, at Marlborough College on 20th May.
The holiday includes flights to LA, Disney Hopper tickets, a stay in Palm Springs, an Indian Canyons Jeep and Hiking Tour, three nights in San Diego, a Family Surf lesson on Huntington Beach and more.
James Thompson, headmaster of Royal Russell Junior School, said: "'We are proud to be hosting this event for the third year. Royal Russell was the first school to host this Triathlon, working closely with Restless Development, and we are delighted that it has become a popular regular event in our school calendar.
"The Triathlon is accessible for children of different ages to participate in a non-competitive environment, from our talented, athletic children to our younger children, doing the bike course on stabilisers! It's all about taking part, keeping fit and having fun, with an underlying message of doing something to help others in greater need. Our children are very creative in their fundraising ideas and really embrace the sense of charity and community that we promote as a School."
Since 2016 more than 3,500 children between the ages of 7-13 have taken part and raised nearly £400,000 for charity.
Around 50 prep schools from local areas will take part and put together teams to run, swim and cycle at the triathlon events.
The Flight Centre Schools Triathlon supports Restless Development, an international development charity that puts young people at the very heart of dealing with the issues that affect them, their communities, and their countries. The events will raise funds for Restless Development and the chosen charities of the host and participating schools.
Jim Sewell, Trustee of Restless, said: "The Flight Centre Schools Triathlon has gone from strength to strength each year and it is brilliant to see the support from the children, parents and partnering schools alike. Their efforts will help thousands of children in developing countries access health education and life skills which will transform their lives. The children have really understood that they can make a difference and the combination of sport and charity in a children's event has been incredibly powerful. I'm so excited about the potential for this event – we see it becoming the schools' equivalent of the London Marathon."
Chris Galanty, Managing Director of Flight Centre Europe and South Africa, said: "It's a privilege to be the lead sponsor of an event that encourages young people to both get active and think about the needs of others. Flight Centre and Restless Development are a natural fit; Restless Development is all about young people trying to change the world and our purpose is to open up the world for those who want to see it."
In 2016, two schools – Royal Russell School in Croydon and Bradfield College in Berkshire – took part in the first ever Flight Centre Schools Triathlon, raising an amazing £110,000. With four schools taking part in 2017, and each participant committing to raise a minimum of £50. The charity plans to add many more Triathlons over the next few years and aims to raise £1 million by its fifth year.
Specialising in Tailor Made holidays and Premium and Round the World Flights, Flight Centre is one of the world's largest travel retailers. It has over 80 stores throughout the UK, with new stores opening regularly.
Any school interested in taking part in or hosting a 2019 Triathlon event should contact Jim Sewell at: [email protected].
-Ends-
For further press information, please contact:
Natalie Garland/Emma Arthurs
Rooster PR
T: +44 (0)20 3440 8923
E: [email protected]
About the Flight Centre Travel Group (FCTG):
The Flight Centre Travel Group (www.fctgl.com) is one of the world's largest travel companies with over 18,000 staff and 2500 stores across its leisure, corporate and wholesale businesses. The company's turnover in 2014/2015 financial year was £9 billion. After starting with one shop 30 years ago, FCTG has enjoyed remarkable growth and is one of the top 100 publicly listed companies on the Australian Securities Exchange.
All specialist brands under the FCTG Corporate banner offer 24/7 support and the benefits of a blended offline/online solution; global negotiation strength and unique and superior business travel products.
About Flight Centre
The team at Flight Centre are experts when it comes to travel and are committed to providing customers with a great experience. The company's success comes down to its people, experienced Travel Experts who are passionate about finding their customers the holiday they want, for the price they want.
Since establishing the first Flight Centre store in 1995, the business has grown its team of Travel Experts to include over 80 stores within the United Kingdom, with new stores opening regularly. Worldwide, Flight Centre has an amazing 2,500 stores across the United Kingdom, Australia, New Zealand, South Africa, United States, Canada and more, making Flight Centre one of the largest and most successful independent travel retailers in the world. With its global reach and close relationships with the world's best travel providers, the company is able to provide competitive travel deals.
The Flight Centre team can organise anything from flights to holidays, hotels, car hire, tours, travel insurance, visas and more. They also have dedicated First and Business Class flight teams and Business Travel teams to help with any specialised travel needs.
For more information go to www.flightcentre.co.uk, www.facebook.com/FlightCentreUK, www.twitter.com/flightcentre_UK or www.instagram.com/flightcentreuk.
For further press information about Restless Development, please contact:
Tessa Murray
Restless Development
T: +44 (0)7768 740907
E: [email protected]
About Restless Development
Restless Development is a global agency for youth-led development. It supports young people to demand and deliver a just and sustainable world for all. This global agency is run out of strategic hubs in ten countries across Africa, Asia and in the UK and USA, with a wider network of partners across the world.  It works to make sure young people have a voice, a living, sexual rights, and are leaders in preventing and solving the world's challenges. Restless Development has been working with young people since 1985 and its work is led by thousands of young people every year. We listen to young people, our work is led by young people and together we help young people make lasting change in their communities and countries
For more information go to www.restlessdevelopment.org, www.facebook.com/restlessdev or www.twitter.com/restlessdev.