London Fire Brigade Firefighters Set to Run Marathon to Help Survivors of Grenfell Tower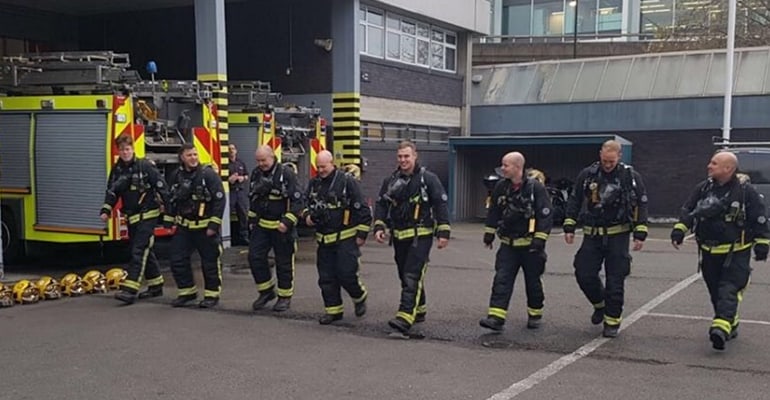 A HEARTFELT JustGiving crowdfunding campaign has been launched by a group of London Fire Brigade firefighters who hope to raise £50,000 to help support the survivors of the Grenfell Tower Fire and the firefighters who attended the blaze.
The nine firefighters, from the A21 Paddington Red Watch, will be running the 2018 Virgin London Marathon, on the 22nd April, in full firefighting gear, including breathing apparatus. This means they will be wearing an extra 30kgs of weight (which is the equivalent of each firefighter carrying a 9-year-old child on their back.)
The Paddington Red Watch firefighters were among some of the first crew to arrive on the scene of the Grenfell Tower fire on 14th June 2017, when 71 people are now known to have died in the worst residential fire the brigade had ever seen.
Firefighter Martin Gillam from Paddington fire station said: "As firefighters who attended the incident the aftermath has been a challenging time for us all, both physically and emotionally. As a watch we wanted to do something extra to raise money for the victims and families of the Grenfell Tower fire. Alongside The Firefighter Charity who have offered ongoing support to the firefighters who have suffered with issues with injury or PTSD following the fire.
"We're passionate about making sure money goes to the people who need it most so we're also fundraising for two small charities, the Harrow Club and the Rugby Portobello Trust, which are dedicated to supporting local people in the Grenfell community.
"Any support you can offer, no matter how small, will be greatly appreciated and we will make sure it goes directly to the victims and families of the Grenfell Tower community with the help of our chosen charities – together with The Firefighters Charity."
To support the appeal, please visit:
https://www.justgiving.com/crowdfunding/a21run4grenfell
-Ends-
For further press information, please contact:
Jane Eggleton/ Natalie Garland
Rooster PR
T: +44 (0)20 3440 8924
E: [email protected]
About JustGiving
JustGiving (a Blackbaud Company) is the world's leading social platform for giving, enabling over 22 million people to raise over $4.5 billion for over 26,000 charities since launching in 2001.
As a tech-for-good company, JustGiving develops world-class technology and innovative tools to fulfil its mission to connect people with the causes they care about. By making giving more simple, social and rewarding, JustGiving helps all causes, charities and people in need to reach more people and raise more money.
For more information, visit www.justgiving.com.
The Harrow Club provides local young people with accessible and high quality opportunities, enabling them to maximise their life chances and to enhance their personal development. Following the Grenfell Tower fire they have worked tirelessly to support the areas younger generation and offer a range of activities for all young people.
Charity No.1054757 http://harrowclubw10.org
The Rugby Portobello Trust has been delivering services to the local community for over 15 years as RPT and over 100 years under other names. They continue to support the rehousing of residents following the Grenfell Tower fire and also offer a range of services from parenting support to a community cafe.
Charity No.1100143 http://rugbyportobello.org.uk
The Firefighters Charity actively supports firefighters in need. Whether injured, ill or in need of psychological support to come to terms with the life and death situations we face on a daily basis, they exist to support the everyday heroes of the UK fire community.
Charity No.1093387 https://www.firefighterscharity.org.uk