Crowdfunding Campaign Launched for Young Girl with Brain Tumour Just Millimetres Too Big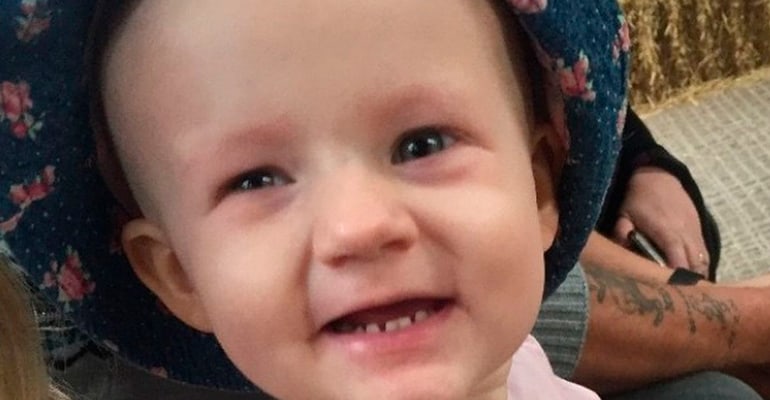 AN URGENT JustGiving crowdfunding campaign has been launched to help fund life-saving Proton Beam Therapy for a little girl who has missed out on NHS treatment because her brain tumour is just 'a couple of millimetres' too large.
Two-year-old Bodie McNulty, from Rochdale, originally had a brain tumour and cyst so big it filled nearly a fifth of her skull but major brain surgery removed much of the mass and the family were confident that treatment for the small remainder left on her brain stem would be funded by the NHS and were preparing to go to Florida.
However, recent MRI scans (only 4 weeks ago) revealed a previously unnoticed mass which is considered part of the original tumour and not new growth and means Bodie's remaining tumour now exceeds the size requirements for NHS treatment for Proton Beam Therapy, by a few millimetres.
Her mother Lauren Thornton said, "We are now faced with the agonising choice of having to self-fund life-saving Proton Beam Therapy, not currently available in the UK, or give her conventional Photon Radiotherapy which we believe would cause more long term damage to Bodie as it also hits healthy brain tissue."
Bodie started with symptoms of sickness and constant tiredness which rapidly progressed into her losing the ability to crawl, sit up or even support her own head. The sixth time the family arrived at their local A&E department a locum doctor checked the reflexes in her legs and suggested an ultrasound of her brain. This revealed 'an abnormality' and Bodie was transferred by ambulance to Royal Manchester Children's Hospital, who then rushed her for an MRI scan and told the family the heart-breaking news that she had a brain tumour big enough to occupy one fifth of her skull.
Lauren continued: "Bodie's first surgery was on New Year's Eve to relieve pressure in her skull and four days later she had further brain surgery to remove as much of the tumour as possible. Sadly after nine hours the Neurosurgeons could only manage to safely remove approximately half of the tumour.
"Two weeks after the surgery we were given Bodie's official Cancer diagnosis, she has a Grade 3 Anaplastic Posterior Fossa Ependymoma. Bodie has endured 12 months of Chemotherapy which has worked far better than her consultant had previously thought it would, she has also had two further surgeries in February 2018. The small remainder of the tumour is inoperable as it is in her brain stem."
"Thank you so much for taking the time to read Bodie's story, if you can help us in any way it would give Bodie a better chance at beating her Cancer and living a full life."
To support the appeal, please visit:
https://www.justgiving.com/crowdfunding/protonforbodie
-Ends-
For further press information, please contact:
Jane Eggleton/Natalie Garland
Rooster PR
T: +44 (0)20 3440 8924
E: [email protected]
About JustGiving

JustGiving (a Blackbaud Company) is the world's leading social platform for giving, enabling over 24 million people to raise over $5 billion for over 26,000 charities since launching in 2001.
As a tech-for-good company, JustGiving develops world-class technology and innovative tools to fulfil its mission to connect people with the causes they care about. By making giving more simple, social and rewarding, JustGiving helps all causes, charities and people in need to reach more people and raise more money.
For more information, visit www.justgiving.com.