King Ramses II Statue Moves to New Home at Grand Egyptian Museum
11m high figure stands in the new museum's grand entrance hall.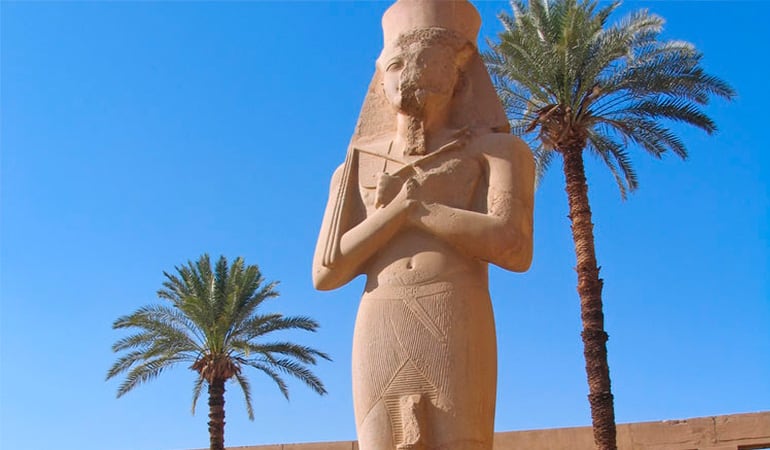 Cairo: The colossal 11 metre high statue of King Ramses II – crafted 3,200 years ago and weighing 75 tonnes – today moved to its new permanent home in the grand entrance hall of the Grand Egyptian Museum, opening in November.
The first artefact to be put in position in the long-awaited new museum, the figure of Ramses II will be one of 100,000 relics housed within its walls when it officially opens later this year. Additional facilities will open in the coming years, with the last due to open in 2022.
Designed to be an architectural masterpiece, the founding stone of the museum was laid in February 2002, with the opening in November to include the grand Atrium, the Grand Staircase and the Tutankhamun Hall.
Hailed as one of the most powerful and influential rulers of ancient Egypt, Ramses II was the third pharaoh of the Nineteenth Dynasty of Egypt, taking the throne in 1279 BC and ruling for 66 years until his death in 1213 BC. Known for his architectural endeavours, most notably the construction of the Ramesseum and the temples of Abu Simbel, Ramses II's time in power saw the creation of more monuments than any other ancient Egyptian pharaoh.
The statue, which was first discovered at Mit Rahina archaeological site in 1820 by the Italian adventurer Giovanni Caviglia, has now been moved four times to various locations across the country. These include Ramses Square in Cairo in 1955, under late president Gamal Abdel Nasser and the headquarters of the Grand Egyptian Museum in 2006, when former Minister of Culture Farouk Hosni called for the move to protect the monument from pollution.
The Grand Egyptian Museum is sited on 120 acres of land approximately two kilometers from the Giza pyramids and forms part of a new master plan for the plateau. For more information visit http://gem.gov.eg/
-Ends-
For press queries please contact:
Stuart Fyfe/Rachel Sewell/James Brooke
Rooster PR
T: +44 (0) 20 3440 8930
E: [email protected]
About Egypt
Located in the northeast corner of Africa on the Mediterranean Sea, Egypt is placed at a crossroad between Africa, Asia and Europe. With colossal ancient monuments, thousands of years of history, expansive desert landscapes, the world's longest river and the stunning Red Sea Riviera resorts, Egypt offers a wealth of wonders to discover.
For more information, please visit: www.egypt.travel / www.gotoegypt.org, or check out the new UK Facebook page at www.Facebook.com/LoveEgyptUK