St. Kitts Welcomes the Caribbean's First Park Hyatt Hotel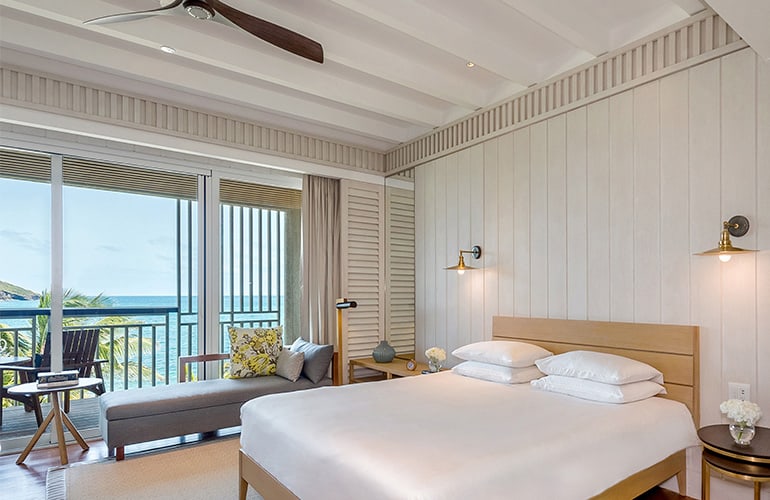 London, UK, November 2017: St. Kitts is pleased to welcome the Park Hyatt St. Kitts Christophe Harbour, the Caribbean's first Park Hyatt hotel.
Featuring the first Miraval Life in Balance Spa in the Caribbean, the resort officially opened on Wednesday 1st November on the island's southeast peninsula and brings a new level of luxury to St. Kitts' expanding tourism product.
"The debut of Park Hyatt St. Kitts Christophe Harbour is a historical occasion for the island," said Minister of Tourism, International Trade, Industry and Commerce the Hon. Mr. Lindsay F.P. Grant. "This elegant and sophisticated property brings the unparalleled Park Hyatt experience to St. Kitts as the brand's first hotel in the Caribbean, which is a welcome addition to our existing accommodations product and to our overall island community."
Racquel Brown, CEO of the St. Kitts Tourism Authority, added: "We are very pleased that the Park Hyatt St. Kitts Christophe Harbour has opened as it increases the island's appeal among those discerning destination travellers seeking experiential getaways who represent a key segment of our visitor market."
Spanning the secluded beach of Banana Bay at the foot of the island's lush rolling hills, the 126-room resort will enable guests to discover St. Kitts through sophisticated design, art, culinary experiences and immersive excursions.
Home to three signature restaurants, two pools, a destination resort spa and wellness sanctuary, and indoor and outdoor event spaces, the resort introduces the Park Hyatt experience to the Caribbean.
All 78 rooms and 48 suites overlook the golden sandy beach and exceptional vistas greet guests at every turn. Each room showcases views of the Caribbean Sea and islands beyond, with luxurious touches such as private balconies and terraces, local artwork, rain-showers and deep soaking tubs. Premium suites feature private rooftop swimming pools and sundecks. For the ultimate indulgence for discerning guests, the three-bedroom Presidential Villa is equipped with a private infinity pool, wellness area, personal butler and private chef.
From the living walls of the distinctive entryway and throughout, all features of the resort have been thoughtfully and sustainably designed by Range Developments with local materials and unique water features to create an oasis in harmony with the surrounding environment.
The Park Hyatt St. Kitts Christophe Harbour has been developed as an integral part of the Christophe Harbour resort community. For more information about Park Hyatt St. Kitts Christophe Harbour or to make reservations, visit https://stkitts.park.hyatt.com/en/hotel/home.html, or visit http://www.ChristopheHarbour.com for more information about Christophe Harbour.
-Ends-
For further press information, please contact:
Natalie Garland/Melissa Hobson/James Brooke
Rooster PR
T: +44 (0)20 3440 8930
E: [email protected]
About St. Kitts
St. Kitts is the authentic, quintessential, year-round Caribbean destination for the discerning, experienced traveller. Intoxicating unspoilt natural beauty, sunny skies, warm waters, and white sandy beaches combine to make St. Kitts one of the most seductive spots in the Caribbean. Located in the Eastern Caribbean, the island is easily accessible for British travellers with twice-weekly British Airways flights from London Gatwick (with a short stop in Antigua).
Following the passage of Hurricanes Irma and Maria, St. Kitts & Nevis thankfully sustained minimal damage and the destination is welcoming visitors. The St. Kitts Tourism Authority continues to keep those impacted by Irma and Maria in their thoughts and prayers. The Caribbean Tourism Organization has activated its CTO Relief Fund to help families and countries rebuild after hurricanes, with monies raised being sent directly to CTO-member destinations affected by the catastrophic storm. For more information or to donate, visit www.gofundme.com/hurricane-relief-fund-CTO.
For more information, go to www.stkittstourism.kn, www.facebook.com/StKittsTourism, www.twitter.com/StKittsTourism or www.instagram.com/stkittstourism.