St. Kitts Reports Christophe Harbour Marina is Open for Business this Season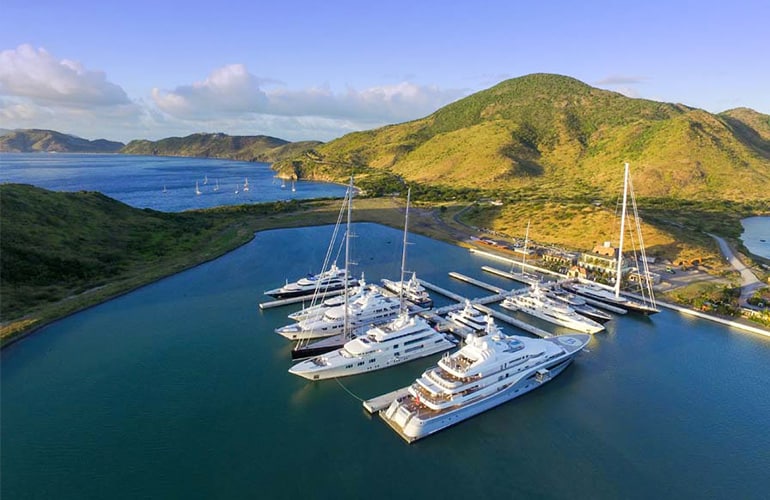 London, UK, November 2017: St. Kitts Tourism Authority (SKTA) is pleased to report the Marina at Christophe Harbour is open for business and the island is fully operational, with the Caribbean yacht charter season soon to begin. With little to no damage from the recent hurricanes, St. Kitts is an ideal place to start and end charters this season.
The Marina offers a variety of services for visiting vessels, including in-slip fuelling, dedicated crew amenities and concierge, YU Lounge private jet terminal for arrivals and departures, and a host of expanded services including onsite provisioning. The Marina has also announced reduced berthing rates for the month of November to assist those vessels displaced by the storms.
In support of St. Kitts' neighbouring islands who were less fortunate, Christophe Harbour has partnered with YachtAid Global, the disaster relief service which supports remote coastal communities. The development is co-ordinating relief efforts with the government of St. Kitts & Nevis to support its neighbouring islands and the Marina will serve as the organisation's regional operational base.
With an onsite tank capacity of 48,000 US gallons, it also features the largest refuelling station dedicated to a Marina in the Eastern Caribbean. This state-of-the-art facility can provide 40,000 US (duty free) gallons per day of in-slip fuelling for vessels, with up to 125 gallons per minute of Sol-supplied, ultra-low sulphur diesel. The Marina also features a professionally-engineered entry and turning basin and is a designated point of entry allowing for onsite expedited clearance. Offering a naturally protected harbour, The Marina can accommodate some of the world's largest superyachts.
In September, construction crews installed the cupola atop the Marina's three-story customs house, officially "topping off" the 11,000-square foot iconic building, which is due to make its official debut in the first half of 2018. In addition to Customs and Immigration offices, the Customs House will include a crew lounge for visiting yachts, the marina office, a fitness centre, and a real estate sales gallery.
All seven planned boutique retail shops are open at the Marina Village, including an art gallery featuring local and regional fine art as well as local artisans, upscale boutiques and the most recent addition – Ballast Bay Outfitters. This is the first true "outfitter" in the Federation to offer a full line of outdoor sportswear and equipment tested in St. Kitts. Further, Peppe's coffee kiosk is open daily at the Marina village. The Caribbean's first Park Hyatt hotel, the Park Hyatt St. Kitts Christophe Harbour, also recently opened on 1 November, debuting as part of the resort community.
For more information about Christophe Harbour, visit www.ChristopheHarbour.com.
-Ends-
For further press information, please contact:
Natalie Garland/Melissa Hobson/James Brooke
Rooster PR
T: +44 (0)20 3440 8930
E: [email protected]
About St. Kitts
St. Kitts is the authentic, quintessential, year-round Caribbean destination for the discerning, experienced traveller. Intoxicating unspoilt natural beauty, sunny skies, warm waters, and white sandy beaches combine to make St. Kitts one of the most seductive spots in the Caribbean. Located in the Eastern Caribbean, the island is easily accessible for British travellers with twice-weekly British Airways flights from London Gatwick (with a short stop in Antigua).
Following the passage of Hurricanes Irma and Maria, St. Kitts & Nevis thankfully sustained minimal damage and the destination is welcoming visitors. The St. Kitts Tourism Authority continues to keep those impacted by Irma and Maria in their thoughts and prayers. The Caribbean Tourism Organization has activated its CTO Relief Fund to help families and countries rebuild after hurricanes, with monies raised being sent directly to CTO-member destinations affected by the catastrophic storm. For more information or to donate, visit www.gofundme.com/hurricane-relief-fund-CTO.
For more information, go to www.stkittstourism.kn, www.facebook.com/StKittsTourism, www.twitter.com/StKittsTourism or www.instagram.com/stkittstourism.