15 Eco-Friendly Things You (Probably) Didn't Know You Could Do in Cyprus
Cyprus is well loved for its warm winters and Blue Flag beaches, but you might not know the island is on a mission to become a leading destination for sustainable tourism.
So, if you're looking for a holiday destination that packs a punch when it comes to preserving the environment for future generations, then Cyprus is the perfect place for you. Here, the Cyprus Tourism Organisation (CTO) reveals some of the island's best eco-friendly activities and places to stay
1. Become a beekeeper for the day

Cyprus' warm climate is perfect for producing rich and thick honey and, back in 2013, a Cypriot honey was voted 'Best in the World' at the World Beekeeping Awards. If you're interest to find out how this natural product gets onto your breakfast table in the morning, then spending the day as a beekeeper could be the answer. At G.S Ecophysis –  a newly established family business – don your bee protection suit, inspect the hives, learn all about these social insects and, of course, taste the honey. You can also join in the honey harvesting in August and bottling from September to November.
2. Visit Lara Bay Turtle Conservation Station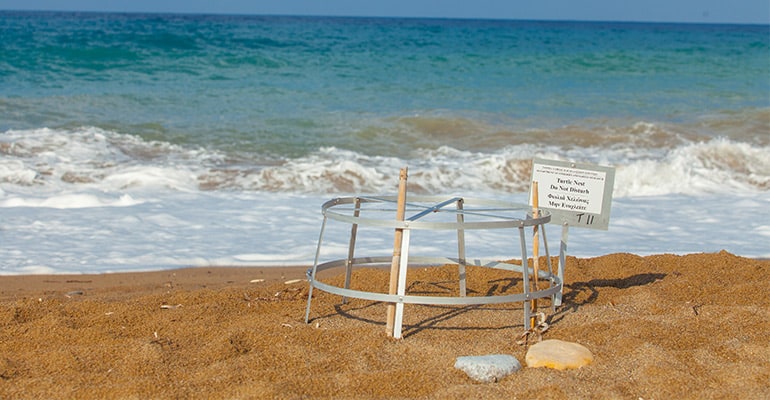 The beautiful Lara Bay beach is a safe haven for loggerhead and green turtles due to its white sands and protective horseshoe shape. To help prevent these species from becoming extinct, a conservation station has been set up where ecologists are working tirelessly to boost population numbers. Far from the busier areas of Cyprus, the Conservation Station is a small cabin overlooking a beach of aluminium cages which have been put down to protect turtle eggs from predators. Visit between May and August for a chance to see the turtles arriving on the beach to lay their eggs.

3. Visit one of the islands agro-rural museums
If you have a desire to know more about the history of life on the island and the local food you're eating, then take a trip to one of Cyprus' agro-rural museums. Oleastro Olive Park and Ermini Wine Museum showcase how the islands traditional is produced and even let you buy some to take home.
Oleastro Olive Park and Museum, in Anoyira village, was the first olive oil museum in Cyprus. The museum showcases a love and dedication to the 60,000-year story of the olive tree, whilst producing its own oil brand in an environmentally friendly way, using the latest green technology. Visitors will see a combination of ancient and modern techniques, including the ecological olive mill which uses cold pressing with millstones – a first in Cyprus. If you visit the park during the winter (between mid-October and February), you'll even be able to watch the olive oil extraction live.
Visit the Erimi Wine Muesum (The Cyprus Wine Museum) to be taken on a journey through 5,500 years of Cypriot Wine Making History. It took six years to restore the building that the museum now stands in and it was pure coincidence that the village of Erimi happened to be the starting point of wine production in Europe!
4. Go organic at Riverland Bio Farm

Riverland Bio Farm is an organic, dairy farm on the outskirts of Kampia Village, Nicosia. The farm is popular with families and school groups who visit to learn where fresh produce like milk, cheese and meat comes from and teach the children about healthy life choices. Riverland Bio Farm has an impressive dedication to ethics and eco-friendly farming as it doesn't use any chemical fertilisers or pesticides. Entrance to the farm is free, but for a small extra fee there's also a climbing wall, archery, pony rides, and a zip-wire.
5. Ayii Anargyri Paphos Natural Healing Spa Resort

A natural, mineral-rich sulphur water flows into the Ayii Anargyri Natural Healing Spa Resort making this boutique hotel a unique accommodation choice. Guests can benefit from the water's time-tested remedies with a great variety of treatments available year-round. The water has been used medically since 1649 and soaking in the sulphur spring water is said to heal inflammatory joints, help skin diseases, rheumatism and arthritis, relax tense muscles, improve sleep, rejuvenate the skin and slow down the ageing process and revive the skin's natural glow. Ayii Anargyri was designed to be as green as possible: it uses energy-efficient lighting, renewable energy for all its power-driven systems and solar and geothermal energy to heat its buildings and pools.
6. Golden Donkeys Farm

Golden Donkeys Farm  in Skarinou village – halfway between Larnaca and Limassol – was set up to preserve Cypriot traditions and heritage, as well as caring for over 170 donkeys. Donkeys used to be the primary mode of transport on the island, turning the heavy millstones to crush olives in the production of olive oil and carrying grapes from the mountains to be made into wine. However, since the invention of cars, donkeys are no longer used for these tasks. As well as feeding, riding and taking pictures with the donkeys – each of which has its own name and personality – you can even taste donkey milk and sample donkey milk cosmetic products! It's claimed that milk produced from donkeys has numerous health and beauty benefits dating back 5,500 years. Legend has it that Cleopatra, Queen of Ancient Egypt, used to bathe in donkey milk to keep her skin young and beautiful.
7. Be at one with nature by sleeping in Yurts

Yurts in Cyprus offer an eco-friendly holiday venture with a difference set in a picturesque location at the foothills close to Simou Village, near Paphos. The Yurts themselves are made in Mongolia from natural materials such as horse hair, wood and camel hide. Each tent offers a unique and graceful alternative to hotel accommodation – in peaceful seclusion overlooking a small brook – and are all individually named. The best bit about getting back to nature is that the 2.5km Yurt area has been specifically designed to watch magical sunsets over the island. The main on-site restaurant, The Straw House, is an eco-friendly communal space where breakfast and dinner is served.
8. Cape Greco Environmental Centre

Just six miles north of Ayia Napa, you'll find the tranquil Cape Greco, a protected nature park with countryside walks for hikers offering amazing landscape views. Situated on the nature park is the new Cape Greco Environmental Centre which houses three aquariums showcasing the marine and underwater wealth of the region. The Environmental Centre building itself has been recognised for its unusual design and won the special award at the Cyprus State Architecture Awards in 2016.
9. Troodos Mountain National Park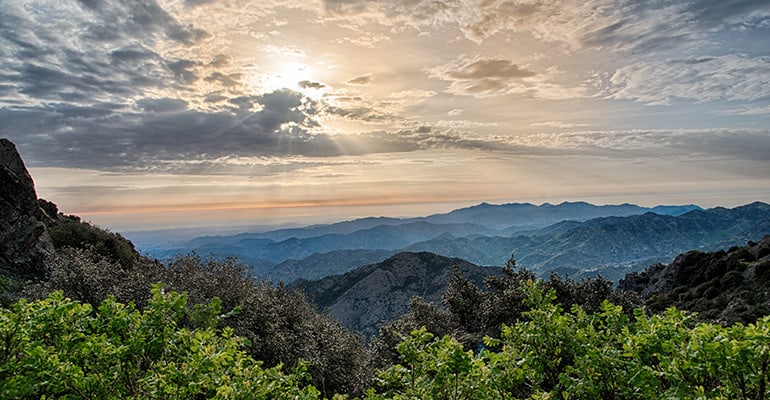 Not matter what season, the Troodos Mountain National Park has something to offer. Due to its altitude, you'll find snow during the winter months and cool places to escape the scorching heat in summer. Walk through the forests on a nature trails to take in the wonderful scents and aromas of the local flowers and enjoy looking at the waterfalls and surrounding views. As well as Troodos being one of the five most copper rich areas in the world, the Troodos Mountains have a fascinating geological genesis: they're one of only a few places in the world where scientists can examine oceanic crust above sea level.
10. Sparti Adventure Park, Platres
Cyprus' first rope adventure park, 'Sparti' is set in the beautiful mountains of Pano Platres. The concept behind the park intended to combine spiritual with the physical training that was used in Sparta. The park is conscious of its footprint and the owners have pledged to double the number of trees in the area over the next few years. In addition, it has been carefully laid out to intertwine with the forest around it. More than 60 games are available for children and adults who love the outdoors including climbing, a 'speed zip-line' and speed free fall jumping.
11. Stay at a Sustainable Hotel
The Cyprus Sustainable Tourism Initiative (CSTI) along with the Travel Foundation, a UK Charity, was set up to reduce the impact of tourism on the local environment. They've established a mandatory sustainability level which means all hotels in Cyprus must act to protect the environment and support their local community. Stay at one of the island's most eco-conscious resorts, such as;
Hotel-e Spa & Resort has successfully combined style with natural elements to create a new standard of eco-friendly hotel. The hotel prides itself on its efforts to stay green and conserve energy by introducing programmes such as recycling water, solar power and lighting sensors. Taking it one step further, the of the hotel's design emphasises daylight in public areas and the its garden grows fresh produced such as fruits and herbs which are used in the kitchen.
Columbia Beach Resort set up an environmental committee within the resort to reduced environmental impacts. The committee implemented ways to measure and reduce water, energy and chemical consumption. Similarly, the Londa Hotel set up sustainable initiatives such as electricity saving LED lamps throughout the hotel, reflecting glass foil on south facing windows and re-using the outflow of the hot air from the air condition to heat up the hot water during the summer months. In addition, the Londa is a member of CYMERA, Cyprus Maritime Environmental Protection Association.
12. Mouflon Conservation
The Cyprus mouflon is a sheep-like wild animal that can be found in the Pathos Forest – an area of natural flora spanning 60,000 hectares. The largest animal on the island had reduced dramatically in numbers due to poachers until the Forestry Department declared Paphos Forest as a Game Protected Area in 1939. Nowadays, the thriving mouflon population lives in the Tripilos Mountains during the summer months feeding on wild growth in the shaded valleys. When snow settles on the mountains in the winter the animals head to lower pastures and edges of the forest to find food and this is when passers-by will be able to catch sight of them.
13. Nicosia Old Town

Take a leisurely stroll around Nicosia Old Town, stopping off at shops and restaurants along Ledra Street, to soak up the rich history of Cyprus' largest city. Buildings in this area had fallen into disrepair in the past but, more recently, large-scale regeneration has been underway. Residential properties within the Venetian walls have benefited from local incentive grants as part of the government's 27 year 'master plan' to drive business and tourism back to the area. The Famagusta Gate and buildings like the traditional baths, Hamam Omerye, have been renovated in keeping with Nicosia's architectural history.
14. Support the Local Economy by Visiting One of Cyprus' Many Festivals

There's no better way to immerse yourself into Cypriot traditions than celebrating alongside locals at one their annual festivals. The Wine Festival of Cyprus in Limassol runs for 11 days celebrating Cypriot wine and winemaking traditions. Locals travel from all across Cyprus to join in the merriment and excitement of the festival, which has an apt motto 'Drink wine, it gives you life!' There is a cost for tickets, but the wine is free.
The beautiful village of Agros hosts the annual Rose Festival in May, at the peak of the rose bloom. Festival goers can partake in rose picking workshops, learn about the distilling process and enjoy musical performances across two weekends. To support the local economy, there'll be rose water, rose oil, liqueur, brandy and other rose water related products to purchase.
15. Enjoy the Island's Stunning Blue Flag Beaches

Cyprus not only boasts the cleanest bathing waters in Europe but also now has a staggering 64 stunning Blue Flag beaches (widely considered the top accolade when it comes to beach quality). As part of its continued efforts to offer tourists the best quality beaches, the Cyprus Tourism Organisation also recently announced that 47 beaches are now accessible to people with special access needs (26 of those are fully accessible and 21 partly accessible).
Cyprus – the third largest island in the Mediterranean – attracts over two million tourists annually. Cyprus is a year-round island appealing to a wide range of personal tastes and lifestyles, from families and couples, to the most discerning of culture and nature-oriented travellers.
Getting there: Monarch, the scheduled leisure airline, operates flights and holidays to Paphos from Birmingham and London Gatwick airports with fares, including taxes, starting from £52 one way (£139 return). Flights to Larnaca from Birmingham, London Luton, London Gatwick and Leeds Bradford airports with fares, including taxes, start from £63 one way (£133 return) For further information or to book Monarch flights and Monarch Holidays, please visit www.monarch.co.uk
For more information, go to www.visitcyprus.com, www.facebook.com/visitcyprus.uk or www.twitter.com/visitcyprus.
-Ends-
For further press information, please contact:
Melissa Hobson/Emma Arthurs/James Brooke.
Rooster PR
T: +44 (0)20 3440 8927
E: [email protected]
About the Cyprus Tourism Organisation
Cyprus – the third largest island in the Mediterranean – attracts over two million tourists annually. Cyprus is a year-round island appealing to a wide range of personal tastes and lifestyles, from families and couples, to the most discerning of culture and nature-oriented travellers.
Tourists are attracted by the island's legendary hospitality, glorious coastline and stunning mountain villages. There is something to suit everyone – family resorts, world class spas, golf courses, marinas, agro-tourism and food and wine trails. The active can enjoy the warm waters of Cyprus for diving and waterskiing while adventure seekers can explore the island's beauty with trekking or bird-watching tours, while golfing enthusiasts play on award winning courses.
The island boasts the cleanest bathing waters in Europe, combined with a rich cultural heritage, a variety of agro-tourism projects and a wide choice of special interest activities.
For more information: www.visitcyprus.com